Whyte & Mackay has launched a new blended malt whisky created in honour of legendary polar explorer Sir Ernest Shackleton.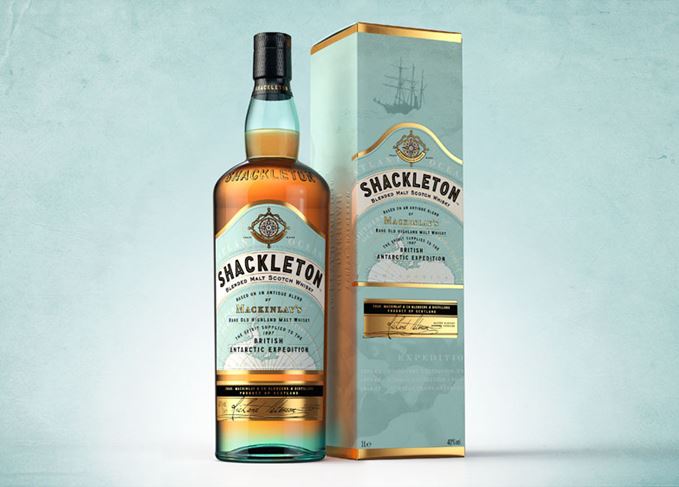 Shackleton is a no-age-statement blend of Highland malt whiskies inspired by the Antarctic explorer and his love of Mackinlay's Scotch whisky.
In 1907 Ernest Shackleton ordered 25 cases of Mackinlay's Rare Old Highland Malt Whisky to accompany his expedition to the South Pole.
However the explorer never completed his voyage – just 97 miles away from his destination, but faced with certain death if his team continued, he took the decision to turn back for home. Left behind at their base camp at Cape Royds were three crates of Mackinlay's containing 11 intact bottles, discovered frozen in the ice in 2007, almost a century later.
Now Shackleton's story has inspired an eponymous blended malt – the first from Whyte & Mackay, which owns Jura and Dalmore distilleries – that's designed to 'bring modern spirits drinkers into Scotch'.
Stuart Bertram, head of whisky development brands at Whyte & Mackay, said: 'This momentous launch for Whyte & Mackay represents an exciting, emerging direction for Scotch whisky.
'With the accessibility of a blend and the craft credentials of a malt, this unique, storied brand is set to bring modern spirits drinkers into Scotch as well as providing a new, premium alternative for the blended whisky occasion for those existing Scotch whisky fans.'
The 40% abv blend has been created by Whyte & Mackay master blender Richard Paterson, who worked with the Mackinlay's salvage team to profile Shackleton's favourite dram.
Bertram added: 'Richard has expertly built upon the original Mackinlay's Rare Old Highland Malt, using a handpicked selection of the best Highland malt whiskies, allowing them to marry over a long period to create a contemporary and enigmatic blended malt which is rich, robust, with whisper of smoke.'
The original Mackinlay's was a single malt distilled at Glen Mhor in Inverness, and scientific analysis of the salvaged bottles revealed the whisky to have been matured in American oak Sherry casks and bottled at 47.3% abv. The whisky had a smoky note from the use of Orkney peat to dry the barley.
Shackleton blended malt will launch initially in global travel retail, before being rolled out to the UK and France in May, China, Hong Kong, Taiwan and Singapore in August, and the US in September, priced at around £40 per 70cl bottle.
A portion of proceeds from sales will be donated to the Antarctic Heritage Trust to preserve Shackleton's Antarctica base camp, as well as to other projects that embody the explorer's pioneering bravery and inspirational leadership skills.
Whyte & Mackay also revealed Tim Jarvis as its global brand ambassador for Shackleton. In 2013 the environmental explorer and motivational speaker authentically recreated Shackleton's dangerous 1914-17 Trans-Antarctic Expedition – known as one of the greatest small boat journeys ever undertaken.
In 2011 Whyte & Mackay released a limited number of Mackinlay's Rare Old Highland Malt whisky – a blended malt featuring Glen Mhor and Dalmore whiskies among others, designed to recreate the flavour of the whisky discovered at Shackleton's base camp.
The expression was followed by a second edition in 2013 to mark Jarvis' re-enactment of Shackleton's 1914 voyage.