Whisky bottler Compass Box has launched two new blended malts: Phenomenology and No Name – the latter being the company's peatiest whisky release to date.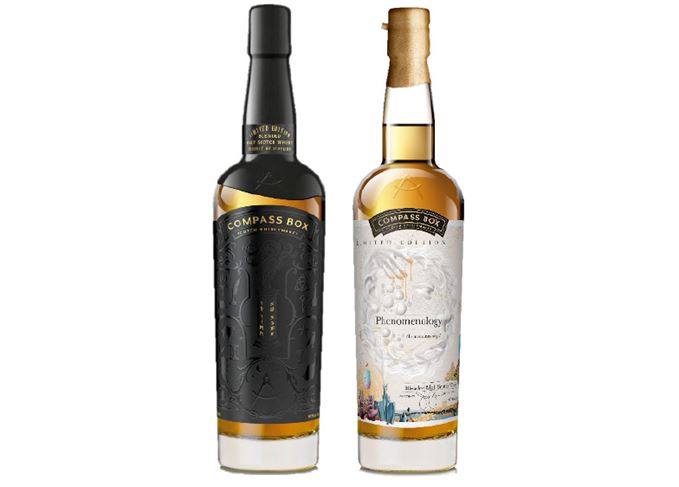 Both whiskies are designed to 'challenge our own thinking about how a whisky is experienced and understood', according to Compass Box founder and whiskymaker John Glaser.
They are centred on the concept of phenomenology – described by the company as a school of thought in psychology that focuses on the 'phenomena' we gain from our senses, and on the personal, subjective nature of experience.
In line with this, Compass Box is encouraging drinkers to taste the Phenomenology blended malt without preconceptions, only releasing tasting notes and information on the component whiskies in December, two months after its initial release.
'We'd long been working on a blend of single malts that combines seemingly dissonant flavour profiles, but together creates something compelling and, strictly speaking, unique,' said Glaser.
'We landed on a recipe that elicited a surprising range of reactions and descriptions from us, each person describing and taking away something different from the whisky.
'Rather than try to settle on whose perceptions were "right" or "wrong", we were inspired by the phenomenological school of thought to consider how different people experience the same phenomena. Could this approach, we mused, be applied to our ways of exploring, understanding and enjoying whisky?'
Customers can request information about Phenomenology at any time via email or direct messaging on social media, but only if they first share their own descriptions and promise to keep the recipe secret.
Bottled at 46% abv, 7,908 bottles of Phenomenology will be available, in Europe from today (1 October) and in the US from 1 November, priced at £150/US$180.
Compass Box's second new blended malt, No Name, is so called to allow the whisky to speak for itself, in the spirit of phenomenological thinking.
It is mainly composed of Ardbeg (or 'a well-known distillery located along Pier Road, in the southeast of the island of Islay', as Compass Box coyly puts it), along with some Caol Ila ('the Islay distillery located in Port Askaig'), a small proportion of Clynelish ('much-loved distillery in Brora') and an unidentified (in any way) malt finished in French oak casks.
Bottled at 48.9% abv, 15,000 bottles of No Name will be available, in Europe from today (1 October) and in the US from 1 November, priced at £100/US$125.