Balvenie is releasing its sixth 50-year-old single malt this summer, with a limited number of bottles priced at £27,500.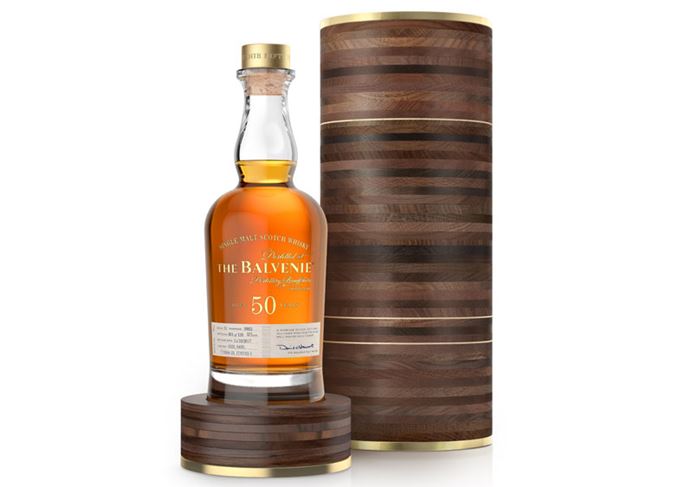 A vatting of four American oak casks aged 50 years or over, The Balvenie Fifty: Marriage 0962 celebrates the skill required to blend together old whiskies.
Produced by Balvenie malt master David Stewart, Marriage 0962 – a number that corresponds to the month and year Stewart first started working with Balvenie owner William Grant & Sons – was created from some of the Speyside distillery's oldest stocks.
'Marrying aged whisky stocks is undoubtedly one of the most challenging, yet enjoyable facets of my role as the Balvenie malt master,' said Stewart.
'This was a chance to explore the furthest reaches of our precious aged stocks and see how their extremes could be controlled and combined.
'Despite enjoying more than 55 years in the business, I'm still discovering and learning new things about the science and art of whisky making.
'The creation of Marriage 0962 took months of patience to complete, as we're dealing with liquids with extremes in abv, taste and age.'
Marriage 0962, which is bottled at 41.6% abv, is said to be 'deep and mature' with notes of oak, maple syrup and citrus with 'delicate spice'.
The expression is presented in a wooden tube comprised of 50 layers – 48 of walnut and two of brass – and accompanied by an etched brass certificate and bottle stopper inscribed with the tasting notes of each constituent cask.
The release is the sixth edition of The Balvenie Fifty. The first was a vatting of 1937 vintage whiskies released in 1987; the second a bottling of Cask 191 released in 2002; the third a single cask bottling from a European oak Sherry hogshead launched in 2012; and most recently, two bottlings from identical casks with very different flavour profiles were released in 2014.
Alwynne Gwilt, UK brand ambassador for Balvenie, said: 'We are lucky to have an incredible array of old whisky stocks, deriving from the fact we have had consistency through both family ownership and David's long term commitment to the company.'
Just 110 bottles of the Balvenie Fifty: Marriage 0962 will be available to buy at specialist retailers globally from August 2018.