Online spirits auctioneer Whisky.Auction has unveiled the full roster of 'exceptional' spirits, including a 50-year-old Karuizawa and the 'best Macallan ever bottled', being auctioned to raise over £200,000 for Plastic Oceans later this month.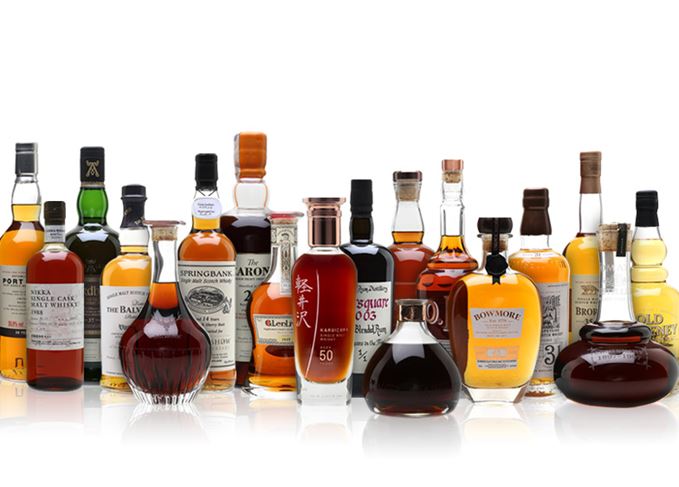 The list of 21 confirmed lots, many not revealed when the auction was announced in September, includes a 50-year-old Macallan Millennium Decanter, a bottling that previously sold for HK$392,000 (over £38,800) at auction in 2017, and a one-of-a-kind 37-year-old Ardbeg.
Other lots recently announced include a bottle of O.F.C. 1990 vintage Bourbon, marking the first time a bottle of this whiskey has ever been sold in the UK, and a 1998 Yoichi which has never been sold outside of the distillery in Japan.
The rare whiskies join the previously revealed 'highlights' including one of two 50-year-old bottlings from closed Japanese distillery Karuizawa, which is said to have the potential to set a record for the most expensive Japanese whisky ever sold at auction.
Sukhinder Singh, founder of Elixir Distillers, which has donated the bottle, said: 'This is the best Karuizawa I've tried and possibly one of the best whiskies I've ever tasted, full stop.
'It definitely sits on a par with the best Bowmore I've tasted from the 1960s. It is that good.'
Whisky expert Dave Broom describes the Karuizawa as being 'hugely aromatic' with notes of 'spiced exoticism', dried apricot, sour cherry and integrated smoke.

Japanese gems: The 50-year-old Karuizawa is being auctioned alongside a rare Yoichi and Macallan


One-off bottlings of a 38-year-old Port Ellen and a 45-year-old Dalmore were also unveiled in September.
Isabel Graham-Yooll, auction director for Whisky.Auction, said: 'Every now and then an auction line-up comes along that has spirits collectors and connoisseurs on the edge of their seats with excitement. This is one of those auctions.
'These bottles are not merely rare, some of them are entirely unique; they have never been seen before and may never be seen again.'
All proceeds from the bottles, which were donated by producers and distilleries, will go towards non-profit organisations around the world battling the impact of single-use plastic waste, including US-based organisation Plastic Oceans.
The bottles were on display at this year's Whisky Exchange Whisky Show, which strictly prohibited single-use plastics throughout the event.

Old & rare: The auction features a 37-year-old Ardbeg, 45-year-old Dalmore and a 43-year-old Bowmore

Julie Anderson, global executive director for Plastic Oceans, said: 'We are honoured to be a beneficiary of the auction and very excited to see the programmes being implemented by the organisers to reduce their single-use plastic footprint at their events.
'It's yet another example of an industry recognising the problem and being part of the solution.'
The auction begins on 18 November and ends on 27 November. For more information and to register interest in the auction, visit Whisky.Auction.
The full list of confirmed lots include:
Karuizawa 50 Year Old, 65.2% abv (Bottle 1 of 2, donated by Elixir Distillers)
Port Ellen 38 Year Old, 55.9% abv (Bottle 1 of 1, donated by Diageo)
The Macallan 50 Years Old Millennium Decanter, 43% abv (Donated by Edrington)
Ardbeg 37 Year Old, 49.7% abv (Bottle 1 of 1, donated by LVMH)
Bowmore 43 Year Old, 43.2% abv (Bottle 1 of 1, donated by Beam Suntory)
The Dalmore Rare 45 Year Old, 40.2% abv (Bottle 1 of 1, donated by Whyte & Mackay)
Brora 35 Year Old, 52.9% abv (Bottle 1 of 1, donated by Diageo)
The Balvenie 1973 Vintage Cask, 49.7% abv (Bottle 1 of 1, donated by William Grant & Sons)
Glenfarclas 1967 42 Year Old, 41% abv (Bottle 1 of 1, donated by Glenfarclas)
Springbank 14 Year Old Fresh Sherry Butt, 56% abv (Bottle 1 of 1, donated by Springbank)
Yoichi 1988 24 Year Old, 62% abv (Donated by Nikka)
Glenlivet 1948 50 Year Old, 40% abv (Donated by Gordon & MacPhail)
O.F.C 1990 29 Year Old, 45% abv (Donated by Sazerac)
Caroni Guyana 1994 Rum Magnum, 59% abv (Bottle 1 of 3, donated by Velier)
Foursquare 15 Year Old Rum, 60% abv (Bottle 1 of 1, donated by Foursquare)
Tomatin Centenary 1897-1997, 43% abv (Donated by Tomatin)
Old Pulteney 30 Year Old, 40.1% abv (Donated by Old Pulteney)
Michter's 22 Year Old, 57.5% abv (Donated by Michter's)
Glen Scotia 1973, 46.1% abv (Donated by Glen Scotia)
Craigellachie 31 Year Old, 52.2% abv (Donated by Craigellachie)
Tamdhu 55 Year Old (Donated by Tamdhu)