Gordon & MacPhail (G&M) has released what it claims is the 'oldest' Caol Ila to have been bottled – a 50-year-old single cask whisky – alongside a 64-year-old Glenlivet, as the latest additions to its Private Collection range.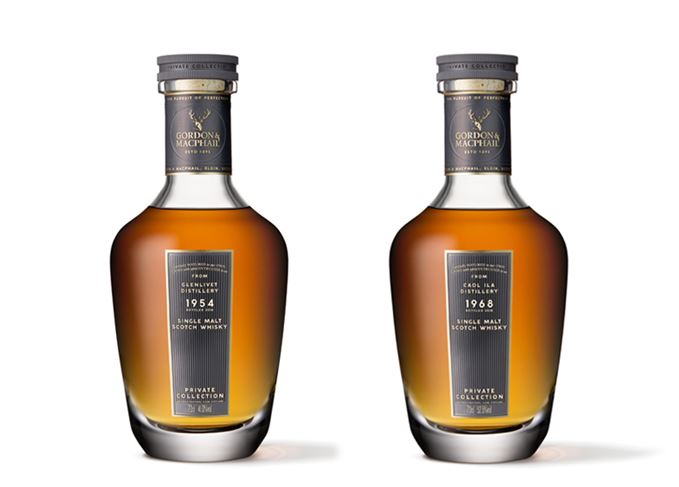 The Caol Ila bottling, distilled in 1968, has been matured in a refill Sherry hogshead and bottled at a cask strength of 52.5% abv.
Said to contain 'a gentle Sherry influence' with 'a lingering finish of bonfire embers entwined with lemon zest', only 199 of the 70cl decanters have been created, priced at £7,500 each.
The Glenlivet 1954 single cask bottling was aged in a refill Sherry butt and bottled at a cask strength of 41% abv.
Said to deliver notes of 'golden syrup, stewed fruit, and dark chocolate with spicy black peppercorn', just 222 of the 70cl decanters exist, priced at £9,950 each.
Both casks have been selected by Stuart Urquhart, associate director of whisky supply for G&M and part of the Urquhart family dynasty, who have owned the business since its inception in 1895.
Stephen Rankin, director of prestige and fourth generation member of the Urquhart family, said: 'These latest releases epitomise the expertise and commitment that has gone into pairing spirit and cask over 123 years and four generations of the Urquhart family.'
Both whiskies will be available worldwide, although prices in international markets may vary.
Last month G&M unveiled a new look for its Private Collection bottlings, including redesigned packaging with vertical ridges and veneered wooden gift boxes for each whisky in the range.
The redesign was the latest update in a year of change for the bottler, after it overhauled its portfolio of products in April.