Gordon & MacPhail's director of prestige talks to Dave Broom about working in a family business, time, learning how to dig holes and drunken Portuguese fishermen.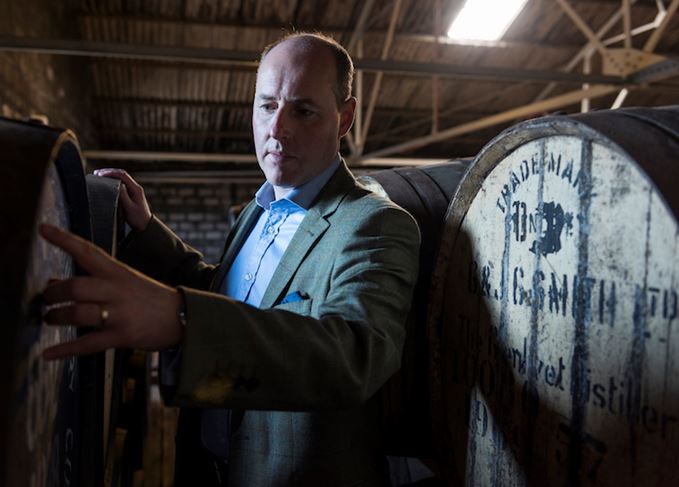 'I grew up in Inverness, where my father had a quantity surveying business, so my early relationship with the whisky business was coming through to Elgin in the holidays with mum when she could visit her family and I would play with my cousins.
'When I was at uni in Aberdeen, I'd come home in the summer and work for dad, doing the maths or holding the daft end of the tape on sites. One summer, my Uncle Ian phoned and asked whether I'd like to do some holiday work. They'd just bought Benromach and they had to prepare and secure the site for the contractors.
'There were only three of us on the site: me, my grandfather and a man called John Taylor, both of whom were 75. The rate they worked put me to shame. Among other things, John taught me how to dig a hole properly and put up fenceposts. They're still standing today!
'Our home was often the party house on a Saturday night. There would always be beer and whisky. When I was 17, my dad sat me down and said: "You've come to the age of drink. You've probably tasted it already, but be careful, especially with whisky. It's a wonderful drink, but you have to respect it." That stayed with me, and it wasn't until my late 20s that I started to really try whisky and appreciate it.

Family business: Rankin had to 'follow the whisky' as part of his G&M apprenticeship

'I was working in Edinburgh for seven years as a chartered surveyor when my uncles had a chat with me about whether I'd like to come into the business. The rules were simple. "If you don't like us, there's a door. If we don't like you, there's the same door." The job wasn't guaranteed.
'Like my cousins, when I first started, I had to "follow the whisky", learning how it was made at Benromach, doing a malting course, and then working in the bond to learn about maturation. I've done everything from making whisky to slicing hams and roasting coffee.
'I had to have a full interview for my first position, which came up after my training. I was up against some internal and external candidates. I got the job, but my uncles said: "Be mindful of your colleagues who didn't get it. You need to prove to them that you can do it, as well as prove it to us."
'That first job was as a sales executive based out of Inverness, covering the north of Scotland. One of my accounts was the Culag hotel in Lochinver. The owner always used to say he didn't have a market for Scotch, but then he began getting Portuguese and Spanish fishermen coming in.
'They were supplying the Klondikers [Russian factory ships which used to anchor in the loch] and used to come in on pay day and ask for the finest whisky they could buy, so we started to sell him lots! You could walk in there at 10am and they'd be smashed.

History boys: G&M has a remarkable inventory, including a recently released Linkwood 1956

'Our first distillery label was from 1896. Round here this was boom time. Everyone was opening distilleries, then came the Pattison crash and everyone went: "Holy mackerel!" and distilleries started closing.
'The old system was distilleries, brokers and blenders. At that point you see blenders buying distilleries, and distillery owners doing their own blends. I wonder if it was at that point that we took a different tack and began to focus on single malts.
'My great-grandfather took the helm in 1915. In the space of a month he went from being the senior manager to the sole owner. By that point he'd been in it for 20 years.
'By the time my grandfather joined in 1933, he'd had 38 years of experience running G&M. He went on to retire in '56. That's 61 years in the business. Just think of the changes he'd seen: new distilleries being built in 1897/8, the crash, blends, Prohibition, the Depression and the revival.
'I found a handwritten stock sheet from 1914 which listed 11 pints of Mortlach – my great-grandfather was a close friend of Alex Cowie – nine pints of Linkwood, so many pints of Glenlivet, and Glen Grant. The Major [Grant] became good friends and he'd encourage him to send the very best Sherry casks to him for filling.
'I think it would have been great-grandfather who took the decision to lay down stock. We have whiskies from 1936 when he would have been in charge. We could have bottled that when it was young, but we held on to it.

Wood and whisky: G&M will soon have nine decades of spirit in its warehouses

'Even today, people will often say: "Could you bottle another of these older casks?" … and we could, but one day you'd wake up and there would be nothing left. It is about patience.
'I'm becoming less blasé about the depth of the range. You're almost in denial about your own ageing process. We talk about things from the '70s or '80s or '90s and I think that wasn't that long ago, then you meet people at their 21st birthday and remember you were at their christening!
'Because I'm in the archives, I'm beginning to understand the sense of history and appreciating time. The Glenlivet '43 was distilled when Churchill and Eisenhower met, that Linkwood '56 was made when this unknown singer called Elvis had a breakthrough hit, the '61s were from the same year that a man first went into space. You do pinch yourself and stop being blasé about the ages and dates, and start to appreciate how remarkable it is.
'We've got eight decades represented in the warehouse and, as long as we don't use all of the '40s by the 2020s, we'll have nine decades. Nine decades. That's quite amazing.
'At the end of the day, you can't keep everything forever, but you want the opportunity to exist for people to relive the experiences we are having today because they are so incredible – and we can with good husbandry and excellent custodianship.'