Chivas Brothers is releasing The Secret Speyside Collection, its biggest range of single malts launched to date, including 15 whiskies from four distilleries: Caperdonich, Longmorn, Glen Keith and Braes of Glenlivet (Braeval).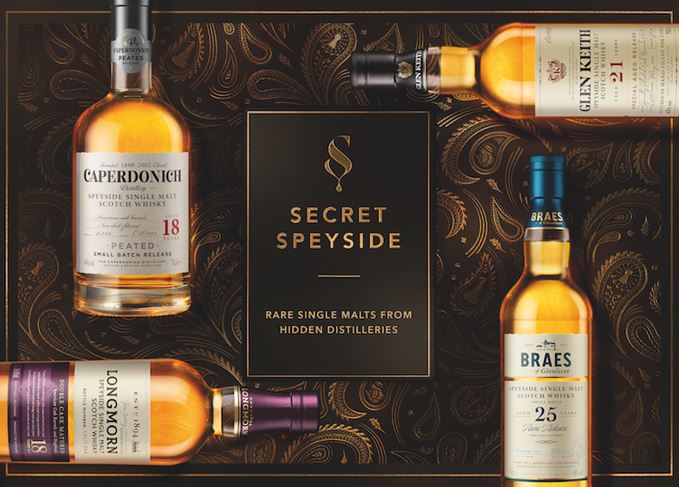 Priced between US$100 and US$990 per bottle, all 15 whiskies carry age statements of 18-30 years, with three single malts released each from Longmorn, Glen Keith and Braes of Glenlivet (known since 1994 as Braeval); and three peated and three unpeated expressions from Caperdonich.
Chivas Brothers described the quartet as 'four of Speyside's most elusive distilleries', reflecting the relative rarity of bottlings, particularly from lost distillery Caperdonich and from Braes of Glenlivet, one of Scotland's highest distilleries, which was mothballed by Chivas between 2001 and 2007.
Glen Keith is another seldom-seen single malt, an experimental distillery in its past, and one that was also mothballed between 1999 and 2013, reopening under Chivas in 2013. The new whiskies are its first official age-stated releases.
Caperdonich was built across the road from its then sister plant Glen Grant in 1898, and was known as Glen Grant No 2 until 1977, running as Caperdonich until 2002, when it was sold by Chivas to coppersmith Forsyths, based next-door. The distillery was demolished in 2011 to allow Forsyths to expand.
Alan Winchester, master distiller at The Glenlivet distillery, who has 30 years' experience of making whisky on Speyside, said of the collection: 'With centuries of rich whisky heritage against a jaw-dropping Scottish landscape, Speyside is the treasure chest of Scotch and brimming with untold stories.
'Curating the collection has been a labour of love for the Chivas Brothers team; its contents have been hand-selected to help shine a light on some seldom-seen distilleries, their rare malts and unique histories.'
Caperdonich is described as having 'ripe orchard fruits' in its unpeated form, with peat lending it 'a sophisticated smokiness'.
Longmorn is said to have a 'soft, creamy toffee and rich flavour profile', while Glen Keith's spirit is a 'complex, intensely smooth example of the classic Speyside style'.
Lastly, Braes of Glenlivet is described as a single malt that is 'smooth, balanced and packed with tropical fruits'.
The Secret Speyside Collection will be sold as a global travel retail exclusive range from July 2019 for one year, before rolling out to selected global markets from summer 2020.
Caperdonich's 25 Year Old Peated and 30 Year Old Unpeated expressions are still in cask and will be released in October 2019.
The Secret Speyside Collection single malts are as follows:
Caperdonich 18 Year Old Peated: 48% abv, matured in American oak barrels, RRP US$130
Caperdonich 21 Year Old Peated: 48% abv, American oak barrels, RRP US$290
Caperdonich 25 Year Old Peated: cask strength/TBC on release, oak hogsheads, RRP US$550
Caperdonich 21 Year Old Unpeated: 48% abv, first-fill American oak barrels, RRP US$250
Caperdonich 25 Year Old Unpeated: 48% abv, first-fill American oak barrels, RRP US$480
Caperdonich 30 Year Old Unpeated: cask strength/TBC on release, first-fill American oak barrels, RRP US$990
Longmorn 18 Year Old: 48% abv, American oak barrels/hogsheads, RRP US$100
Longmorn 23 Year Old: 48% abv, American oak barrels/hogsheads, RRP US$290
Longmorn 25 Year Old: 52.2% abv (cask strength), American oak barrels/hogsheads/butts, RRP US$450
Glen Keith 21 Year Old: 43% abv, 'specially selected' oak barrels and butts, RRP US$180
Glen Keith 25 Year Old: 43% abv, first-fill American oak barrels, RRP US$380
Glen Keith 28 Year Old: 43% abv, first-fill American oak barrels, RRP US$500
Braes of Glenlivet 25 Year Old: 48% abv, first-fill American oak barrels, RRP US$400
Braes of Glenlivet 27 Year Old: 48% abv, first-fill American oak barrels, RRP US$450
Braes of Glenlivet 30 Year Old: 50.3% abv (cask strength), American oak barrels/hogsheads, RRP US$600