Islay farm distillery Kilchoman has doubled its production capacity after its new still house came on stream, enabling experimental runs with different barley and yeast varieties.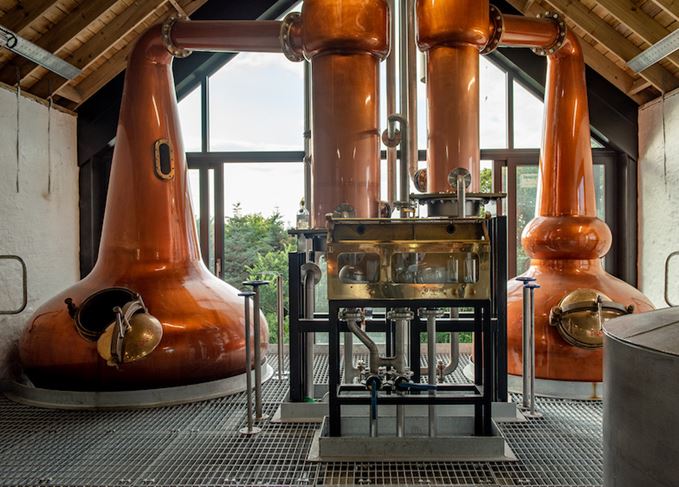 Kilchoman is now able to produce close to 480,000 litres of pure alcohol a year after doubling its number of stills to four with the construction of a new still house, which was completed at the end of May this year.
The work also included the installation of a new mash tun and six new washbacks at the distillery, with production stepping up during June and now running at seven days a week in both still houses.
'The still house is exactly the same, to keep the same character of spirit that we're already producing,' said Kilchoman founder and managing director Anthony Wills.
'The only way that I was prepared to go up in production was to build another identical still house next to the existing one. We're very pleased with the runs that we've done, and the character that we've got so far.'
The still houses are operated separately, but all of the spirit is collected together for maturation.

Doubling up: The expansion means Kilchoman can now produce twice as much spirit

'It means we can do more experimentation now with different yeast and barley varieties,' added Wills. 'We can play around a bit more. We're just looking at those two areas for now – they're quite topical and they haven't really been explored, although I know Bruichladdich has done work on barley variety.
'The only issue is once you go through the process, you might have some real differences in spirit character, but will you still have that after five, 10 or 15 years in cask?'
The distillery has grown several different barley varieties in the surrounding fields, including Concerto, Octavia and Sassy, and has experimented with yeast types including Mauri, Kerry M and Kerry MX.
Kilchoman, which keeps all of its maturing spirit without selling to blenders, will continue to run both still houses at full capacity for the time being, which Wills said would give it 'a huge amount of spirit'.
'We just need to see where we go,' he added. 'For us, demand is there for Kilchoman at the moment, so we might do this for a year and then judge where we're going after that.'
Kilchoman opened in 2005, and has already added a new malt floor and kiln in the past two years, with further plans to build new warehousing on-site.