A chance encounter with an Aberdeenshire farmer in the early 1980s gave Pip Hills an idea that would create the most successful whisky club in the world: The Scotch Malt Whisky Society.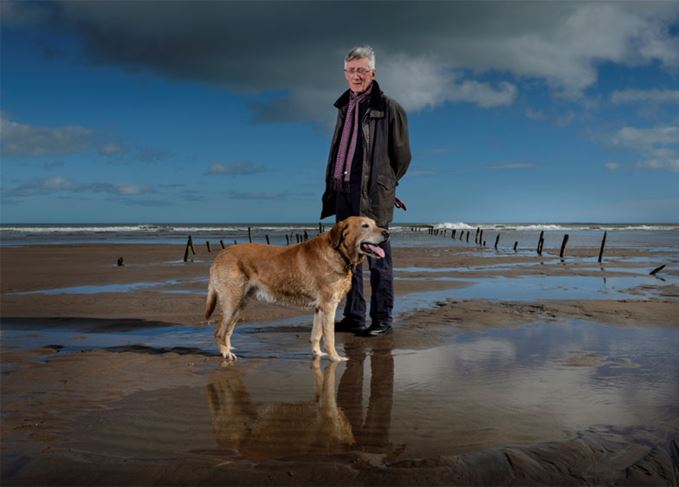 Phillip 'Pip' Francis Logan Hills was born into a steadfastly working class family in Bo'ness on the southern side of the Firth of Forth in 1940. His father was a Grangemouth docker, his mother a housewife, and by the standards of the day Hills considered that as a family they were 'tolerably well off'. In those days, if whisky was drunk, the chances are it was Haig.
Hills attended Edinburgh University as a medical student at the age of 17, but mountaineering distracted him to the point that he made the first free ascent of the Scott Monument in the late 1950s. He then suffered a serious climbing accident which hospitalised him for months. Following his recovery he changed courses and attended both Edinburgh and Glasgow universities studying philosophy, 'supporting myself by working at various heavy industrial jobs in the vacations… docker, tunneller, truck driver and so on'.
After graduating in the late 1960s with an MA from Glasgow and an MLitt from Edinburgh, both in philosophy, he got involved in local Labour Party politics in Edinburgh in the fight to prevent the proposed Inner Ring Road, which was successful.

Taste trial: A 1992 tasting panel conducted by Hills (centre) with John McDougall of Springbank to his right

Hills had taken up scuba diving with his friend, Duncan McArdle, and suggested they attempt the first underwater survey of a crannog – fortified loch-dwellings which existed during Scotland's Iron Age. The survey was eventually initiated in 1973 by McArdle and Dr Ian Morrison of Edinburgh University's geography department.
The Civil Service followed for a period of four-and-a-half years, during which he married Leslie MacDougall, an emerging influencer in the visual and dramatic arts scene in Edinburgh. Hills then helped raise £7.5 million to bid for the Scottish Television franchise, which, Hills recalls, 'to my relief, we didn't get'.
He then moved into tax accountancy and ran a business for 10 years. During this period he frequently visited McArdle who lived on the Howe of Alford in Aberdeenshire. He introduced Hills to a local farmer called Stan who, once a year, would get in his ancient Landrover and go over the Cabrach to Glenfarclas distillery, where he purchased a quarter cask of aged malt whisky. He would place it next to the hearth in his farmhouse and draw from it whenever he wanted.
One day, Stan brought McArdle a lemonade bottle full of the cratur. When stopping by on one of his visits, Hills sampled it and realised he had never tasted anything as good in his life. It was a defining moment for Hills.

Burgeoning ranks: The Scotch Malt Whisky Society has now grown to over 26,000 members worldwide

Back in his home in the New Town district of Edinburgh, Hills gathered some like-minded, largely middle-class professionals involved in the arts and media who all enjoyed a dram, such as actor Russell Hunter. He proposed that they fund the purchase of a similar cask from Glenfarclas, assuming John Grant would allow it. Hills duly contacted Grant and, after explaining the episode with Stan, asked the question. The response was that a quarter cask of 10-year-old was available following the death of a client, so Hills headed north with £2,500 and duly dispensed the purchase to his syndicate in the lobby of his home.
Soon word got out and more and more requests came from a network of people keen to get in on the act. The original supplies soon ran low and Hills asked the original members that if he could get more casks, would they consider enlarging the syndicate? They agreed and Hills persuaded the Grants to sell him another two casks.
Eventually Hills asked himself the inevitable question: why was single cask malt whisky not being sold directly to the public? He began to ponder the possibility of creating a commercial entity that could take on the mantle of the syndicate and expand into a society with paid membership. But how to do it? A climbing friend, John Ferguson, suggested that Russell Sharp, a former brewer and head chemist at Chivas Bros., would be the person to bring on board.

Choice casks: The member's bar of the SMWS has grown from its syndicate roots

After a meeting in Glasgow's famous Horseshoe Bar, Sharp agreed to become a consultant and from that point the concept of creating a society began. Sharp warned Hills that the trade would make it difficult, and that on no account could the distillery names be revealed as these were all trademarked. This resulted in the numbering system being employed from the start, with the first cask of Glenfarclas labelled 1.1, with the next from the distillery 1.2, and so on. Glenlivet followed as bottling number two and Bowmore was three.
Hills managed, not without a struggle, to register the name 'The Scotch Malt Whisky Society', which was duly incorporated in May 1983. From the outset Hills insisted that publicity would be generated by word of mouth and free press coverage, and not a penny was to be wasted on paid advertising, although some board members disagreed. That board was initially comprised of syndicate members, such as interior designer Anne Dana, who rapidly became managing director while Hills served as company secretary. Sharp also became a director of SMWS, and remained on the board until 1993.
Membership grew rapidly and eventually share offers were made to help capitalise the business, which had started out in the old J&G Thomson vaults in Giles Street, Leith. The syndicate acquired the old vaults for £50,000, but they required extensive renovations. It proved an expensive lesson as the refurbishment and repairs were almost continual.

Whisky base: The vaults in Leith, Edinburgh form the headquarters for the SMWS

The Society began in a year that saw many distillery closures, such as Port Ellen and Brora, both then part of The Distillers Company. Yet sourcing stock was not a problem as there was a glut of good quality casks lying in bond that the accountants were delighted to convert into hard cash. Hills recalls finding a batch of seven Dallas Dhu casks, four in first-fill ex-Sherry butts and three in second-fills in the Bond Number 9 warehouses in Leith: 'It was 25 years old and it was wonderful,' he says. 'We took the lot and all we paid for was the alcohol. You paid only so much per litre of pure alcohol per year, that's all. There was no premium for the nature of the cask or the quality of the product… it was all one price.'
Ructions on the board were not uncommon and as the membership grew, board directors came and went, some of whom frustrated Hills by demanding that the Society sell blended whisky. 'For my entire tenure the board was a battleground, a constant fight to maintain the core ethos of the Society. It was supposed to be a bit of fun, and I did not want the Society to lose sight of that,' he says.
Despite the infighting, Hills' masterstroke in the first year was to bring the Society free PR. First he persuaded wine writer Jancis Robinson to cover the SMWS in The Sunday Times Magazine. Hills then used his vintage diesel 1937 Lagonda to take author and journalist Paul Levy on a tour of Speyside distilleries, which resulted in exposure in The Wall Street Journal. Pulitzer Prize-winning writer David Mamet then chipped in with five pages of coverage in Playboy magazine.

Chasing the dram: The 1937 Lagonda in which Hills toured Speyside with Paul Levy

The effect was immediate and membership soared past the 10,000 mark. As the '80s passed the Society expanded overseas, but costs rocketed and Hills accepted that more fiscally astute management was required. Richard Gordon was brought in as managing director in March 1995, and as Hills took more of a back seat he recognised that his time had passed. In August that year he resigned, admitting that he had become bored by the way things had developed.
In his latter years at the Society Hills was gifted an old illicit still by Sir Kenneth Alexander, chairman of the Highlands and Island Development Board based in Inverness, who had in turn been given it by a former illicit distiller from Glenlivet. Customs and Excise required that holes be drilled in the bottom of the still, but Alexander persuaded them to leave it intact.
Eventually the still disappeared from the tenure of the Society and its whereabouts are unknown. However, after Hills had retired he had another sma' still made by the Glenmorangie coppersmith as a model of one of its spirit stills, which he then used for distilling demonstrations to interested parties he knew. He managed to get HMRC to grant him a licence, which he reckons was the first private distiller's licence since the 1780s. Hills and his friend Tim Steward used it occasionally for a few years. Macallan supplied small quantities of low wines but the resulting spirit 'tasted horrible'.
In retirement Hills is currently working on two writing projects, the first of which is a book of stories loosely connected with the establishment of the SMWS. 'I got up to a lot of high jinks in the decade after I set up the Society,' Hills jokes. His first book is due to be published by Birlinn in 2019.
The second book is a more serious work: a history of the Stirling engine over the last 200 years, from its inception in Kilmarnock in 1816 to its incarnation at NASA as a power source for starships. According to Hills, 'it is an astonishing story which, perhaps more astonishingly, has never been told in its entirety.'