The coded numerical system that features on the Scotch Malt Whisky Society's (SMWS) bottlings was originally created in order to collaborate with distilleries. But the range serves today as a time capsule of a pivotal period in the history of Scotch whisky, as Angus MacRaild discovers.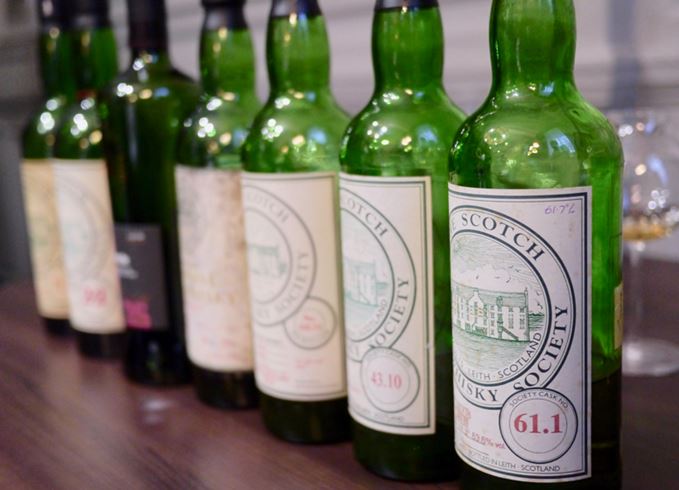 Much like the grander arc of Scotch whisky itself, the history of the Scotch Malt Whisky Society (SMWS) is populated with happy accidents, perhaps none more so than the very early decision to utilise a simple numbering system, one that managed to cloak and simultaneously identify the various distilleries and their associated single cask bottlings.
From the perspective of hindsight it seems like an obviously terrific idea, one that taps into the raw geekiness of whisky and overlays the entire SMWS output with a satisfying numerical order and aesthetic. Its origins, however, were rooted in the commercial realpolitik of the early 1980s whisky industry, and born out of pragmatic necessity.
The idea was that of the SMWS founder, Pip Hills. It began with Hills developing a penchant for darkly Sherried, cask strength Glenfarclas, of a kind that was still sold by the Grant family direct to certain private customers in quarter Sherry casks; the kind of casks that delivered unctuous, rancio-slathered young malts of tar-like viscosity.
It would be exactly that kind of cask which ended up being bottled as the very first SMWS release: 1.1. The Grants were – as they remain today – not overly fond of their distillery's name appearing on third-party bottlings. As today's spirits director at the SMWS, Kai Ivalo, notes: 'His [Hills'] original reasoning was to secure supply without infringing on trademarks. It's interesting the industry was insisting on that even at that time.'
Had Hills approached another company with a less restrictive style, the SMWS bottlings might have been of a different nature entirely. However, that early exposure to industry protectiveness led to the notion of simply putting a numerical code to the bottlings in place of any overt brand or distillery names. It was a decision which would play a pivotal role in the growth and sustainability of the SMWS in the years ahead.

Rising tide: Prices for some .1 bottlings, such as 33.1 (Ardbeg), keep on increasing

Today's SMWS staff are keenly aware of the importance of the coding system. As Ivalo says: 'It's become more useful over the years – even though some distilleries would want their name on the label. Many we would never have got without the numbering system.'
The most obvious iconography of the system lies in the .1s. For example, on today's secondary market you can find a reasonable number of late-1970s vintage bottlings of North Port from a variety of bottlers, usually around the £300-500 range. SMWS North Port 1978 74.1, bottled in 1989, recently sold at Whisky Auctioneer for £825.
It's a typical illustration of the premium commanded by almost every bottling in this series. For bottlings from more iconic distilleries, such as Ardbeg 33.1, the prices are never static, hitting ever more dizzying heights with each scarce appearance.
However, while it is easy to view this series through the lens of collectability, rarity and value, its meaning runs deeper. Most of the .1 series are young whiskies. Many were bottled when the SMWS was in its infancy. Funds were tight and the price of bonded whisky was often dictated purely by age; very few distilleries were considered 'names' in the way we would categorise them today. The Glenfarclas, Port Ellen and Glenfiddich .1s are all eight years old – Laphroaig 29.1 a mere six years old.
These bottlings represent a liquid archive of Scotland's malts captured in youth, usually at indestructibly high-octane natural strengths. For drinkers, they are an unrivalled library of distillates in flux, of an industry in change; held in bottle to be discovered and dissected by Scotch enthusiasts decades later. There are few other bottlings like them in that respect.

Whisky chronicles: MacRaild finds the .1 bottlings act as an archive of Scotch history

While the Gordon & MacPhail or Cadenhead stocks bottled for Italy at the time were generally from the 1960s and earlier, the SMWS .1s by and large formed a fledgling fingerprint of Scotland's whisky industry in the modernising upheaval of the 1970s. At the same time, they played a key role in establishing and popularising the ideology of 'single cask' and 'cask strength' in the minds of UK aficionados.
On top of their immediate collectability and their inherent appeal to drinkers, there are also iconic gems scattered throughout their ranks. Clynelish 26.1 is a whisky distilled in 1965 and bottled in 1986, one of only a handful of independent 1960s Clynelish single malts from the original distillery, and a bottle in countless enthusiasts' 'dream bottles' list.
The first bottling of Brora as a single malt was done by the SMWS as 61.1; it's a beautiful, peat-soaked 1976 bottled in 1989 that commands a mighty reputation today. The SMWS also remains the sole bottler of the Lomond single malt from Inverleven distillery, with two casks bottled as 98.1 and 98.2.
Perhaps most alluringly for whisky lovers, though, is that there are many bottlings in the series that no one seems to know anything about. There are many .1s that very few people in today's whisky community, if any, have tasted.
Bottlings such as Springbank 1970 27.1, that many of us would dream to taste, simply never show up – at least, not in the modern online auction era. This is due to the fact that the membership in those early years was largely Scotland- and UK-based, and the culture was one of consumption and enjoyment. Few were kept or collected.

In-demand drams: The .1 bottlings are popular with collectors and enthusiasts alike

'Collectors are the minority in our experience,' Ivalo says. 'It certainly wasn't a part of what was intended or designed.' Perhaps not, but the SMWS bottlings are undeniably collectable. The numbering system means they intersect multiple angles of desire among enthusiasts. Some collect one distillery, some collect only .2s, for example.
Couple this reality with the giddy destructiveness of enjoyment that characterised the early SMWS era and you can see how the .1s (and much of the early SMWS output) series is cast in the twin glares of curious fascination and hungry desire. Most of the .1s possess an elusiveness that only compounds the iconography and allure of this series.
When Ivalo talks about the .1s today, he retains an edge of cautious philosophy about the numbering system. 'Like so many things about the SMWS, I think it's a double-edged sword. Some people see it as elitist. To the uninitiated, it can be a barrier. To a lot of people, they feel a bit overwhelmed by it.
'But I guess on the flipside it means you have to invest a bit of time and effort into the society, and the members end up with a common language about the bottlings.'
Perhaps one of the underlying lessons of the SMWS – as you can quickly glean from Facebook grumblings any time a new bottling is disagreed with – is that you can't please everyone, every time.
Today's SMWS bottlings present a funny, knife-edge balancing act between kooky and sleek, colourful and muted. The early bottlings, by contrast, offered a uniform, line-drawn greenery, punctuated by the red-lettered boldness of raw information leaping out in beautiful simplicity.
Both are equally representative in their style and substance of the nature of their times. Perhaps more than any other institution, the SMWS reflects the broader cultural landscape of whisky passion, from the innocence of the 1980s to the colourful cultural mosh pit of today.

Dream bottle: Some SMWS .1 bottlings, such as Clynelish, have acquired legendary status

The .1s are a mixture of incredible liquid, rare, young examples of lost distillates, precise and beautiful aesthetics, historic iconography and – maybe most powerful of all – nostalgia.
As a series, it is notable for the fact that it has no end in sight. There will continue to be .1 bottlings into the future, as the SMWS unlocks new distilleries from around the world. It means that any collection of these bottlings can only ever be temporarily complete. Indeed, the only remaining complete collection known to exist is the SMWS's own one on display at the Vaults.
Just how much potential some of these new .1 releases have to match many of the more hallowed early examples is dubious. What's certain, however, is that their existence and continued power to fascinate also help to drive the SMWS towards the future.
They are its constant narrative, latched at the Society's foundation and documenting its path as a company within the context of the wider whisky landscape. It is a story that is always being extended. For, as vital as whisky's past is, it must also be equally interested in its own future.