From exploring distilleries usually closed to the general public, to a blending class and an evening filled with raucous dancing and music, there was barely a moment to rest as the second day of the Speyside festival came to life. Melita Kiely reports.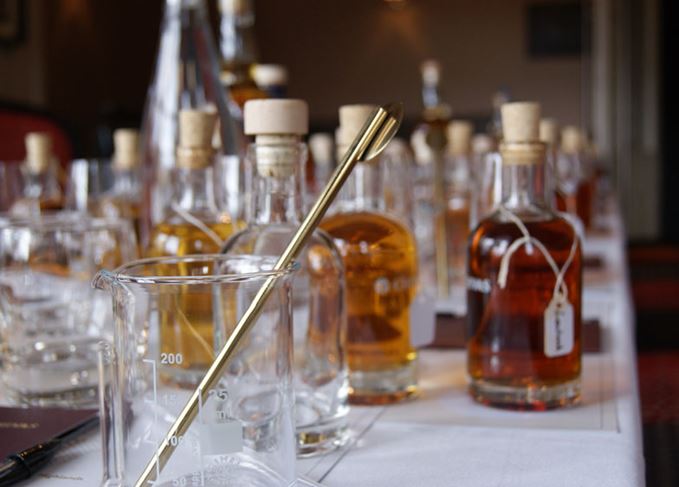 It's been three years since my first visit to the Spirit of Speyside Whisky Festival, and so it was with great excitement that I headed back for a second time.
This year's annual show offered myriad opportunities to visit distilleries normally closed to public eyes – so, naturally, I filled my itinerary with as many as possible.
The first stop of the day was a double distillery tour, starting with Dailuaine. Organised by Mike Lord, owner of The Whisky Shop Dufftown – one of 44 events he's helped organise in association with the shop this year – our group was split in to two teams of around eight to 10 people. At the distillery we were greeted by site operations manager Suzanne Russell, distillery operator George McLean and distillery operator Craig McUaig. And so we began our walking tour of the distillery, observing the two latest washbacks installed just last October and learning more about how the distillery is re-using energy to create a greener company, from using heat lost from the pot ale to warm the wash still, and sending spent lees to the neighbouring bioplant anaerobic digester to clean the water before it goes back into the River Spey. A notable effort from a distillery that operates five days a week.
'We're making sure that whatever we take from our surroundings, we give back and in a clean and harm-free way,' explains Russell.

Eco-friendly plant: Dailuaine processes its waste in its neighbouring bioplant

Post-tour it was time to enjoy the first dram of the day: a 16-year-old Dailuaine, before heading five minutes down the road to neighbouring distillery Benrinnes. Here, we were greeted by senior manager Rune Molvik and distillery operator Joan McLean (the 'number one' operator in Speyside after her husband at Dailuaine, so we we're told). The second tour offered a more technical insight into the distillery's operations, as we headed into the control room to meet distillery operator Stephen Howie. Once we'd satisfied our thirst for knowledge, it was time to satisfy our thirst for whisky and another dram was poured: Benrinnes 15 Year Old Flora and Fauna, matched with chocolate truffles.
I then had a short break in my itinerary and so took the opportunity to head over to the famous Highlander Inn in Craigellachie, where I met owner Tatsuya Minagawa. Busy setting up masterclasses, serving lunch and making guests feel welcome, my visit was brief – but the relaxed atmosphere, helpful staff and well-stocked back bar made it clear why the Highlander has come to make such a name for itself.
Before I knew it, I was back on the road and headed towards Knockando, yet another distillery not usually accepting of visitors. Once more, our small group of around 12 visitors was led through the distillery absorbing as much information as possible about how the site makes its one million litres of alcohol each year. We had all been to our fair share of tours by this point, and so it was interesting to note the differences from one distillery to the next, and it was great to hear how Knockando is also cautious of its carbon footprint, implementing similar measures to Dailuaine to cut back on its environmental impact.
Over two drams of Knockando 12-year-old and Knockando 18-year-old, we sat chatting about the festival. Several people had already marked their diaries to return next year, seeing the event as a chance to catch up with friends they only see at this time of year. The sense of friendship you see around the festival is really quite heart-warming; people are incredibly willing to share, whether it's their time, their knowledge, their friendship or their whisky.
Chit-chatting with other guests and our guide, the visit (gladly) overran by half-an-hour and so it was time to head over to the Dowans Hotel in Aberlour for a blending masterclass with Chivas Brothers, led by brand ambassador Laura Mustard and blender Calum Fraser. Five whiskies were placed in front of us, including a 12-year-old Speyside whisky, Strathisla, and a 12-year-old grain whisky, Strathclyde. Three un-named options were also at our disposal, one being a Lowland malt, plus a peated Islay whisky and a Highland expression.
Our task was to create a 'blend that reflects the Chivas Brothers' house style – harmonious and balanced, sweet and fruity with a wisp of smoke' in just 15 minutes. Like an army of mad scientists, we all quickly got to work nosing and tasting each whisky, carefully measuring each drop that was to create our blend. My recipe of 100ml Strathclyde, blended with 25ml Lowland whisky, 5ml Islay whisky, 50ml Highland whisky and 20ml Strathisla, has left me doubtful of my future as a professional blender… but as an overall experience and a hands-on insight into the art of blending, it was a thoroughly enjoyable hour – and the excitement was palpable throughout the rest of the room.

Bagpipes at dawn: Partying went on into the wee hours on day two of the festival​

It was then time to check-in to my accommodation for the remainder of my stay at the festival, the very comfortable Linn House, a private house owned by Chivas Brothers and situated just a five-minute walk from Strathisla distillery. A delicious buffet-style supper set us all up for the night of musical entertainment and raucous dancing that awaited us at The Glenlivet distillery.
We arrived in time to catch the full hour-long set of support band Drums 'n' Roses, featuring two drummers and two bagpipe players with a difference. As hundreds of guests tucked into food and drinks from the bar, the band kept the whole room entertained with an eclectic mix of covers, from Bruno Mars' Marry Me, to its namesake Guns 'n' Roses' Sweet Child O' Mine and Abba's Mamma Mia. Ending in a conga line snaking round the room, it was time for the headline act: Skerryvore. The lead singer had to pull out last minute, but you would never have known had it not been for their admission. The crowds threw themselves into the music hard, dancing and singing to every song for two hours straight. A rapturous roar of 'encore' brought the band back on stage for the final few songs, bringing the night – and day two of the festival – to a joyful close. Thank goodness there'll be a festival encore for me tomorrow, as there's still so much left to see.