While Bourbon and Sherry casks may be most commonly associated with Scotch whisky maturation, distillers have long favoured an opportunistic approach to using whatever casks are available at any given time. The Whisky Professor explains all.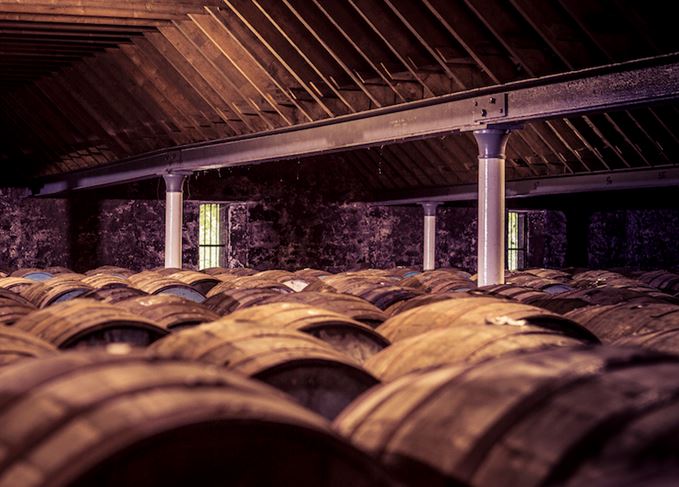 Dear Professor
I've been told that Scotch has always been aged in Sherry or Bourbon casks. Why, then, are so many single malts being finished in unusual casks now? Is this just marketing gone mad, again?
David Ellis, Cambridge

History lesson: Many cask types have traditionally been used for Scotch maturation, explains the Prof

Dear David
I'm afraid that the notion that all Scotch whisky was aged in first-fill Sherry casks throughout the 19th and early 20th century simply isn't true. A look at blenders' books from the late 19th century backs this up. A wide variety of casks would have been utilised in the early days of the commercialised Scotch trade – from 1823 onwards – as demand for whisky began to rise.
As you may know, Scotland didn't operate a system of planned forests in the same way as, say, France. An increase in agriculture led to deforestation and, as a result, there was not sufficient oak to cooper. The youthful whisky trade had to rely on using second-hand casks, which were being landed at the docks in Glasgow, Leith, Dundee and Aberdeen. While Sherry would have been a significant player, it was far from the only alcohol being imported.
For centuries, Scotland was, as the title of one of my favourite books has it, 'knee-deep in claret' – thanks to long-established trading, political and familial links with Bordeaux. There is an account of King Alexander III in 1286 drinking 'the blood-red wine of Gascony'.
Little had changed from then until the 19th century. 'At one time, Scotland was reputed to drink more claret than any other country,' wrote F Marian McNeill in her book, The Scots Cellar. The drink of the comfortable middle classes, claret ran in the veins of the well-heeled denizens of Scotland's cities and country estates. Wine casks, therefore, were widely used for whisky maturation.
Port was in the ascendency in the 19th century. The Scots had been resistant to the fortified wines of Spain and Portugal at the start of the 18th century, seeing them as 'English'. Indeed they continued to import claret, rather than Port or Sherry, even when there was a trade ban on French imports to England at the start of the 18th century.
By the 1850s, however, that attitude had softened as canny entrepreneurs saw commercial opportunities in Iberia. An exodus of Scottish merchants: Cockburn, Sandeman, Gould, Campbell, Dow, Graham and Symington all headed to Portugal to found Port houses.

Opportunity knocks: Scotch merchants such as Wm Graham saw commercial potential in Port

It's forgotten these days that the same happened not just in Jerez and Porto, but in Madeira as well. By the mid-18th century, 30% of the island's wine merchants were Scottish. There was even a Presbyterian kirk in Funchal. The two most prestigious ex-pat families were Rutherford and Gordon (the latter later becoming Cossart Gordon).
All of these used family connections at home to establish their business, and the consumption of all fortified wines boomed. There weren't just butts along the quaysides, but pipes and drums as well. All were used by the whisky industry.
An account of a merchants' dinner in Glasgow in JG Lockhart's Peter's Letters to his Kinsfolk (1819) gives an idea of not just the level of consumption, but the breadth of it as well. In it, a feast of salmon, trout, mutton, beef and fowl in curry was 'washed down by delicious Old India Madeira… a single bottle of hock, and another of white Hermitage… after dinner we had two or three bottles of Port… an abundance of the same Madeira, but to my sorrow no claret.' After dinner, the Glasgow merchants would have started to consume the drink of the age, Glasgow rum punch.
The city had long established trading links with the Caribbean – Jamaica especially. It was a rum-drinking city and remained one deep into the 19th century. Once again, rum casks would have been plentiful.
This is not to diminish the importance of Sherry and the Sherry butt. There was, however, a far wider range of casks being used in those early days than has been thought – or talked about. So, while it might seem unusual, the use of wine, Port, Madeira, rum and brandy casks (the last was also widely used and features in the John Dewar & Sons stock lists of the late 19th and early 20th centuries) is simply following a long-established tradition.
There are, of course, regulations in place about which casks can be used. The Scotch Whisky Regulations 2009 only permits casks that can be classed as 'traditional' – in other words, that are proven to have been used in the past – and has drawn up an 'approved' list.
Calvados casks, for example, are not permitted as there is no evidence (as yet) that they were utilised. Quite whether Dewar's will point to the fact that Tommy Dewar had raspberry vinegar casks in stock as justification for an unusual new finish is open to question.
I hope this helps.
Prof
Do you have a burning question about Scotch whisky for the Whisky Professor? Email him at [email protected].