Blending doesn't require a laboratory full of whisky samples and opaque blue glassware. All you need to create your own house blend is an empty bottle or decanter, a few half-finished whiskies and a bit of know-how. Matt Evans spoke to some of Scotland's master blenders for a few hints and tips.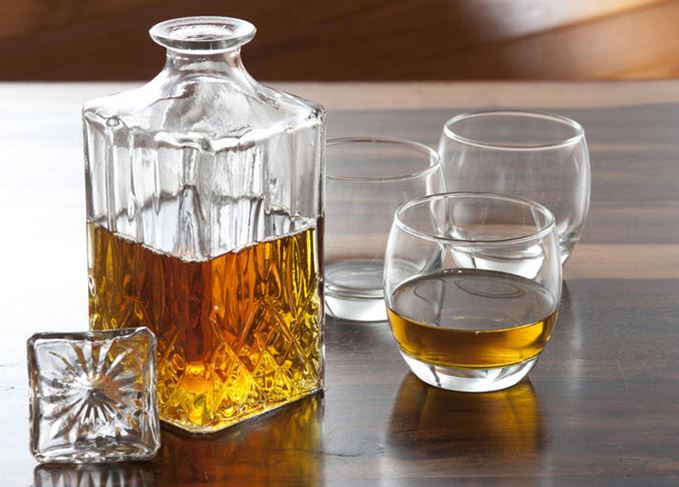 Anyone with a whisky collection of half-a-dozen bottles or more has them. The dregs. The last lonely couple of drams languishing at the bottom of the bottle, saved for the rainy day that never comes or neglected in favour of new whiskies straight off the shelves. The dilemma is clear: finish them off to justify that new purchase, or let them sit there, oxidising in all that empty space?
Actually, there is a third option – take some of your dregs and mix them together, creating your own 'house blend' which is 100% unique to your taste. Then, once another whisky is opened, add some of that one too.
While master blenders hone their craft to a fine art, you don't need years of nosing under your belt to create your own infinity bottle. Just keep adding new drams of whisky as you get them. The interesting thing about this experiment is your new house blend changes over time. The end result is a bottle that may never empty, a living bottle that changes and grows as you do.
But how to get started, and make sure your new blend isn't a disaster? Scotland's master blenders have spent decades perfecting their craft, so who better to ask for advice on creating a successful infinity blend at home?
Decanter or bottle?
When choosing a container for your house blend, a decanter seems like the obvious choice in which to vat your whiskies – it can be as big or as small as you like, depending on how grand your experiments are going to be. However, decanters can tarnish a whisky's taste if you're not careful.
'Decanters work for short-term storage, but you may find you lose some of the more volatile flavours and aromas over time,' says Kirsteen Campbell, master blender for the Famous Grouse and Cutty Sark. 'Comparatively, any glass bottle with a good seal will work well.'
Many decanters use stoppers that simply rest on top of the bottle, rather than creating an airtight seal. This means that the whisky will dull as the livelier compounds evaporate more easily. If you're after maximum flavour and aroma and intend to keep your infinity bottle around for some time, you're better off recycling your favourite empty bottle instead.
However, a bottle may not be big enough to accommodate your eventual blending ambitions, at which point you will need to upgrade to a larger container, such as a demijohn.
In order to mitigate against any potential flavour losses, keep your blend properly sealed and about 80% full at all times to avoid too much oxidisation. If it gets below this level, just top it up with another dram. Vintage decanters may look gorgeous, but be wary of choosing a leaded crystal vessel, as lead might leech into the liquid.
Once you have your container ready, apply a blank label to the back to keep track of what's been poured into it, or keep a notebook nearby. When you hit upon a blend you like, you can save the recipe, allowing you to fine-tune or recreate it in the future. You can then leave the infinity bottle to keep evolving and developing new flavours.
Flavour profile
Some infinity bottlers just add their odds and ends into the bottle with the aim of creating a curiosity, while others set out with a specific flavour profile in mind. Which is the right approach for you?
'I would suggest that you have an idea in your head of what you want to create,' says Rachel Barrie, master blender for BenRiach and GlenDronach. 'Imagine what you want it to taste like, or the occasion or the balance you're aiming for.
'You have to know your senses and work with them. Nose individual whiskies and take tasting notes. Write down the three top notes and give it an intensity rating and a quality ranking, and then you can analyse how much you want to put in.'
Sandy Hyslop, director of blending at Chivas Brothers, adds: 'In my head, I've got a picture of where I want to be before I start. It's almost like a checklist inside your head. A bit of fruitiness in there, a bit of orchard fruit, a wee bit of cinnamon… There's a whole palette of flavours I'm trying to bring together to make the final product.'
Although mixing drams at random could lead to an amazing discovery, it's more likely to end up very chaotic, with disparate flavours clashing together instead of creating something more than the sum of its parts.
If you're not sure of a starting-point, begin by choosing a base whisky you know you enjoy, list three top notes – as Barrie recommends – and drop in small amounts of whiskies that share some of those top notes. Chances are that you'll like the end result.

Shelf raider: Sacrificing a dram of old or rare whisky could add much-needed depth to an infinity blend

Base whisky
Many blends have a single whisky at its heart that makes up the majority of the recipe. If you're not sure where to start, Barrie recommends using a fruity Speyside malt such as BenRiach or Glenlivet as the base, ensuring that it comprises about 60-70% of your initial blend.
'A good Speyside malt is always at the heart of a good blend,' says Barrie. 'It's got the fruit, the malt, it can hold flavours and bind them all together. A bit like cooking.'
If you're after a softer, rounder base that can handle a variety of malt being thrown at it as you empty your dregs, Hyslop recommends choosing a grain whisky. 'I'd be looking at different types of malt whisky and then start playing about with different levels of grain mixed in each, to try and get something I feel is a good balance,' he says.
Whether you choose malt or grain as a starting-point, it can then be modified with different whiskies that add certain characteristics, according to your own personal taste. Rich, Sherried whiskies such as Tamdhu or Dalmore can provide heavy, fruity notes, while light, citrusy and floral whiskies, such as Auchentoshan or Miltonduff, can impart lighter top notes. Experiment with different whiskies as time goes on.
Adding peated whisky
Peat monsters and Sherry bombs are a blender's salt and pepper, but be careful not to be too liberal. 'There are no rules about keeping peated and non-peated whiskies separate,' says Campbell. 'It's all about experimenting until you create a well-balanced whisky that you enjoy.'
Hyslop agrees: 'Sherry and Islay whiskies are two very potent ingredients and only need to top a blend to get an effect. If I was looking to bring a blend together that had a nuance of Islay in it, I would form the blend without the Islay and then teaspoon it in, until I got it to the level I was happy with.'
The best method is trial and error – add incrementally and taste as you go. You can always add more if you're after a whisky with a stronger flavour. In order to do this safely, without compromising the rest of the blend, Hyslop separates a small measure of his infinity bottle as a control to experiment with, so he's not making a big batch of something he doesn't like.
Record the amount of peat you've teaspooned into the sample and nose it against your original unpeated blend. Once you're happy with the taste, simply scale the dose up appropriately and 'season' the rest of the bottle.

Recipe book: Keep records of which whiskies you've added so that you can recreate your blend


Adding non-Scotch
Just because you're a Scotch drinker doesn't mean you're monogamous – you're likely to have emptying bottles of Bourbon or rye, or even an experimental Irish whiskey matured in chestnut. Should you add the last drops of these bottles to your blend? It's all down to personal choice, but Barrie warns against getting too carried away.
'I would choose not to mix a Bourbon or rye whiskey with Scotch,' she says. 'They're such distinctive characters in their own right, you're doing them a disservice by blending them.'
Barrie notes that adding Bourbon or rye whiskey directly into a blend can overpower the subtleties of Scotch because of their strong wood notes. Similar to adding too much peat, if you're not careful you'll end up drinking something that tastes overwhelmingly like Bourbon.
If you're after a sweeter, woody whisky, she recommends dropping in a Scotch whisky aged in first-fill ex-Bourbon casks to create those flavours in a more balanced fashion.
'This is the tricky bit,' agrees Campbell, referring to fine-tuning individual flavours. 'Often, you'll be surprised by the blend two or more whiskies create, so it's a case of experimenting until you get the balance right.'
'Wasting' older whiskies
The older whiskies get, the more sacrosanct they become, according to common belief. Surely you'll want to enjoy the really old stuff on its own, as it was intended, rather than blend it away? Think again, says Barrie. 'You might want to mix something really nice with something quite old,' she says. 'For example, the majority of your blend might be a 10-year-old, with a couple of percent of something really old to balance it out and give it a longer finish.'
There's nothing untouchable about older whiskies – Hyslop regularly creates blended whiskies for Royal Salute including malts matured for up to 55 years. If you can stand to let a small dram or two of a 30-year-old go, it could add some much-needed depth and complexity to your living blend, and because a trace of your old whisky will live forever in your infinity bottle, you'll be tasting it long after the rest of the original bottle has gone.

Small and mighty: Even the smallest drams will have an effect on your infinity blend's flavour


Consistency
The very nature of an infinity bottle means that there's a degree of consistency involved. In small, sometimes infinitesimal amounts, traces of every dram ever poured into it remain in the liquid. If you're only adding a dram at a time of the whiskies you like, you're likely to be creating a fairly consistent whisky you can enjoy on a regular basis.
'I have a little blend that I mix up at home to my own recipe,' says Hyslop. 'I never let that bottle get less than half-full. I always top that bottle back up, so there's a level of continuity and consistency in the product.'
This is where the label comes in. By keeping track of what you've added (and the volumes of it) you'll be able to maintain that degree of consistency. Once you've hit on a combination you like, you can go back through all your previous pours and ensure that you stick to those guidelines.
Ready to drink
Before giving the final verdict on your blending expertise, let the liquid sit for a couple of days after you're done adding whisky. This, according to Barrie, allows 'the different components time to get to know each other and marry'.
Whisky is comprised of delicate flavours, and sipping straight after mixing might give you the impression that the whole experiment was a failure. Wait a few days; let it settle. If your house blend isn't to your taste after that, you can either choose to wait a bit longer for those flavours and aromas to marry further, or tweak the recipe further. Happy blending!