As blended Scotch producers continue to highlight the components of their expressions, Lucy Britner examines whether brands are working towards greater transparency, or simply piggybacking on the success of single malts.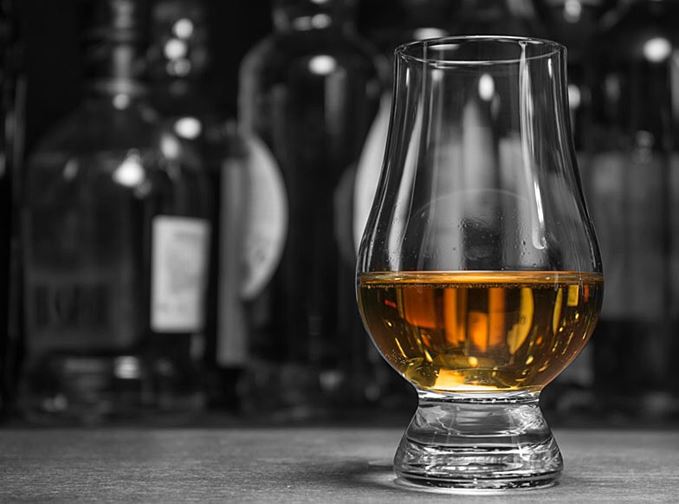 The so-called 'dark art' of the blend is stepping into the light as more and more Scotch whisky companies look to pinpoint what goes into huge, famous brands such as Johnnie Walker, Ballantine's, Label 5 and Chivas. From releasing 'hero' single malts to championing Scotland's regionality, producers are lifting the lid on their blends.
On one hand the move points towards championing transparency for drinkers. On the other hand, innovations may be borne out of reports that blends are under pressure, while single malts are gaining pace. According to The Macallan and Highland Park's UK distributor Edrington-Beam Suntory, the value of Scotch blends is expected to fall from £1.05bn to £1.01bn between 2018 and 2022. Meanwhile single malts are predicted to grow in value, from £394m in 2018 to £439m in 2022.
'Scotch blends have been in long-term decline,' the Edrington-Beam Suntory UK Whisky Yearbook says, blaming, among other things, increased focus on 'more premium categories such as American whiskey and Scottish single malts'. Elsewhere, the report says original fans of the blend are also disappearing.
And so, in a bid to rekindle the love from existing fans, at the same time as creating new ones, blends are revealing (some of) their mysteries.

Four corners: The Black Label Origins series reflects some of Scotland's whisky regions

At Johnnie Walker for example, the new Johnnie Walker Black Label Origin Series, released last month, lifts the hood on what makes Black Label. The range of four new regional expressions, designed to celebrate the 'four corners' of Scotland, comprises Islay, Highlands, Lowlands and Speyside variants. All are aged for 12 years, in line with the original.
At a tasting in Edinburgh, master blender Jim Beveridge OBE told Scotchwhisky.com that 'knowledge is the new currency' when it comes to our desire to know what's behind a blend.
'It's all about insights into different products,' he says. 'These four expressions are giving us insights into Johnnie Walker Black Label. I think we can begin to understand a bit more of what's behind it, through these expressions.'
Beveridge says that traditionally, whiskies used in blends were 'a secret'.
'You can see how these four expressions have opened up a discussion around how Johnnie Walker is made… they enable that conversation to start,' he adds. 'It's so much richer than the way we used to do it.'
The new range also offers a 'journey for the single malt drinker to understand and appreciate the skill and opportunity that blending brings and how flavours can be expressed differently,' Beveridge says, explaining that the Speyside expression, for example, is 'not just Cardhu, it's Cardhu with other Speysides'.
'It's that kind of combination of flavour – that's what blends are all about,' he adds.

Knowledge is power: Beveridge says more drinkers want to know what goes into the bottle

Blender George Harper, who led the creation of the series under the guidance of Beveridge, believes there are generally 'more and more people that are interested in flavour and interested in whisky'. He describes these drinkers as 'a bit more experimental', highlighting Origin's work with bartenders to create whisky cocktails – such as the Speyside Highball.
The four expressions demonstrate the 'kind of stretch that is possible within blending', Beveridge explains.
Ballantine's, which is owned by competitor Chivas Brothers, took a slightly different approach in 2017, with a series of single malts from the three main distilleries used to create the blended Scotch. The 15-year-old single malts – from Glenburgie, Glentauchers and Miltonduff – are what the company's director of blending Sandy Hyslop calls 'the fingerprint malts' of the blend.
And last year, Ballantine's kicked off the release of four whiskies under the 'Signature Flavour' banner, each designed to highlight a specific flavour characteristic. Ballantine's Warming Spices is available until November, when it will be replaced by a new 21-year-old expression.
On the subject of 21-year-old whiskies, Hyslop this month announced new, permanent additions to the Royal Salute line-up. Among the new expressions is Royal Salute 21 The Lost Blend, which features whiskies from now-silent distilleries Imperial, Dumbarton and Caperdonich.

New additions: Royal Salute's The Lost Blend contains whiskies from lost distilleries

'It's important to give drinkers a bit of the DNA of what we're doing,' says Hyslop, who believes people are more interested than ever before in what makes a blend.
The release follows a similar move by Johnnie Walker with its Blue Label Ghost and Rare Glenury Royal. The expression, which was also released this month, is the third in a series of special editions made using 'ghost' whiskies from closed distilleries, along with other rare single malt and grain whiskies. Highland distillery Glenury Royal fell silent in 1985 and master blender Beveridge describes the new expression as a 'wonderful opportunity to explore the remarkable layers of rich fruit found in every drop of Johnnie Walker Blue Label'.
Elsewhere in the industry, Graham Coull, distillery manager at Speyside's Glen Moray – a major component in blend behemoth Label 5 – believes the move towards a greater level of openness can only be a good thing. He also reveals that his company is 'looking at several opportunities' to showcase the components of its blends. 'This could include a single grain release and also wood-finished blends,' he adds.
Overall, raising the profile of the individual components of the blend allows drinkers to make a more informed choice, believes Coull.
'I think the demarcation lines between blends and single malts will continue to blur,' he says. 'Consumers will make their choice by style and taste profile rather than by simply choosing blend or malt.'
But don't expect all mysteries to be revealed; after all, most blends include whiskies from distilleries owned by their competitors. 'We're not going to give away everything,' says Hyslop, 'but we need to give away more nuggets.'
So, whether producers are fighting the decline of blends or simply sharing more knowledge about the process, we can expect to be in on at least a few more secrets.