Brewdog, the enfant terrible of the beer business, is moving into distillation via its Lone Wolf spirits offshoot. The venture includes – unsurprisingly – an iconoclastic approach to Scotch whisky production. Richard Woodard reports.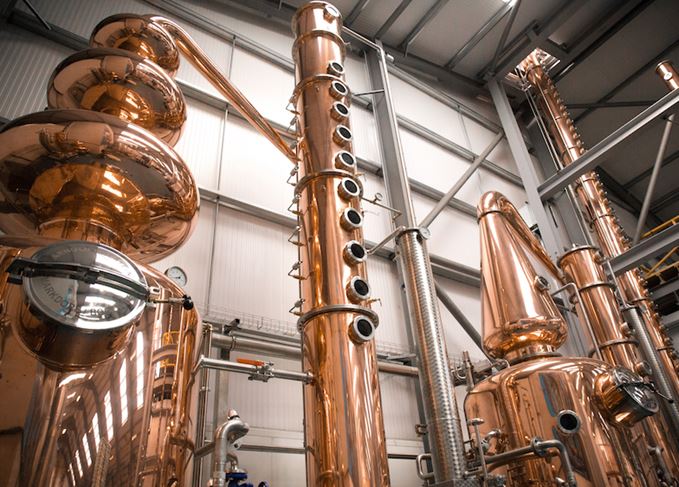 These days, a new distillery starting up is such a regular occurrence that it verges on the humdrum. But, when spirit starts to flow from the stills on a greenfield site at Ellon, just north of Aberdeen, in a few weeks' time, there'll be more than a passing interest in the results. Because the plant, known as the Lone Wolf Distillery, is owned and run by self-styled 'punk' brewer Brewdog.
A serial headline-grabber, the company's past antics include driving a tank through the City of London to publicise its Equity for Punks crowdfunding scheme, and packaging a 55% abv freeze-distilled beer in small stuffed animals. What on earth will it get up to in Scotch?
Well, whisky won't be part of the Lone Wolf story for some months yet. For the moment, head of spirits and distillation Steven Kersley's main focus is on, as he puts it, 'nailing down' the recipes for the venture's gin and vodka.
But the approach to the former gives a clue to the broader Lone Wolf philosophy: experiments with dozens of globally sourced botanicals in a 50-litre pilot still, with what works taking precedence over local provenance.
It may be some months before the first new make trickles from the two pot stills dedicated to whisky production, and some years before we can taste the results, but Scotch whisky is set to be, in Kersley's words, 'an integral part of what the Lone Wolf Distillery achieves in the future'.

Scottish distiller Steven Kersley will trial 'batshit crazy' experiments in Lone Wolf distillery's small 50-litre pilot still.

That should come as no surprise, given Kersley's background. His passion for Scotch was kindled while working as a tour guide at Oban distillery during student holidays; after studying chemistry at Glasgow, then brewing and distilling at Heriot-Watt, he spent four years managing a number of Diageo distilleries, including Benrinnes, Teaninich and Linkwood.
This gave him invaluable experience, but Kersley always wanted to move into spirit creation and innovation – to a job where he might not be tied to making one style of whisky to keep the blenders happy. He seems to have come to the right place.
Kersley's approach at Lone Wolf is based upon a painstaking deconstruction of the whisky-making process. The neighbouring brewhouse will supply all of Lone Wolf's wash, experimenting with different yeast strains – not just distillers' yeast – and varying fermentation temperatures.
Peat may well be involved, but so might barley dried with cherry or apple wood, says Kersley, along with different grain bills, possibly involving rye and corn (Kersley is a 'massive fan' of rye and Bourbon whiskies). 'We really want to try to experiment with different types of spirit. It's a question of what we can call whisky,' he says.
Not everything will work, he admits, but he's clear that the team won't be pressured into releasing anything that's either not good enough or not ready. 'You might not see it in a bottle if it's not of sufficient quality,' he says. 'We don't want to be just doing stuff for the sake of being innovative – we want to learn as well.'
The grain category – into which many of these experiments may necessarily fall – is, Kersley believes, 'really not explored' at the moment, cementing his determination to create 'grain whisky, but with our own stamp on it'.
He continues: 'Ok, there's Haig Club, which is in my honest opinion nonsense: a nice vase with a celebrity endorsement, and Cameronbridge spirit which you can buy off the shelf for about £18. It's massively premiumised and overpriced.'

Eventually destined to produce whisky, Lone Wolf's peculiar wash still (left) is designed to increase reflux for a light spirit style.

But there will be Lone Wolf single malt too. 'That's 100% on our radar, but it takes time to get the quality right – probably several more years,' says Kersley. Again, the stylistic approach will be malleable – because, apart from anything else, he is a regionality sceptic.
'You could take malt from the Lowlands, Speyside and the Highlands, and you wouldn't be able to pull them apart in a blind tasting, I don't think,' he says. 'That association of style with specific region is a little bit out-of-date for me.'
Then there's maturation. 'Why just rely on the environment that the cask is maturing in?' asks Kersley. Instead, he wants to control it, to tweak it in terms of temperature, humidity, even pressure; to mimic, say, the conditions of the Caribbean or Kentucky and to see how that impacts the whisky as it ages.
Wood sourcing will be equally cosmopolitan. Kersley is in talks with suppliers in the US, Spain, France and elsewhere, with a broad remit from the casks' previous contents to the raw materials used. Chestnut-matured spirit, anyone?
And we haven't even discussed the stills yet. There are two pot stills for whisky, each with a 3,000-litre charge. The first has what Kersley calls an 'interesting' neck with a triple bubble, to create plenty of copper interaction and reflux. 'Sometimes that's good and sometimes you want a more a more "meaty" spirit – so we'd run the still harder in that case,' he explains. 'It was a bit of a "how do we even do that?" thing, but the coppersmith did a great job of making it happen.'
Pot still number two is more traditional in style and shape, but is linked to a complex condensing system, including a second condenser with temperature control and a catalytic converter with a 'massive' area of copper surface. This can either be engaged for a more delicate spirit style, or bypassed for something heavier and meatier.
There's also an eight-plate rectification column, designed for 'stripping' the spirit to make rye, Bourbon and grain. One run can create a spirit at 80-90% abv, which can then be cut back, distilled again in pot still two or allowed to mature.

Lone Wolf distillery would rather create interesting spirits than be able to label all its whisky as 'Scotch'.​

The current aim is to start putting spirit into cask in August, distilling up to 125,000 litres in the first year of production. Kersley reckons most of this will be in an identifiable 'house style', but about 25% will be the 'bat-shit crazy and interesting stuff'.
Serial experimentation is all very well but, given the strict rules governing Scotch production, might some of this activity not attract unwanted attention from the Scotch Whisky Association? Kersley acknowledges that he might not legally be able to label everything he makes as Scotch whisky, but doesn't want that to change Lone Wolf's approach.
'The SWA do a great job of flying the flag for Scotch whisky,' he says. 'Personally, I think they're a little bit out-of-date with whisky in terms of the global market. There are a lot of small – what you might call "craft" – distilleries in the US taking market share from Scotch, for a number of reasons, including maybe price point.
'But these smaller distilleries are being innovative and they're trying different things. There's a shift in people becoming interested in what's in their glass. It's important to have the quality there, but to be interesting and innovative.
'That's part of the challenge and we really want to go after it.'