The saying goes: 'If you turn your passion into a career, you'll never have to work another day in your life' – and it certainly seems to fit Georgie Bell. The Bacardi global malts ambassador turned a childhood dream of becoming an explorer into a full-time position, travelling the world for two-thirds of the year – all in the name of whisky. She spoke to Melita Kiely about some of her most memorable destinations and tastings, and pursuing that elusive work/life balance.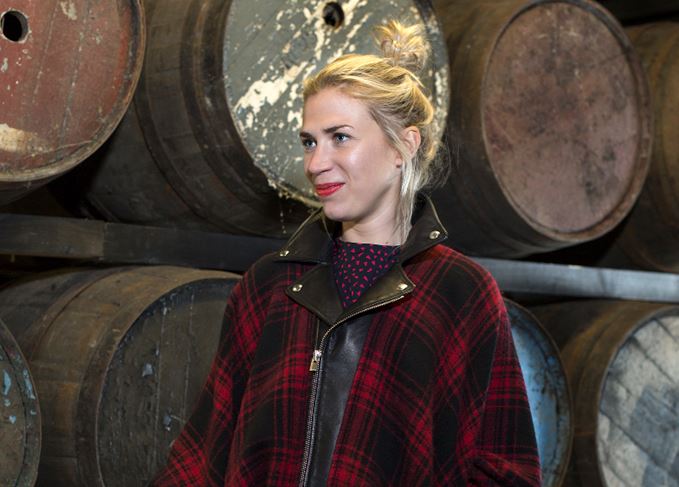 'I studied geography at the University of Edinburgh because I wanted to be like Captain Scott and travel the world – I wanted to be an explorer. During my third year I did a "geography of wine" module and it made me realise there's a link between alcohol and geography. When it came to picking my dissertation topic, I was originally going to do it on the globalisation and localisation of Tequila and spend time in Mexico. But then swine flu hit and I thought: "What's closer to home?" So I looked at whisky and Islay.
'When I graduated, I got offered a job in Mexico teaching English, but then I thought: no, I need to pursue whisky, and so I got a job at the SMWS (Scotch Malt Whisky Society) working behind the bar and doing ambassador stuff in-house. One day I was called into the office and thought I was trouble, but they said: "Look, we're growing internationally and we need someone to look after our development," and they offered me the job of global marketing manager. I've still not been to Mexico.
'As an ambassador, you see the Instagram posts and the check-ins online – it's the filtered life. I see so many bartenders want to be ambassadors and I remember myself being inspired by ambassadors. I used to want to sell products because of ambassadors, but I wasn't sure if a whisky ambassador role would be an option for me. There's a lot more to it than being this smiley face. I loved the SMWS because I got to learn and taste so much and really develop my palate. I also did a fundamentals in distilling course.
'I have always been very fortunate with each of my three roles to not just have an ambassador role; invention, education, advocacy and PR are also big parts. My job basically involves educating people about our brands, Aberfeldy, Aultmore, Craigellachie, Deveron and Royal Brackla, and the category as a whole. Of course, as ambassadors we focus a lot on our own brands, but we also speak about each other's brands to promote one another and dispel myths throughout the industry.
'It's all about working for the greater good of whisky. There's a big internal company element too, which people forget about. When I worked for Diageo, behind the scenes there were 26,000 employees. My current employer Bacardi has the same.
'I've been to some amazing places because of what I do, and it's an incredible part of the job. When I was at Diageo, I went to the World Class [the world's biggest bartender cocktail competition] finals in Kenya, and I got to go to the Monaco Grand Prix twice with Johnnie Walker. I really do enjoy the travel, even though I push myself too much; I am very fortunate I have friends all across the world.

Global explorer: Before joining Bacardi, Bell worked as Mortlach global ambassador

'I have been doing global jobs since the end of 2012, so almost 4.5 years – you learn along the way. I could never resent the travelling part of my job because I love it. I travel for roughly eight months of the year.
'I always try to immerse myself in the places I visit. Running helps a lot. I'm very good at trying to make myself a home, which doesn't mean carrying home comforts, but I travel like a local.
'I am actually a bit of an introvert. I love being busy and meeting people, but I love me time as well. I don't have a routine, but my routine is exercise, normally road biking, yoga, swimming or running.
'I love spending time with my friends. Because I travel so much it's crucial to be organised when it comes to meeting up with friends. If I know I'm going to be home for two weeks, I'll make sure I call them so we can arrange to do things together. My friends are the most important thing to me in the world.
'I have so many favourite places around the world. Last year I was in Singapore for work and it was my birthday, and a friend of mine organised for us to go climb a mountain in Malaysia. I love spending time in the US, and I've been there four times already this year. Bali is another place I love; I spend a lot of time there for holidays.
'I have no ties, so I could be placed anywhere. But I am a warm kind of person, I hate the cold. I could definitely move to Australia or America one day – I'm open to options.
'Considering how much travelling I do – in one year I took 103 business flights – I'm pleased to say I've only ever missed two flights.
'I once did a tasting at the Skolkovo golf course, and we hopped in some golf buggies and Busta Rhymes was there by the 10th hole. It was crazy.
'In Russia, a group I met decided to adopt me as part of their family while I was in town. They organised for me to do a whisky tasting at this club and took me here, there and everywhere. The hospitality I received from everyone was wonderful.
'I love making time to visit other distilleries while I travel, like FEW in Chicago and Archie Rose in Australia. My upcoming travels include Japan for a couple of weeks, then Australia and Tales of the Cocktail in New Orleans.
'If I were to give advice to anyone wanting to become a brand ambassador, or work in any other part of the drinks industry – there are so many things you can do – I would say read as much as possible. Keep your eyes on other categories and learn from what they're doing. Never say a bad word about any whisky brand because you might be working for them one day. Get behind the bar and turn as many covers as you can. Get tasting, get talking and work on your presentation skills. There's so much that goes on behind the scenes.'