The global ambassador for The Singleton is no stranger to mixing single malts. He tells Matt Evans about global cocktail culture, his Game of Thrones obsession and what it's like slinging whisky knowledge in the social media age.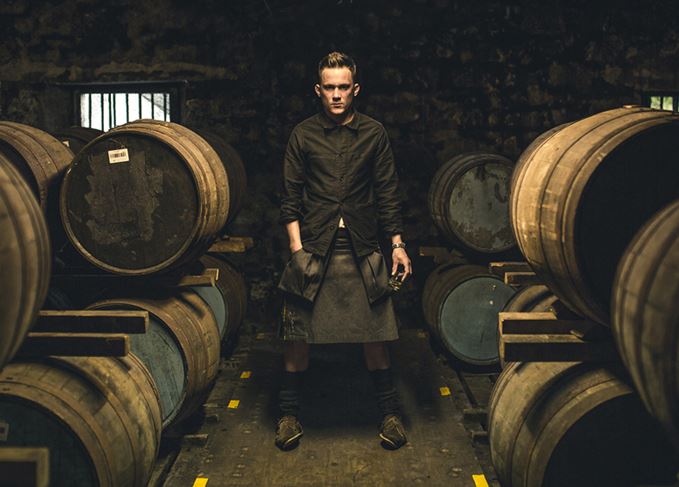 'It would be hard to talk about other whisky cultures without starting with Asia. My first trip totally blew my mind, it was incredible. Coming from Scotland and travelling 6,500 miles to countries like Singapore and Hong Kong, I was seeing my national spirit in every, single, bar. From dive bars to five-star hotels, they're all putting it in amazing drinks, whether it was a simple Highball or a high-end cocktail. The access to Scotch is insane.
'I came from a bartending background, making cocktails in bars from Manchester all the way to Scotland. Historically, a lot of brand ambassadors came from a very traditional whisky background, but there are so many ways to become an ambassador. Because a lot of whisky brands are trying to talk to bars now, [my background] kind of gives me a unique perspective. It also gives me a massive cocktail bias!
'Four years ago, I started as Diageo's Scotch whisky ambassador in Scotland. It was a good way to cut your teeth: you host people from all over the world and it's a really good way to get an insight into whisky culture and how people are drinking it in specific markets. Around 18 months later, I started as a global ambassador for The Singleton.
'Single malt whisky is not on the tip of every bartender's tongue. It's not on as many cocktail menus as I'd like, but we're getting great impact with Johnnie Walker and the blends. We're about to see a real shift with cocktail culture and single malts. There's no image problem, it's just a question of education. You hear people go "you shouldn't do that with single malts" and make a noise like a tradesman's about to charge you a load of money… which happens way more in the UK than it does anywhere else.

One for all: Trykowski describes The Singleton whiskies as 'unapologetically approachable'

'The biggest misconception about whisky is smoke and mirrors. I was in the taxi on my way to the airport and the taxi driver asked me: "What's the one thing people tell you that's nonsense?" and I told him it was where smoky flavours come from. He goes: "Aye! It comes from the cask."
'I hate PPM. It's pretty unclear, and if it was a really reliable number which always dictated whether it was measured before maturation or distillation or fermentation, it would be cool. But it's not done like that, and nobody understands it. Why don't we just describe it as flavour, describe what kind of smoke you're getting?
'As brand ambassadors, we have to talk to people about flavour. Everyone can pick up at least three different flavours from any given single malt, and if we start talking to people in language they understand, we'll start seeing more single malts working their way onto cocktail menus. In Scotch, we have an unrivalled palate to work with. The sheer variety of Scotch whisky provides room to experiment.
'The other unique aspect about Scotch is the stories. Scotch has been around for 500 years, and we've got distilleries that are over 100 years old. People love that. They imagine this little guy in this remote, heartbreakingly beautiful location producing this amazing single malt whisky. You have these big flavours, but the people are the heart of it.
'Bars I like? The Pot Still in Glasgow has some of the greatest whisky recommenders on Planet Earth. They just get it. They ask you what you like for dinner, what kind of wine you drink, what kind of beer you like and they'll grab some whiskies for you. Baxter's in Sydney is a balance between traditional and cool. They're making cocktails, but they've got all the access to whisky that a traditional bar in Scotland would have. Those two bars are on opposite sides of the world, but share the same values.

Highball heaven: Trykowski is happiest with a 'dead easy to make' Singleton and apple soda in hand

'Social media is brilliant. I'm of the generation where I'm a proper social media user. We can put out new ideas, we can put events on our stories, people engage with you… occasionally we have to debunk stuff, but people can spend too much time getting righteous about things online. It's like shouting into a vacuum. I'd love to see a positive group on Facebook with people just trying to get into whisky, a safe space to ask questions. It's all about the democratisation of whisky, which is something I'm really passionate about.
'The two things that link the three Singleton distilleries is the attitude towards whisky, and their shared flavour profile: all fruity. Glendullan has a lot of dried fruit, Glen Ord has rich tropical fruits, and in the middle you have Dufftown, which is oily, green, fresh fruit. But the thing that unites them all is the attitude to how they should be enjoyed, and we use the term "unapologetically enjoyed". It's very approachable, very easy to enjoy and made to crack open and have with friends.
'I want to sit at a bar and have someone pour me a Singleton serve that their friend has made for them, someone who has no idea who I am. 6,500 miles away from Scotland, that happens. I hear stories about a distillery, a liquid and the way their friends taught them to enjoy it. I remember getting an amazing drink made up of Scotch, cold brew coffee and coconut water. The stuff I have at home is usually Singleton with apple soda and a bit of soda top. It's delicious and dead easy to recreate.
'I'm super excited about the upcoming Game of Thrones whiskies. I don't know too much about the whiskies yet, but as a fan, I can't wait. Me and my partner have binged and rewatched all of it for season eight. I love the wee guy [Tyrion], he's the absolute boss. If he dies, I'm not watching it anymore!
'I like listening to music. I went to see David Byrne from the Talking Heads this week. Most people also say they enjoy travel, but I love travelling with my future wife instead of travelling for work. With work, it's always jumping around cities and different events, whereas travelling with my partner is all about getting away and relaxing.'