Islay is 'whisky island' – home to no fewer than nine distilleries, with more on the way. Whisky has brought investment and jobs to the Queen of the Hebrides, but there are challenges too, including crumbling roads and an inadequate ferry service. Richard Woodard investigates.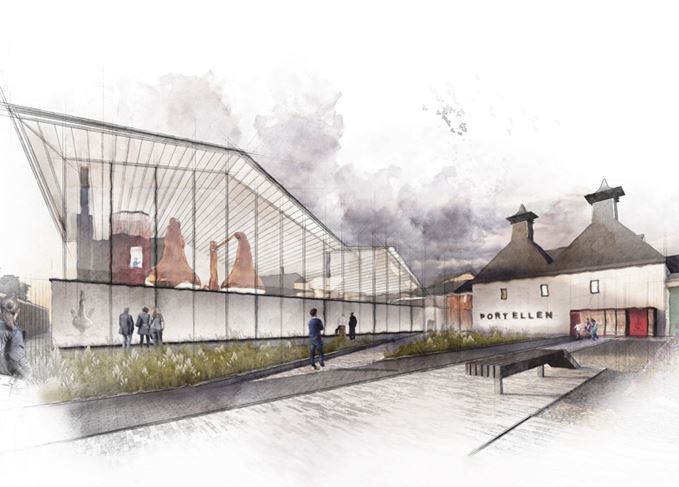 The whisky industry has been kind to Islay. In the past 20 years or so, Ardbeg and Bruichladdich have been revived, Kilchoman and Ardnahoe built, and production expanded at Caol Ila.
And there's more to come, with £100m-plus in investment planned for the island: Kilchoman and Ardbeg are doubling capacity, Laphroaig is expected to expand, Bruichladdich continues to invest in warehousing. More distilleries are set to follow: Elixir Distillers' new plant at Farkin, the resurrected Port Ellen and, maybe, long-awaited Gartbreck.
Then there are the tourism projects, including Diageo's grand plans for Caol Ila, and Bunnahabhain's £10.5m makeover. Kilchoman is about to open a new visitor centre too, reflecting the fact that today's Islay is not just a location for whisky production, but also a tourist destination in its own right.
Islay and Scotch whisky are an undoubted success story, but one that brings challenges and headaches, as well as benefits. A creaking ferry service, the parlous state of the island's roads, employment and housing issues… the list goes on, and islanders are increasingly frustrated that their concerns are not being addressed.
'It's more difficult when you're island-based and you're so dependent on the services you get,' explains Anthony Wills, founder and MD of Kilchoman. 'My big gripe is that they haven't dealt with it. I'm not saying we're at crisis point, but they need to be energised into dealing with it.'

Latest addition: Ardnahoe has now become Islay's ninth operational whisky distillery

Islay's whisky production is likely to increase by 35% over the next five years, according to estimates from Islay Community Council. Even before that expansion, the island paid £196m in excise tax in 2016 (excluding gin).
'This industry contributes so much to Islay and to the Exchequer and to everyone,' says a community council spokesperson. 'The government should be recognising that – don't kill the goose that's laying the golden egg.'
THE FERRIES
Islay is served by two Caledonian MacBrayne (CalMac) ferries from Kennacraig on the mainland to Port Askaig and Port Ellen, but – even though the routes account for more than 20% of CalMac's revenues – the service is patchy, with frequent cancellations and capacity constraints.
'We're the only [CalMac] crossing with two ferries, so when another of the ferries on the fleet is down, off our second one goes,' says Wills. 'That has a dramatic impact on doing business.'
Of the two vessels, MV Hebridean Isles is ageing, while MV Finlaggan, at the time of writing, is in dry dock for maintenance. According to Transport Scotland, Islay has been in line to receive the next new ferry to join the CalMac network since 2016, but the timescale is vague, with a spokesperson saying that 'work on vessel specification is currently being taken forward'.
'What's really disappointing is that we're in 2019 and the goalposts keep shifting,' says the Islay Community Council spokesperson. The understanding is that Islay will get a 'Finlaggan-plus'-style ferry; however, the island can't accommodate the larger, 100-metre vessels currently being built because the piers at Port Askaig and Port Ellen are too short.

Patchy service: Islay's ferry links with the mainland suffer regular cancellations

Bruichladdich CEO Douglas Taylor acknowledges that the distillery is 'quite accustomed' to dealing with the immediate impact of cancelled ferries, but he also warns: 'While our business may not be significantly impacted in the short term, the continued deterioration of CalMac's current fleet is of concern. Their lack of flexibility – due to only a small number of vessels able to berth at our ports – will certainly lead to an unsustainable, unreliable service.'
Tourism is also suffering as a result, Taylor believes: 'Other than the obvious operational strain we're put under, we suspect there are opportunities lost in terms of visitor numbers too. It's hard to pinpoint an exact figure, but when ferries are cancelled, rerouted or at full capacity, the logical conclusion is our potential custom goes elsewhere.'
THE ROADS
Islay is hardly alone in having a pothole problem on its roads but, with whisky production set to expand further in the near future, lorry movements will increase, with the use of 44ft artics putting pressure on the weakest sections at the road edges, says Islay Community Council.
The council reckons it would cost about £17m to bring Islay's roads up to scratch – but, at a time of public spending cuts, where will the money come from? 'I have some sympathy with the council – Argyll & Bute's roads network is so huge that they simply do not have the money to maintain it,' says Michael Russell, MSP for Argyll & Bute. 'But the infrastructure on the island is not sufficient to carry the burden that it has.'
One potential solution was for Dunlossit Estate's Ballygrant Quarry to provide repair materials for Islay's road maintenance, but the local authority wanted to use one provider across its entire region, and would not commit to a long-term agreement.

Wear and tear: Islay's roads are ill-equipped to cope with increased lorry traffic

As a result, materials are imported onto the island, taking up valuable ferry space and leading, says the community council, to short-term, poor-quality repair work on the roads.
Bruichladdich's Taylor adds: 'Combine this situation with the heavy goods traffic flow on Islay and you have the same squeeze facing the ferries – that more pressure is put on the local system due to a unique set of commercial circumstances (eight, soon to be nine or 10 distilleries), all within a restricted island set-up which adds more cost, more complexity and inevitably more need for flexible provisions.
'Again, the local government will miss the mark if they do not realise that the one-size (one contractor) fits-all policy just cannot work for Islay. It will be costly in the long run, not just economically, but socially too.'
HOUSING AND EMPLOYMENT
Another problem of success. Islay's unemployment rate is effectively zero, and distilleries are offering relatively well-paid, good-quality jobs in production and tourism – a 'fantastic' situation which is encouraging young people to stay on the island, rather than leaving to find a job elsewhere, says the community council.
This is altering the local employment culture, adds the council spokesperson. 'Traditionally, folk got a job and stayed with it for ever on Islay. I think there will be more shifting about, but more employment and more youngsters settling down. We see the population increasing.'

Situations vacant: New distilleries, like that planned by Elixir Distillers, need staff

This creates two issues for employers: finding new staff, and finding them somewhere to live. Social housing is filled almost as soon as it's built and, for the first time in 40 years, house prices are rising by more than 10% in a two-year period.
'Finding the right staff and giving them accommodation is the biggest issue for anyone setting up a business on the island,' says Wills, adding that Kilchoman is currently doing up a cottage on-site to offer part-time staff somewhere to stay.
Meanwhile, the new distillery planned by Elixir Distillers for a site near Port Ellen will include accommodation for staff and visitors, subject to planning permission.
Wills adds: 'We deal with it and we get on with it, but it's becoming increasingly difficult to run a business if you want to bring new staff onto the island to work for you. That's very difficult because you can't find housing.'
SOLUTIONS?
Pointing out the problems related to Islay's whisky boom is one thing; suggesting practical solutions quite another. Ferries and roads are, most would say, the most pressing matters on the agenda.
A new freight ferry link between Islay and Greenock or Port Glasgow has been suggested in the past, but there are potential flaws – the need to circumnavigate the Mull of Kintyre via a long route vulnerable to poor weather, and the reluctance of CalMac to allow another operator onto its patch.
Nonetheless, Taylor believes it is 'an avenue which merits further investigation', and reports resurfaced at the weekend that Western Ferries may look to start a new freight-only service.
Others are taking a more long-term perspective. Diageo, which owns Lagavulin, Caol Ila and the Port Ellen Maltings (as well as the soon-to-be-revived Port Ellen distillery), says it is in a constant dialogue with local and national government on infrastructure issues, both directly and through the Scotch Whisky Association (SWA).

Hidden cost: Bruichladdich's Douglas Taylor thinks Islay's ferry woes are impacting tourism

Meanwhile, following an Islay Summit on the island last year – attended by local businesses, politicians, CalMac and other interested parties – the SWA has joined forces with Highlands & Islands Enterprise to investigate the future demand for freight ferry services.
'The Scotch whisky industry is committed to working collaboratively with the local community, Scottish Government, CalMac Ferries and others to ensure the industry and the island of Islay continue to flourish,' says an SWA spokesperson.
However, the frustration for many on Islay is that potential solutions are still being investigated and discussed, rather than acted upon. 'There is always a fondness to do more studies,' says Russell. 'I'm not against getting more information if it can help, but there has to be recognition that Islay is a special case.
'If the whisky companies are spending hundreds of millions of pounds on Islay and the tax revenue goes to Westminster, then what role should Westminster play in this? The question the companies have to address is: should they be saying to the UK Government: "Hang on a minute, we need more help here."
'This is a problem of success, but it's got to be tackled. This is a 21st-century industry, but it's one that's being served in a 19th-century way with ferries that are almost like something out of Whisky Galore. We need radical thinking.'
Meanwhile, Islay Community Council's message to the UK Government is simple: 'Come on, step up to the plate and recognise that this island is totally unique because of the circumstances. It's the only island that generates that level of revenue per head for the government. Here you've got a real success story, but it needs more help.'
Or, as Anthony Wills puts it: 'The island has got busier and busier on the back of the whisky industry. The council and the government have just not reacted, and so we get into this meltdown situation.
'It's not about doing more bloody studies, it's about getting off your backside and doing something about it.'