A former Diageo director has recreated a 19th century blended Scotch developed by his great-great-grandfather in the 1850s.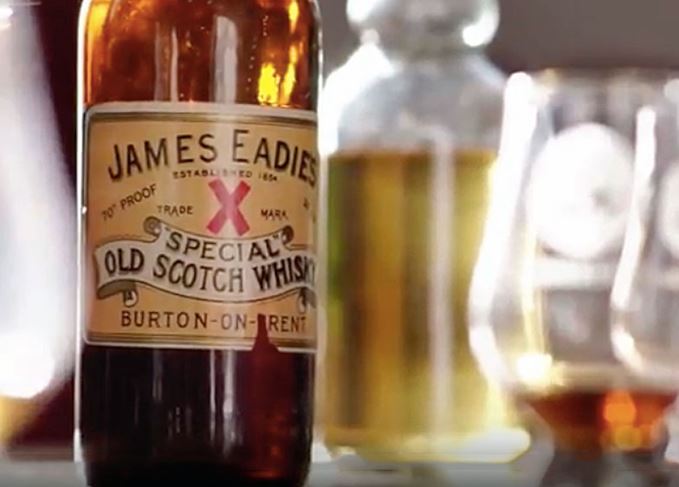 Rupert Patrick, managing director of James Eadie Ltd, has recreated the James Eadie's Trade Mark X blend using archived ledgers and a rare pre-WWII bottling of the original whisky.
James Eadie founded a brewery in Burton-on-Trent in 1854, the same year he developed the Trade Mark X Scotch blend.
The blend, which was trademarked in 1877, was sold across Eadie's chain of public houses that numbered 300 by the end of the 19th century.
So popular was the blend that in 1889 whisky writer Alfred Barnard remarked in his Noted Breweries of Great Britain and Irleand (Volume 2) that the 'ancient Scotch mixture' was 'dispensed to a favoured few' at the brewer's head office.
In 1933 the business was sold to Bass, which continued the production of Trade Mark X until discontinuing the brand in 1947.
Patrick, Eadie's great-great-grandson, who has held positions at Diageo, Beam and Ian Macleod Distillers, founded James Eadie Ltd in 2016 as an independent bottler.
Using a bottle of the original blend and Eadie's Victorian ledgers, now housed in the National Brewery Archives in Burton, Patrick and master blender Norman Mathison have recreated Trade Mark X, 70 years after the original went out of production.

Old vs New: The modern interpretation of James Eadie's Trade Mark X is based on the original recipe

The modern recipe includes all 12 whiskies noted in Eadie's ledgers that are still in production, including Caol Ila, Aberlour, Craigellachie and Lagavulin.
It also includes whisky from silent distilleries Cambus and Littlemill, both of which closed in the 1990s.
Patrick said: 'Some people in the trade think I'm mad using these premium singles and extremely rare whiskies in a blend, but the art of blending is what gave Scottish whisky the dominant position in global spirits which it enjoys today.
'Trade Mark X was crafted during the first golden age of Scotch, when Victorian entrepreneurs like James Eadie produced elegant, high quality drinks and built them into strong brands.
'I've always been convinced that some of the old blends were incredibly good, deserving to stand shoulder to shoulder with any top quality single malt today. Blending is perhaps the biggest skill in the Scotch industry.'
Described as 'an elegant balance between sweet and floral Speyside flavours and more peaty, smoky notes typical of island malts,' James Eadie's Trade Mark X is bottled at 45.5% abv and will be available in France, Japan, Denmark, Germany and the UK, for around £45 per 70cl bottle.