Compass Box is introducing The Story of the Spaniard, its first permanent new release in five years, while also launching the sixth edition of Flaming Heart.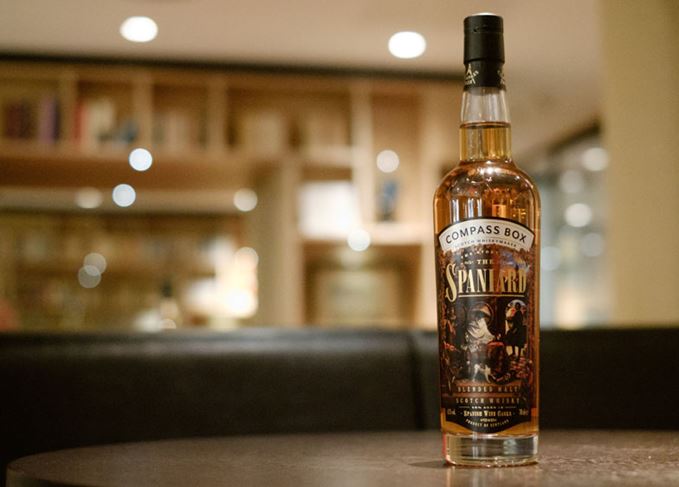 The Story of the Spaniard is a blend of malt whiskies matured in a range of Spanish red wine, Sherry and virgin French oak, bottled at 43% abv.
The new expression is inspired by an encounter Compass Box founder John Glaser had with a local while travelling through Spain, and a similar bespoke bottling created for a bar in Greenwich Village, New York, called the Spaniard.
'Whiskies aged in ex-Spanish Sherry casks are a favourite for many drinkers, and so we are excited to share our take on this much-loved style of Scotch whisky,' Glaser said.
'The addition of whiskies matured in Spanish red wine casks as well as those finished in new French oak add depth and complexity, resulting in a character we believe is distinctive.'
The type of casks used for the Story of the Spaniard will vary from year to year depending on availability 'and experimentation', but Spanish Sherry and/or wine casks will remain a permanent component of the blend.
The Story of the Spaniard will join Oak Cross, Spice Tree, and Peat Monster in Compass Box's core range of malt whiskies, alongside blended Scotch Great King Street and blended grain Hedonism.
The expression has already launched in specialist retailers in Europe for around £50 a bottle, and will be available in the US for around US$65 this month.
Miniatures will also be available as part of a three-bottle gift set (£20), which also contains Peat Monster and Spice Tree.

On fire: Peated blended malt Flaming Heart returns with a more Sherried character

Compass Box has also announced the release of the sixth edition of long-running small-batch blended malt, Flaming Heart.
Inspired by a rock song by American musician M Ward, Flaming Heart is a 'big, bold, hauntingly smoky whisky' with notes of vanilla and spice, which is bottled at 48.9% abv.
The original release was introduced in 2006, and followed by small batch editions in 2007, 2010, 2012 and 2015 to mark the company's 15th anniversary.
The 2018 edition features a 'subtle' Sherry cask influence, an element only previously used before in the 2012 edition.
'This has always been one of our whiskies I am most proud of, because to our knowledge, there is really no other Scotch whisky quite like it,' Glaser said.
'The combination of peat smoke, spice and sweetness offers a unique style but one which appeals to a broad range of palates.'
Just 15,050 bottles of Flaming Heart will be available globally for around £120/ US$150. A limited number of 1.5-litre magnum editions – just 800 bottles – will also be available for £250/ US$330.
This article contains affiliate links, which means we may earn a small commission if a reader clicks through and makes a purchase. All our journalism is independent and is in no way influenced by any advertiser or commercial initiative.