Dr Jim Beveridge, master blender for Johnnie Walker, has been awarded an OBE for services to the Scotch whisky industry in the Queen's Birthday Honours List.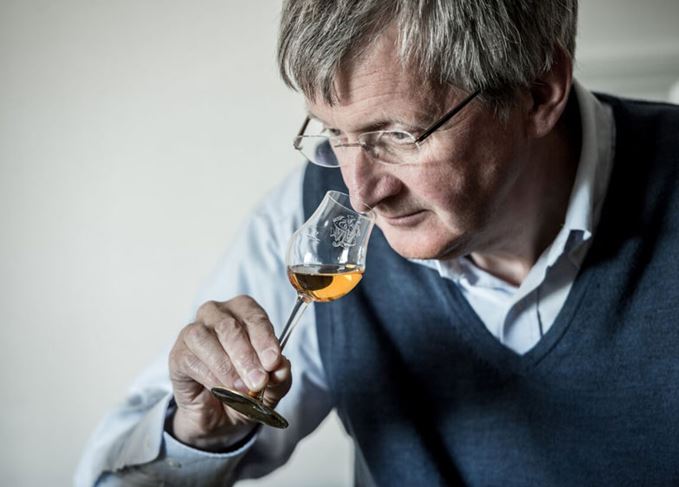 Beveridge, who has worked for Johnnie Walker owner Diageo for almost 40 years, is only the sixth person to hold the title of Johnnie Walker master blender since its founding in the 19th century.
Based at Diageo's blending lab at Menstrie, Clackmannanshire, Beveridge oversees a team of 12 blenders who are responsible for maintaining the quality and consistency of all Diageo's Scotch whisky brands.
The award comes as Johnnie Walker prepares to celebrate its 200th anniversary in 2020.
Beveridge said: 'We believe we are the custodians of our brands, standing on the shoulders of the giants who went before us. I really feel that today.
'This is recognition of everyone, over the years, who has been involved in making Johnnie Walker the leading global brand that it is.'
Diageo operates 28 malt distilleries and one grain distillery, the whisky from which is used to make Johnnie Walker's range of blended Scotch whiskies.
The brand currently sells over 18 million cases annually in more than 180 countries, making it the world's biggest-selling Scotch.
Beveridge added: 'I am honoured to accept this award on behalf of everyone who contributes to making Johnnie Walker.
'It is a team effort by all the women and men who work in our distilleries, coppersmiths, cooperage, warehouses and bottling halls across Scotland.'

'Brand custodian': Dr Jim Beveridge oversees a team of 12 blenders responsible for maintaining quality and consistency

It was in 1820 that John Walker founded a small grocery business in Kilmarnock, Ayrshire and began to make and sell whisky.
However, it was only after his death in 1857 that his son Alexander introduced the Walker's Old Highland Blend – the forerunner of Red and Black Label – in 1909.
Today its range includes Johnnie Walker Red Label, Black Label, Double Black, Green Label, Gold Label Reserve 18 Year Old and Blue Label.
Diageo chief executive Ivan Menezes, said: 'Jim epitomises everything that makes Johnnie Walker and Scotch whisky great. He is dedicated to his craft and passionate about the quality of his product.
'Most importantly he is a wonderful person and that is why he is so highly regarded not just in Diageo but throughout the Scotch whisky industry.'
John Williams, Johnnie Walker global brand director, added: 'Quality and consistency have been the hallmarks of Johnnie Walker since it was founded by John Walker almost two centuries ago.
'Jim is the guardian of that legacy today and everyone involved with Johnnie Walker and Diageo will be raising a toast to him and celebrating this terrific achievement.'
Johnnie Walker is now at the centre of a £150 million investment in improving Diageo's Scotch whisky tourism facilities, with a new flagship whisky experience earmarked for Edinburgh, and upgrades to its 12 distillery visitor centres.
In 2016 Glen Grant master distiller Dennis Malcolm was awarded an OBE in the Queen's Birthday Honours, just months after David Stewart, malt master for Balvenie was named an MBE in the New Year's Honours List.