High strength and no-age-statement Scotch whiskies are generally regarded as a modern development. However indie bottler William Cadenhead's 'tall' 1960s single malts defy these assumptions and are, according to Angus MacRaild, perhaps the most 'elusive and alluring' of the early cask strength whiskies.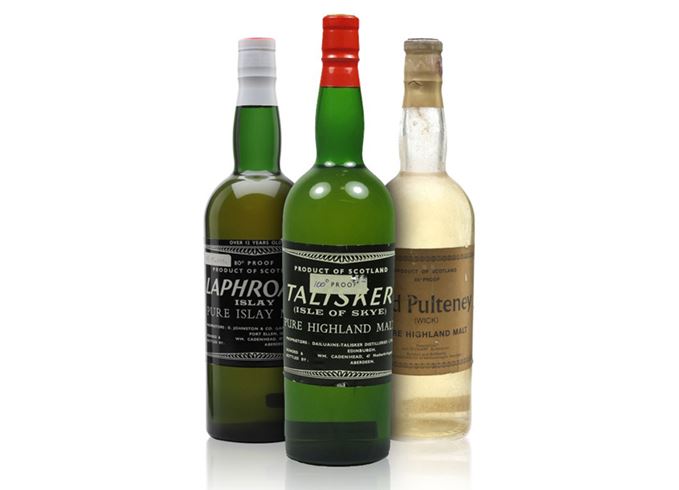 There is a narrative surrounding the idea of bottling malt whisky at cask strength, or even 'high strength', that it wasn't a reality before the 1980s. Or at least it was an occasional aberration. There is an element of truth in this but it is generally a misinterpretation of the history of bottled Scottish single malt.
While cask strength whiskies made their presence felt in the 1980s, by way of bottlers and importers such as The Scotch Malt Whisky Society, Samaroli and James MacArthur, it was by no means the first time malt whisky was made commercially available at higher strengths. Indeed, Gordon & MacPhail had been regularly bottling its malts at 100 proof (57.1% abv) since at least the 1950s.
Though perhaps most elusive and alluring of the early cask strength whiskies are the old Cadenhead 'tall' bottlings, which stand as some of the earliest commercially available independent single malts at a variety of higher strengths: 80 proof (45.5% abv), 100 proof and – rather thrillingly – the old-school 85 proof (46.7% abv; more on this below).
Speak about old Cadenhead bottlings and what most often comes to mind are the old 'Dumpies' that were released between 1977 and 1991. It's a deservedly iconic series in its own right, but its popularity means its 'tall' forerunners are often overlooked. A shame, as the 'tall' bottlings represent an important era for the development of enthusiasm for Scottish single malt whisky – an enthusiasm which had always existed, but in a kind of culturally opaque obscurity compared to the boisterous globally-marketed blended Scotch brands.
In the 1950s William Cadenhead was still operating out of its longstanding Aberdeen premises at 47 Netherkirkgate. It was being managed by a long-standing employee, Ann Oliver – reputedly an eccentric and old-fashioned woman whose business practices might be described charitably as quirky, or realistically as out of touch.

Desired dram: Cadenhead's 1960s Laphroaig bottling is famed for its tropical fruit profile

Her business approach may explain her insistence on using higher strengths for the company's single malt bottlings. At some point in the early 1960s these tall bottlings began to appear on the market. They were sold via the Cadenhead shop directly but also through a number of other wholesalers, grocers and independent merchants (examples with original receipts of purchase have been found from Strachan's of Aboyne to obscure grocers in the north of England). There was clearly a cultural clique of folk that enjoyed good single malt whisky enough to seek it out.
Today some of these bottlings are deemed truly iconic. One of the most widely regarded is the Laphroaig 12-year-old, bottled at 80 proof. It remains one of the finest examples of old-style, tropical fruit-dominated Laphroaig. Sadly the bottles now change hands for eye-watering sums, so it seems unlikely that many people will taste it again.
As Iain McClune, founder of Whisky Auctioneer, puts it: 'They're just so rare these days, therefore the scarcity of these "tall" bottles is incredible. For example, over the last six years we have auctioned in excess of 200,000 bottles and less than five of the "tall" Cadenheads have been seen.'

Varied proofs: Cadenhead bottled its whiskies at a range of alcoholic strengths, including 85 (Miltonduff and Old Pulteney) and 100 proof (Talisker)


Other iconic names appeared in the series during its intermittent run throughout the 1960s: Talisker as a non-age-statement (NAS) 100 proof, and bottlings of Springbank 12-year-old at 80 and 100 proof, produced under license from the distillery and pre-dating the distillery and Cadenhead falling under the same ownership. There was also a rather scarce Old Pulteney, again bottled without an age statement, but at 85 proof. The series was a curious mix of NAS and age statements – dispelling this idea that either are new phenomena.
In fact, 85 proof was a strength commonly seen in the post-war period, particularly on single malts. It was used for official bottlings of Miltonduff and Pulteney, as well as other independent malts and high-end blends. Cadenhead itself even bottled the 7 Star vatted malt at 85 proof in 1969. Indeed, the fashion of bottling at 70 or 75 proof (40% or 43% abv) only really became common after the First World War, which is why 'pre-war strength' on labels was a short-lived terminology for '80 proof' during the 1920s and '30s.
Practically speaking, higher bottling strengths work to insulate whisky from the encroaching erosions of oxygen, temperature and light, which can all serve to alter or diminish character over time in bottle. By comparison, Gordon & MacPhail's early Connoisseur's Choice bottlings from the 1960s, bottled at 40% abv with chill-filtration and often added caramel, rarely show as well as the old Cadenheads.
But the relative obscurity of higher-strength whisky from the period has also aided the development of companies like Gordon & MacPhail and Cadenhead. 'At the time, the higher strengths certainly made these bottlings stand out and subsequently helped to develop the enthusiasm and growth in the independent bottling industry,' says McClune. 'Drinkers relish the chance to try these kinds of whiskies from the pinnacle era of whisky production and compare them to other "legendary" bottles.' The tall Cadenheads represent something truly scarce in Scottish single malt whisky: an opportunity to taste these kinds of malts in a condition that remains as close as possible as to when they were bottled.
Cadenhead's tall bottles represent an era when malt whisky consumption existed, much in the way it had done since the emergent dominance of blends at the turn of the century, as a small but steady and passionately enjoyed cultural offshoot of blended Scotch. The reason that there are so few in existence still today – and the reason that occasionally an example surfaces that no one knew existed – is that this was a time when most were drunk. The culture of enjoyment in the UK, which was the sole market for these bottles, was one of open and carefully savour; few were consciously kept or 'cellared'.

Historic merchant: William Cadenhead was founded in Aberdeen in 1842

While Gordon & MacPhail had bottled malt whisky under license since its inception in 1895, its own house range, Connoisseur's Choice, would not arrive until 1968. When it did, it was notable for being universally bottled at the more commercial 70 proof.
Contrastingly, the very deliberate choices of Cadenhead in the early 1960s represented a recognition of, and supply to, the emergent world of single malt appreciation. This was a less commercial series, with what today you might call 'geekier' bottling strengths. Inherent to its success was the promotion of single malts outwith blends. Indeed, its aesthetics and bottling strengths formed the basic characteristics of the modern Scottish independent bottling market.
The official narrative of Scotch whisky appreciation has it that single malts were 'discovered' in the 1990s. While it's true that their popularity detonated at this time, the reality is that they have always been enjoyed in their own right. Don't forget, in the beginning there were only single malts. There are examples of malts bottled at higher and natural strengths going back to the very earliest days of bottled whisky. Just as you'll find plentiful evidence of official and unofficial bottled malt whisky going overseas as far as Australia, New Zealand and the US as far back as the 1880s.

Famous successors: The 'iconic' Cadenhead Dumpies often overshadow the bottler's 1950s 'tall' series (Photo: McTear's)

The core aspects that both trigger and define an appreciation of single malts – diversity of flavour, higher strengths and specificity of character – could always be found in the bottlings of merchants, grocers, importers and private families. The tall bottlings of Cadenhead in the 1960s are evidence of, and an influence on, the expansion of that cultural phenomena. The world of single malt appreciation has always existed, but it has grown and evolved, just as the broader industry has.
The tall bottles from Cadenhead ceased by the early 1970s. The company's stocks were auctioned in 1972 and it was eventually bought by Hedley Wright, who went on to develop the Dumpy series later in the 1970s.
Today it is clear that these early bottlings were an important influence on the growth and direction of malt whisky enthusiasm at the time. They were also an expression of the interest that already existed domestically. Perhaps most important of all is the fact that almost all those bottlings were of immense quality. As McClune pithily observes: 'Get them while you can.'