The brains behind Whiskyfun and notorious Clynelish/Brora lover Serge Valentin talks about his passion for this great, enigmatic distillery and its ever-fascinating history. Angus MacRaild reports.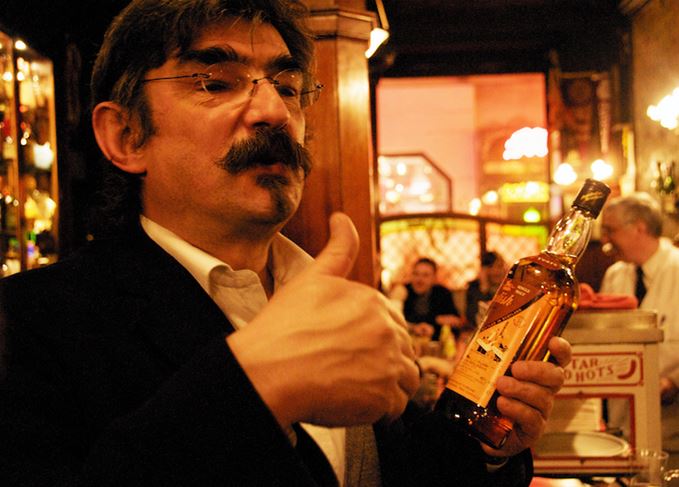 Who are you?
'I'm basically a French ad man. After having been some kind of journalist and having even owned magazines, I settled my first ad agency around 1988. I'm also married, three kids and two cats. The cats are still in the house.'
What whisky do you collect and why?
'I accumulated quite a few bottles of various whiskies, sometimes almost at random, but have specifically bought quite some Broras and Clynelishes, especially "Old" Clynelish, so pre-Brora.'
How did it all begin?
'I've always liked collecting things. Stamps when I was a kid, then watches, wine, troubles… and whiskies, which can be kind of the same thing. Basically, I collect these whiskies because I'm never sure I'll ever find another one that's as good.
'It's also like buying a slice of the future, if you will, but I never buy to sell on. In fact, I think I must have sold two bottles of whisky in my whole life. Perhaps only one – I can't remember.'
What distinctions would you draw between old Clynelish and its newer namesake?
'Same fatness and waxiness, but the "new" one's usually fruitier, while the "old" one used to be more mineral, and perhaps more austere. But the cores were similar, partly because the new stills had replicated the old ones.'
When Brora shed its peat in the early 1980s, do you think the personalities of old and new distilleries converged?
'Well, that happened even before. The answer's probably yes, but both distilleries have always been connected with pipes, so you never quite know what was mashed at Brora, fermented at Clynelish, and distilled at Brora, or the other way around, or any other temporary set-up.
'Someone should spend some time with the old distillery books. What's sure is that there's been some "Brora-ish" Clynelish (1973, anyone?), and some Clynelishy Brora as well (say, 1980?). Not to mention some very peaty Brora 1983. The swansong.'

Rare treats: Some of Serge Valentin's most prized Brora Rare Malt bottlings

What came first: Whiskyfun or collecting?
'Collector. Actually, the very first page I did for Whiskyfun was a list of Broras and Clynelishes. Building a website is a good way of doing "virtual" whisky stuff, which is good if your aim is to not become an alcoholic. Now, I agree, publishing tasting notes kind of wrecks that original idea.'
How has being a collector impacted the rest of your life?
'Very little, or so I hope. Had I not wasted a little money on whisky, I'd have probably spent it on more wine instead. Or watches. What's sure is that I've never spent much time in collecting whisky, maybe because, after all, there aren't that many Broras or Old Clynelishes, which is a blessing. It's now almost a "finite" collection, as only G&M and Diageo seem to still own a few casks.
'Not saying I have them all – far from that – but at least I'm not a hostage of the distillers. Oh, I so pity the guys that "have" to buy any new bottling by this or that distiller! Having said that, most major collectors I know have quit collecting.
'Many new collectors seem to be collecting to make money, so they aren't really collectors, they're merchants. Or, as we sometimes say while pinching our noses, "flippers" – the untermensches of whisky.'
Whiskyfun began in whisky's 'age of innocence'. What do you think of the direction whisky is heading in now?
'I don't think whisky exists as an organised whole: there are distillers and bottlers, and they're all different. Globally, things don't look too good these days, and that may be the ravages of blind branding and of losing sight with a desired future, but I am spotting small signs of panic here and there, so I'm sure some of our friends are already reacting.
'They should work on their values, and redefine "what is whisky" and remember what made its success, especially malt whisky. The consumers are getting smarter, and even branding becomes smarter elsewhere. It cannot be based on ignorance any more. That was 1976, this is 2016, and a Twitter account will never make a brand "contemporary".'

Italian job: Rare old Clynelish, some of it bottled for Italian collector Eduardo Giaccone

Is Clynelish still a personality-driven whisky, or do you feel it is suffering some homogenisation these days?
'No homogenisation that I can detect! Having said that, there are so few official bottlings – all the rest being single casks or tiny batches by the indies – that it's hard to be sure. But I highly doubt Diageo would mess with Clynelish, they have dedicated guardians within the company! Same with Lagavulin, by the way.'
With your background, what do you think of current trends in whisky marketing?
'As I said, 1976. It's as if they had hired leather couch or used car salesmen. In 1976, they were probably in 1936. But that's a part of their charms. And in the end of the day, there's what works and what doesn't; all the rest is literature.'
What is the prize bottle in your collection?
'Probably a bottle of Bell's from the early Concorde flights on Air France. Or a Ballantine's signed and given by David Coulthard to his team for Christmas (he could have afforded malt whisky!), Or an ultra-rare Old Vatted Glenlivet spring cap. Or a Brora 1972. Any of them!'
And your 'holy grail' bottle?
'A bottle of pre-war Clynelish 8 Years Old, but I've only seen a label, in Ainslie's label book at Diageo's stunning archives. Never seen a bottle.
'A gentleman from London whose name starts with S and ends with R tried to pull my leg a few years back, claiming that he owned one, but I never saw it. Alternatively, a bottle of Stromness, because those do exist.'
What's better: the greatest Brora or the greatest Clynelish?
'Ouch. Maybe the greatest "Old" Clynelish.'
What's the ideal Clynelish for everyday dramming?
'Everyday? That ought to be one that's easily and readily available, so probably the 14 Years Old. Or any 1995-1997 from the indies, as long as it's ex-Bourbon or ex-refill Sherry. I feel Clynelish clashes with first fill Sherry.'
What's the future for Whiskyfun?
'Please tell me! At this very moment, I'm seeing a huge rise in readership, which is astonishing after a "rather moderate" 2015. Some days it's almost the double of last year – but again, 2015 was rather quiet. That's really motivating.'

Prized possessions: A Bell's bottling for Air France and two rare spring cap examples

You're notoriously modest about your influence on the whisky scene. How do you feel about the impact your scores can have on the price of bottlings at auction?
'I don't know if that's really true. I don't think I'm modest, I'm realistic. But in a way, it's not too bad when people pay more for better whiskies, and less for bad ones.
'As for my personal influence, assuming it exists, that's just because I started early, and managed to accumulate many tasting notes, so the odds that you'll find some comments on this or that whisky are higher on Whiskyfun than on other websites that have much fewer tasting notes. Could have been anyone.'
You're a great lover of wine, as well as whisky. Do you think having passion for both is mutually beneficial?
'Absolutely. I've often noticed that wine people and beer people, for example, behave differently with regard to whisky – not saying one is better. So indeed I'm sure my love of wine has shaped the way I assess whisky.
'For example, most wine people hate it when you "feel the wood", and obvious flavours of coconut and vanilla are always bad signs. That's why I feel that many young, oak-driven "modern" whiskies are not quite for wine lovers. Same with many wine finishes, by the way – I don't think wine freaks like to taste wine in their whiskies.
'But indeed, and more globally, a knowledge of any other drink or even food cannot be bad. Tea, brandies, wine, beer, sake… It's also true that being into whisky can change your perceptions of wine. I drink more Madeira, Port or Sherry, for example, than I used to 30 years ago, and that's thanks to whisky, I'm sure.'
What has been the greatest whisky experience of your life?
'I see, that's the famous last question where people usually try to be funny – or discreetly quote their own brands when they work in the industry. Frankly, I couldn't tell you, there were so many!
'But the worst, I remember it very well. Paris, circa 2004, launch party of Whisky Magazine France. Around 200 people. Michael Jackson, Martine Nouet, Dave Broom, other luminaries…
'Dave pulls a masked bottle, pours drams and, in front of everybody, asks me what I think it is. Dave's a friend, I should have known that he wasn't trying to put me into a difficult situation, and that if he had asked me, that was because it was my pet whisky, Brora.
"Talisker," I replied.'