Swedish whisky ambassador Magnus Fagerström considers himself a 'former collector', particularly of old BenRiachs. These days he feels more inclined to open bottles than hang onto them, he tells Angus MacRaild.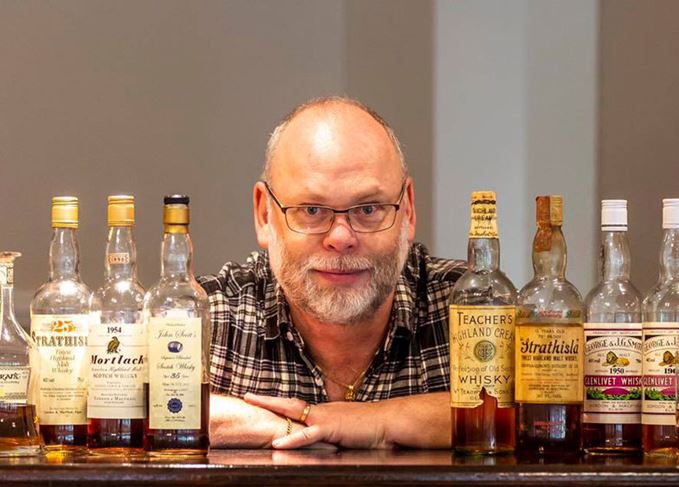 The chances are that you'll have heard of or seen Magnus Fagerström before you've actually met him. A ubiquitous presence online and at whisky festivals around Europe, he makes for a familiar and jovial face in the whisky world. Formerly an employee of Swedish drinks importer Symposium, and now a freelance whisky educator and ambassador, Fagerström is one of a long line of whisky people who have found themselves eventually making a living from their passion.
However, it was back in the 1990s, when he was working for a travel agency, that Fagerström first caught the whisky bug. 'My first wow experience was when I first tried a Lagavulin 16,' he says. 'It was then I realised that there was whisky and then there was whisky! After that I bought the six Classic Malts [by Diageo] and had a mini tasting of them with friends. Then I went to my first whisky fair in Copenhagen and I was hooked.'
Over two decades later there are few people who better represent today's buoyant whisky scene in Sweden than Fagerström. A regular exhibitor at festivals and host of some remarkable rare whisky tastings, he has made a name for himself as one of the country's most prominent enthusiasts and experts. From his perspective he sees a dynamic and expanding whisky culture in his home country, one underpinned and supported by the burgeoning distilling scene that has arisen there over the past couple of decades.
'I think it is still growing,' he reflects. 'We have a lot of fairs in Sweden today, a bit too many actually from the exhibitor's perspective. The crowds at the fair are good and we see new people coming into the whisky world all the time.
'I do think that the Swedish distilleries have played a big part in this growing interest. Most of them sell small casks to customers and people find it fun to own their own cask. It only takes four or five years in a 30-40-litre cask before you have your own whisky.' An owner of several casks himself, he sees this ability for people to gain a sense of ownership and participation in the creation of new whisky as a key allure to bringing new people into whisky.

Rare find: A £1,500 BenRiach Firkin Cask, one of Fagerström's most expensive purchases


However, he says he no longer considers himself a collector in the classical sense. 'I used to collect BenRiach but stopped in 2012. By then I had the largest and only complete collection of distillery bottlings of BenRiach. I got an email from Alistair Walker [Billy Walker's son] who was telling me that they were going to do 47 single casks over the next six months so I stopped collecting. I still have many bottles left from my BenRiach collection. I did a tasting with 100 of them which was absolutely fantastic.'
Alongside the Benriachs Fagerström also has a small collection of Broras and Port Ellens – two other distilleries close to his heart and both of which he is happy to see re-opening in the near future. 'They won't be the same as they used to be, but I'd rather see them producing again than standing there decaying.'
He still buys many bottles but focuses instead only on whiskies that catch his curiosity. 'I mostly buy stuff that I find interesting. Mainly older bottles but also new releases.' However, like so many people who have seen whisky change drastically over the past decade, Fagerström decries many of the prices paid in today's market. 'I do see the prices as a threat to future whisky interest,' he admits. 'There are people looking into other drinks than whisky today as they think the prices are too high. It's not just the €1,000 bottles that scare people, it's more the €120 ones that were €60 five years ago that make people tired of the prices.'
This is not to say he is sceptical, however. Rather, Fagerström sees a distinct and complex whisky world in the near future. One increasingly polarised by mega distilleries such as Macallan on one hand, and smaller, arguably more reactionary and dynamic independent distillers such as Dornoch on the other. Indeed, when it comes to the whisky itself he is somewhat philosophical: 'We will still see fantastic whiskies in the future but they will be different from the fantastic whiskies from the '60s that we drank a few years ago. Better or worse? I don't know, but definitely different.'
For anyone who follows Fagerström on social media or has seen some of the line-ups for the tastings he organises, there can be little doubt that he knows fantastic whiskies. Unlike most collectors, when I ask him if there are any 'holy grail' drams he'd like to try, he says rather straightforwardly: 'I've been going to Limburg for many years so I've ticked the boxes on many very special whiskies. I would have to say Brora 1972. I have tasted most of them but I would love to try some of the Rare Malts and Douglas Laing ones again.'

One of a kind: A one-off 1975 BenRiach bottling is among Fagerström's greatest finds


It's a sentiment that affirms his position as very much a drinker of whisky rather than just an accumulator of bottles. Indeed, he still opens many bottles over the course of a year, even many of which are now eye-wateringly expensive. For him though, he was fortunate enough to buy many of these bottles when they were affordable and would rather open them than sell them.
By his own admission he has very few bottles he would consider simply a monetary investment. 'For me the monetary value of a bottle isn't what makes it special to me. It is if I have a special memory of tasting that whisky or a story on how I got the bottle... I have only a very few bottles that I have bought more as an investment than with the intent to drink them.'
Perhaps what most emphasises Fagerström's depth of experience with whiskies is how he struggles to come up with a single event or occasion for his most treasured whisky experience. He says: 'The best whisky experiences are when you enjoy whisky with friends.' A sentiment which might seem a tad vague, but it's understandable when you have to choose between such occasions as a line-up of 100 BenRiachs, opening a 1907 Usher's next to a 50-year-old Mortlach from 1936 (one of his all-time great whiskies), and any number of other talked-about and impressive tasting events.
He may not consider himself a true collector any more, but the sentiment and social benefits of the collector's mentality are still very much alive with him. 'I have met so many whisky friends from all over the world through my collecting – people who have helped me find those special bottles released for a single market. I have always been collecting something in my life so I have it in my blood.'