Whisky is a powerful memory trigger, whether it's through aromas, flavours or recalling a specific time and place where a dram was enjoyed. Crime novelist Ian Rankin is a man who knows this well. He recently shared a selection of whiskies from distilleries of significant meaning to him with Dave Broom – each paired with an equally memorable song.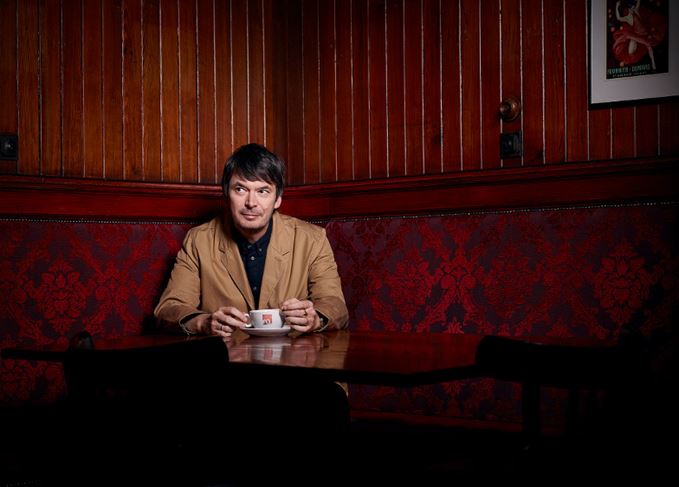 'Don't worry about specific bottlings,' said Ian Rankin when I suggested the idea of desert island drams (and tunes). 'Something from each distillery will do.' I dug out some from my stash, supplemented by generous offerings from the Scotch Malt Whisky Society (and a last-minute emergency donation from Charlie MacLean).
Our discussion of whisky, music, work and life follows yesterday's in-depth interview with the best-selling crime novelist, which covered the ever-changing character of detective John Rebus and the deeper significance of crime fiction.


Bowmore 20 Years Old SMWS 3.274 'Crab Sticks and Foam Shrimps'
'This takes me right back to my teenage years in Cardenden. My dad wasn't a connoisseur, but one year I bought him a bottle of Bowmore for Christmas. He loved it and it had pride of place in the wee drinks cabinet. When I see or drink Bowmore, it takes me straight back to my dad.
'At New Year as a kid there would always be cousins who would force whisky on you, but I was drinking from a ridiculously early age because it was a medicine for babies. Whisky on the dummy tit, dipped in sugar and into the baby's mouth. It was there for colds and flu. I was drinking, but sophisticated.'
We're listening to Sensational Alex Harvey Band's Boston Tea Party.
'Again, it's my teenage years. I would scour shops in Kirkcaldy looking for a stripy black-and-white T-shirt like Alex wore. They were an incredible band with this cartoonish thing, but an undercurrent of violence. It all appealed to me. Storytelling, hard rock pantomime, dystopia and this character called Vambo who kept coming up in different albums. It influenced me.'


Jameson 15 Years Old Single Pot Still
'In 1982 after university, my girlfriend (now my wife) and I went to France and worked for six months in a vineyard. In August, we decided to hitch around the South of France and Italy where we got picked up by two Irish lorry drivers. When they stopped for the night, out came the Jameson. I'm saying: "I like Scotch", then I tasted it and thought: "It's lovely." Whenever I get an Irish whiskey it takes me back to that first overseas trip.
'Miranda [his wife] grew up in Belfast and whenever we go over I like to go and have a few whiskeys. I love all those southern Irish ones: Powers, Jameson, Crested Ten.
'One Christmas I was in the Crown in Belfast and ended up sitting in a booth with a guy who was drinking Crested Ten. It turned out he was a TV director, Tony Knox, and we ended up making a TV series on evil together. That's whiskey.
'The music is I Won't Let You Down by PhD because it was in the charts in 1982 and became our song. We'd be walking down the road to buy chocolate and we'd be singing this to each other.'


Glen Grant 12 Years Old and 20-year-old SMWS 9.110 'Sense of Sophistication'
'We met an American guy at the vineyard. When he came over to Scotland, I borrowed my aunt Jenny's car and he and I went on a whisky trail, visiting as many distilleries as we could. By the end of the trip, we parked the car at night outside a distillery's gates, slept in it, and when the gates opened we drove in and said: "We know how you make it, just take us to the tasting room!" That was Glen Grant. It was the bottle we came back with. Plus a T-shirt. It was a lovely trip.
'The Society one is oleaginous, the 12-year-old I could drink without water – a daytime whisky.
'I'm Catholic in my tastes. If you were to ask me what my favourite whisky was, I couldn't tell you. Some nights it could be something smooth, on others it might be a medicinal kick in the head.'
The music is Spandau Ballet's True.
'It was on radio a lot when we did the trip. Every pub played it. They were a pretty good band and this is a belting song.'


Highland Park Freya
'On Rebus' 20th anniversary, Highland Park invited me up to Orkney to choose a single cask. Of the six samples, I liked numbers two and three. They asked me: "What one would Rebus like?" I said: "Number 6… the head-banger," so that's the one they bottled. For the 30th anniversary [this year] they said they'd do another.
'Rebus isn't a connoisseur. There's 15 to 20 whiskies mentioned in the series, but Highland Park is a regular. There's just enough smoke on this, giving it that coastal quality. Some people prefer Scapa, but for me it's always Highland Park.
'I chose Solid Air by John Martyn to go with it.
'It got under my skin from the first time I heard it in my friend Jock Scott's bedroom, aged 16. I knew Rebus would be a fan. This is him, late at night in Arden Street, with a Highland Park.'


Laphroaig 17 Years Old Fèis Ìle bottling and SMWS 29.181 'Salty Sweet Peat Smoke'
'As I get older, I think my taste buds are shot and I need a heftier dram, which is where the big, peaty Western Isles ones come in. I need to put water in to open it up because the style is too intense for some, just too medicinal. But late at night when Mr Rebus isn't drinking Highland Park and listening to John Martyn, he'll be drinking Laphroaig and listening to something like Jackie Leven's Exit Wound.
'Jackie and I worked together from 2004 until his death. Our first gig was at the Royal Festival Hall. I hadn't a clue what a rider was, so I asked Jackie to sort it out. When I go into the dressing room, he's got towels, a fridge, chocolate, fruit, sandwiches, dips, crisps, wine and whisky. My side of the room? Nothing. Then this bouncer kicks open the door and says: "Which one of you cunts ordered a haggis?" That was my rider for every night on the whole tour. One uncooked haggis.'


Glenfiddich 25 Years Old Rare Oak
'Glenfiddich was [late author] Iain Banks' favourite whisky. He was much more obsessed about whisky than I am. His Raw Spirit is an amazing book. He used to take half-a-dozen writers to the Society in Leith, or go to great bars in Edinburgh which specialise in whisky: Bow Bar, Bennett's, The Abbotsford, and we'd have an uproarious night together talking whisky. I drink Glenfiddich in Iain's memory,
'Wow. This is rich. I've drunk some lovely old Glenfiddichs, mainly because Iain made me. This is lovely. There's no way I could drink Glenfiddich and not think of Iain.
'Al Stewart's Roads to Moscow is what Iain chose on Desert Island Discs. Al's Scottish as well. He's tells a great story, writes these old-fashioned ballads. This is the Iain Banks memorial drink.'