As chairman of Morrison Glasgow Distillers, Tim Morrison has overseen the build and operation of Glasgow's new Clydeside distillery, but his whisky legacy began decades earlier with Bell's and Bowmore. He tells Becky Paskin his story.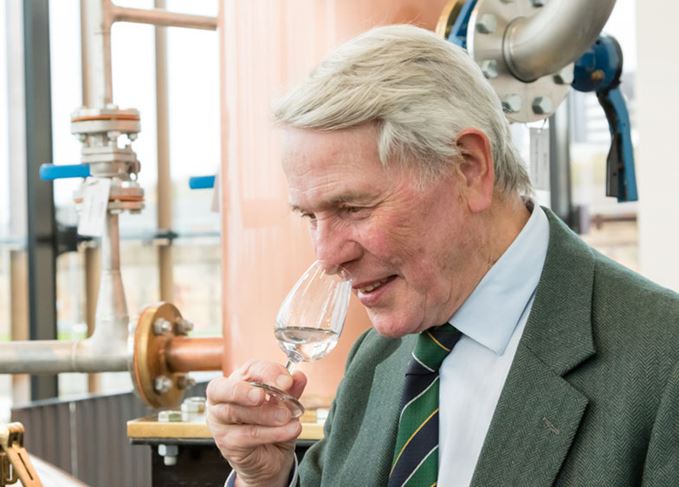 'Originally we wanted to build our distillery in Fife, but we lost a site because the landowner gazumped us. His idea of a rent and our idea of a rent didn't meet in the middle. Then somebody else came along and was prepared to offer the rent and the landlord contracted to work with them.
'That basically was going to be about it, but we had a meeting in Glasgow and it was a throwaway remark by one of the guys, who said: "How about building a distillery in Glasgow?"
'It was a very interesting idea because, when I joined the industry in 1960 with Bell's, the number of companies that were operating in the industry – brands, blenders, brokers, coopers, warehouses – was immense. There was a huge number of them, and the industry was buzzing in Glasgow, but the actual distilling industry had sort of declined since about 1920. We thought, well, this could be something worthwhile.
'It was an incredible revelation to us that my grandfather built the dock. It was only a chance remark by a friend of mine who I was having lunch with, who had a book on the Clyde written by his old company. He said it talks about the construction of the Queen's Dock and my great-grandfather's company was the constructor. So that obviously made things different as far as we were concerned.
'My grandfather on my mother's side had been in the whisky industry since about the 1850s or something, maybe a lot earlier, and had offices and a bottling and blending plant in Glasgow. He ran James Sword & Sons and also William Walker & Co.

Family heritage: The Queen's Dock was constructed in 1878 by Morrison's great-grandfather, John Morrison of Morrison and Mason

'I used to come off the train from going to my prep school and go across to my grandfather's offices to wait for one of my parents. We used to go downstairs where all the casks were maturing and they were blending there, and bottling, and that is pretty specific in my memory. I must have been only five or six years old.
'When I left school, the idea of going to university didn't appeal to me at all, and my father [Stanley P Morrison, founder of Morrison Bowmore Distillers] said to me: "Do you want to have a look at the whisky industry? I'll arrange for you to go and work with somebody and see what you think when you finish, if they haven't sacked you beforehand."
'So I went to work for Bell's and worked in their distilleries at Inchgower and Dufftown, and then to Leith, where I worked in blending and bottling and export warehouses. Then I joined North British distillery for six months, learning how to make whisky and warehousing. Then joined the family firm.
'I'm pretty sure my father wanted me to work in whisky, otherwise he wouldn't have given me the opportunity to go and work with Bell's, with whom he was very close at the time, as he was with many other companies in the industry.
'I was damn glad and very lucky he was my father. My brother [Brian Morrison, co-founder of Aberargie distillery and Morrison & Mackay] and I had a very happy period growing up. We did a lot as a family – we played golf because my father was a very good golfer. We were surrounded by lots of friends.
'I don't honestly think we had a major row or disagreement. I found him fascinating to listen to, and it's nice that you're able to spend time with a parent when you share the same enjoyment, like golf, and we could talk about that.
'As I developed in the industry, I was able to share experiences with him. He gave me a tremendous opportunity and I grew into that opportunity. When we bought Bowmore distillery, that really was when I started to think for myself and have my own ideas and, with support, develop them.
'Back then you got a sack of barley, you put water into it, you drew the water off, heated it, stacked it into a washback, distilled it and there was your whisky. Technology as it exists today did not really exist then, but still we were a very efficient operation at Bowmore.

Old-school: Clydeside produces an intensely fruity spirit inspired by that made at Bowmore during the 1960s

'The biggest change I've seen is the takeover or amalgamation of great companies. So many of the companies I knew in the '60s are no longer around today. So many of the brands that I knew at that time are no longer around, which is very sad. But there is no doubt the industry is much more efficient – there's long-term planning, it's more accurate, you've got skillful people in the marketing field, you've got highly educated and technically superior people in the production area, which is so completely different to what I was familiar with back in the '60s.
'I see this at Clydeside, the technology there and the background that Alistair McDonald has with his skills and knowledge, and the distillery workers.
'I'm listening to what Alistair and a few others I know are talking about and there's a pursuit of efficiency on the one hand, and the pursuit of creativity on the other. Now, I just hope that nobody starts going beyond the boundaries of what's acceptable as far as whisky's concerned. You look at some of the things they're doing with gin nowadays. Is it creative, or just stick your finger in the air and see what happens?
'There's no competition between me and my brother. We work alongside one another – we do the same thing with AD Rattray and Morrison & Mackay, they compete in the marketplace without really coming across one another or doing one another harm, so the two sit nicely together and pursue their own goals.
'The Scotch whisky industry is an example of how families have developed their businesses. You look at William Grant & Sons, which is a terrific example of a very successful and motivated family group. They think ahead and are prepared to invest ahead. The other thing is the quality of the family and their experience has had a lot to do with their continuing success.

Family business: Tim Morrison (right) runs Clydeside and independent bottler AD Rattray with his son, Andrew (left)

'I don't think there's any other industry around like the wine and spirits industry, where there are so many successful family companies. I was brought up within two families who were involved in the Scotch whisky industry, and it's part of you, without you knowing it. You pick up information without you knowing it, you have an understanding of things that you almost take for granted.
'We as a family were very close to Suntory when they bought Morrison Bowmore, and that friendship had been established by my father probably 30-40 years before, just after the war. I think there's a link with family businesses; they relate to one another well and understand what the opportunities are, but at the same time the difficulties some have had to go through to keep their head above water.
'Selling Morrison Bowmore to Suntory [in 1994] wasn't a difficult decision, because at the time we had grown to the point where it was difficult to reach the next level without having to raise a lot of money, or be the subject of an unwelcome takeover. To have a company that we were very friendly with, trusted, and had a close relationship with take us over couldn't have been better.
'I stayed on the board another seven years and my brother stayed on as MD/chairman for another 10 years. We were able to continue to build the company with assets we wouldn't have had, had we not sold to Suntory. It wasn't just for us, the family, but the guys who worked for us. We had a very loyal workforce – that was part of the consideration, knowing they would be safeguarded, and they could see the path ahead being a fruitful one, as it showed.
'For me now, and for my son [Andrew], to be at Clydeside and work with somebody like Alistair, and Bridgeen [Mullen, visitor centre manager] and the staff they've assembled there, I couldn't be happier. I couldn't be more proud of what we've managed to achieve.'