Ballantine's has launched a new series of single malts from the three main distilleries used to create the blended Scotch.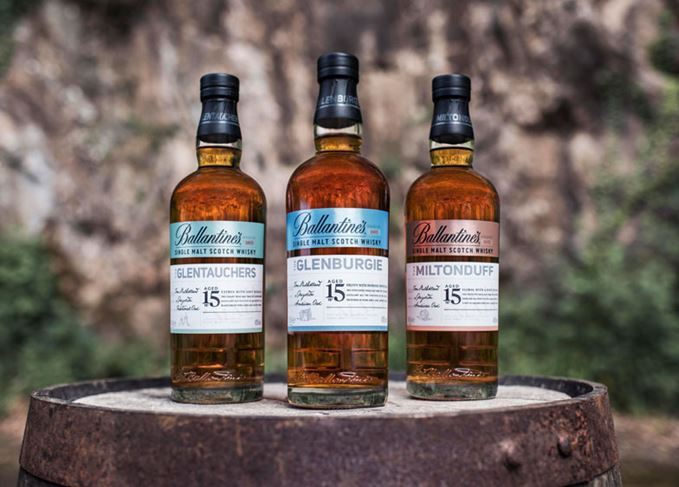 Fifteen-year-old single malts from Glenburgie, Glentauchers and Miltonduff distilleries have been released underneath the Ballantine's brand.
The world's second best-selling Scotch whisky, which sells over 80 million bottles a year, has made the unprecedented move to give consumers a 'unique opportunity' to experience the flavour of the three main malt whiskies that comprise the Ballantine's blend.
Peter Moore, Ballantine's global brand director, said: 'The single malts category is dynamic and continues to grow rapidly as more consumers become lovers of this iconic Scottish spirit.
'As a globally known brand, we are sure that consumers will have confidence in the quality and credibility of these new single malts as they are widely recognised as the signature malts that form the heart of Ballantine's.'
Glenburgie distillery was built near Forres in 1829, and produces a fragrant, sweet and grassy style of malt whisky.
Glentauchers was designed by the legendary Charles Doig, and built by James Buchanan & Co. in 1898. Its spirit is floral and sweet, and light in style.
Lastly, Miltonduff is the oldest of the three distilleries, dating back to the at least the late 18th century. Another fresh, floral malt whisky, Miltonduff is another workhorse distillery, producing around six million lpa (litres of pure alcohol) every year.

Glenburgie distillery: One of the workhorse producers of single malt for Ballantine's

Whisky from the three Speyside distilleries have rarely been bottled by their owner, Chivas Brothers, which also owns The Glenlivet distillery.
Instead, spirit produced by Glenburgie, Glentauchers and Miltonduff has been reserved almost exclusively for the Ballantine's blend.
The three 15-year-old bottlings have already been launched in global travel retail for US$80 per litre, and will be released in domestic markets including the UK, Australia, Canada, China, India, Japan, Korea, Switzerland and Taiwan for around US$56 for 70cl.