With comedy, dance, opera and juggling unicyclists, the Edinburgh Festival Fringe is by far the world's largest celebration of the arts – but that doesn't mean Scotch is forgotten. Tom Bruce Gardyne finds plenty of whisky-related frolicking to keep him busy at this year's festival.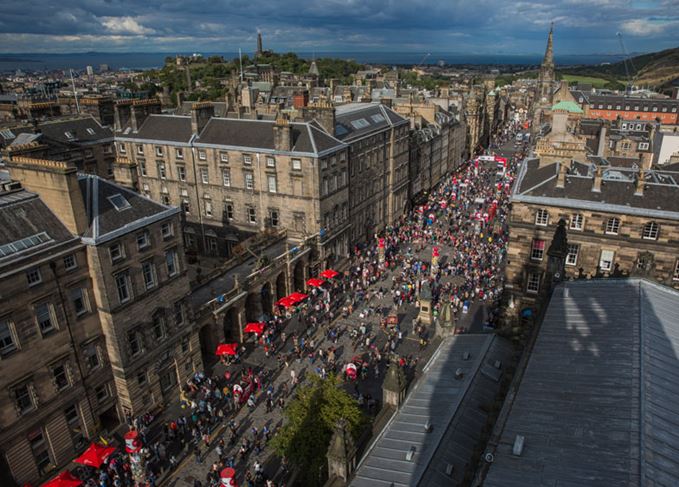 There's a fire-eating unicyclist juggling a chainsaw, and a student a cappella group dressed as nuns. The Royal Mile has been packed beneath a steady drizzle while a confetti of flyers blows down the street. It can only be August, when the city of Edinburgh doubles in size for its annual festival, now in its 70th year.
The highbrow festival proper has long been eclipsed by a sprawling, comedy-fuelled Fringe with over 2,000 shows and more than 30,000 performances. There's everything from the sublime to the utterly ridiculous, with every act detailed in a mind-numbing guide the size of a phone directory.
As always, drink fuels the festivities, and there are some great whisky bars to enjoy, many with extended licences. The highlight for real whisky lovers is probably the Whisky Fringe, a long weekend in mid-August that sells out almost as soon as details are released by Royal Mile Whiskies in the spring. This year's festival is drawing to a close, but to give you a flavour, here are reviews of five shows that have been wholly or vaguely inspired by Scotch.
UNQUIET SPIRITS – WHISKY, GHOSTS AND SHERLOCK HOLMES

Ghost stories: Charlie MacLean and Bonnie MacBird presented some strange whisky goings-on​

With lights turned low and a deerstalker at the ready, the author Bonnie MacBird introduced her latest Sherlock Holmes mystery, set in 1889, in the company of whisky guru Charlie MacLean. What followed in the suitably spooky Arthur Conan Doyle Centre was a double masterclass in writing and whisky, including a tasting of Glenmorangie's Port-finished Quinta Ruban.
MacBird explained the fast narrative drive and cinematic style of Conan Doyle, while MacLean set the scene of whisky's late Victorian ascent as it replaced French brandy. This leads to conspiracy theories and death threats in the book, with the author clearly relishing visiting distilleries with their 'steamy vapours, grinding machinery and carbon monoxide'. For us, they may just be a source of single malt whisky; for MacBird they're a crime scene waiting to happen.
THE THINKING DRINKERS: HISTORY OF ALCOHOL

Planet of the Apes: Tom Sandham and Ben McFarland believe our love of alcohol is evolutionary​ (Photo: Steve Ullathorne)

Our predilection for alcohol is evolutionary, claim the Thinking Drinkers, aka Ben McFarland and Tom Sandham. The apes that feasted on fermenting fruit threw the best parties, had the most sex and eventually evolved into humans.
But now, having got this far, we need to embrace the duo's oft-repeated mantra: drink less, but drink better. The show, which will surely be back next year, is a riotous romp through alcohol history, full of laughs and the odd terrible pun, punctuated by a series of free drinks.
On the night I went, it was a can of craft beer from Fuller's, followed by four spirits including Reyka Icelandic vodka and a smoky Talisker 10-year-old from the Isle of Skye. After each drop the same, hapless bloke (named Geoff on my visit) was hauled onto the stage to gauge the audience response – this being a none too scientific test of whether booze inflames desire. It certainly seemed to work for Geoff – one more dram and it would have turned into a Tom Jones concert with knickers flying everywhere.
EDINBURGH TOUR AND WHISKY TASTING​

Scotch haven: Jeffrey St specialises in independently-bottled Scotch whiskies​

​Jeffrey St Whisky & Tobacco, just up from Edinburgh's Waverley Station, sounds like a real den of vice, although at the time of writing both products were still just about legal. At this year's Fringe, Hector MacLean (related to whisky writer and author Charlie) led an in-depth tasting of four independent bottlings – this being Jeffrey St's speciality.
To examine the joys of cask strength malt, a fabulously rich Glenrothes 2006, bottled at 65.5% abv by Carn Mor, was poured, followed by a Sherry bomb in the shape of North Star's Glenallachie 8-year-old. Then came a Strathspey blended malt and a Port Dundas 12-year-old grain which would prove quite an eye-opener for Haig Club fans.
The 90-minute-long tasting was preceded by an hour's guided tour of the Old Town. We were told to forget such tourist landmarks as the Castle and Greyfriars Bobby – this was a chance to delve into the city's 'gritty underbelly', to quote MacLean.
SCOTCH EGG CLUB PRESENTS: WHISKY ON WATER

Whisky cruise: Discovering the history of Edinburgh's distilleries with a dram and a Scotch egg​

It may not be Venice, but Edinburgh does have at least one canal to its name, starting just behind Tollcross, near the centre. Here, throughout August, groups of up to 35 have been boarding the Lochrin Belle to join Craig Johnstone and Jamie Shields for a waterborne food and whisky tasting, sponsored by Dewar's.
Cruising for an hour down the Union Canal, passing parks and suburban gardens, you get to try Glen Deveron, Craigellachie and Aberfeldy while munching on such delights as a haggis Scotch egg. There were also three cocktails to taste, including Dewar's take on a Bramble, known as a Dramble, and an Old Fashioned.
Along the way, Johnstone, who recently returned from managing Lark distillery in Tasmania, discussed the whisky once carried on the canal, the late lamented distilleries of Rosebank and St Magdalene, and that larger-than-life whisky tycoon, Tommy Dewar.
A DRAM IS WORTH 1,000 WORDS

Tutored tasting: Visitors to the SMWS on Queen Street were guided through three single cask bottlings

This year the Scotch Malt Whisky Society (SMWS) embraced the Fringe big-time with three events a day at its Queen Street emporium. On the lunchtime slot I attended there were just four of us, and we were taken to a small, ground-floor tasting room where whisky ambassador Alan Wood took us through the basics of production.
There were aroma pots and a brick of peat to sniff, and a heavily- charred stave. This was a cue to compare an SMWS Mannochmore with the notorious, inky black Loch Dhu made at the same distillery. Unless you're crazy for spirit caramel, the Society bottling is a vast improvement.
The hour's tasting included two more single cask bottlings, lots of colourful whisky background from our host, who was excellent, and a word on the benefits of membership. Sadly, Wood was unable to confirm or deny rumours that the Society is thinking of firing up its own still.