The inaugural whisky festival, held in Veneto, Italy, was a revolution by name and nature as organisers sought to challenge the traditional show format with a light-hearted, eclectic approach with live music, erotic drawings and a whisky museum. Marco Zucchetti reports.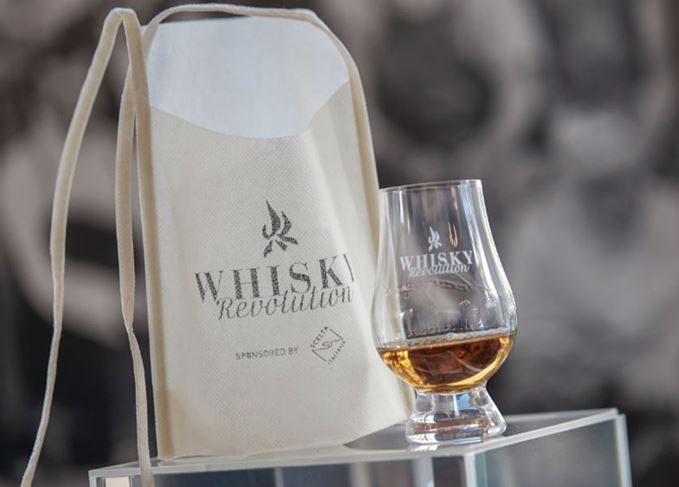 Classic art is immortal, but sometimes classical masterpieces can turn into pop hits and reach a wider audience. New artists reinterpret them, and the way fans enjoy those songs suddenly changes. Musical journalists call it 'genre bending', but what's the correct term to use if the art is not music but the king of spirits, malt whisky?
That was the question during the first edition of Whisky Revolution Festival (WRF), an absolute novelty in the small but stimulating Italian market. The event, which took place 22-24 September at the Hotel Fior in Castelfranco Veneto, was developed and organised by two brothers, Dario and Davide Cerantola, with one particular aim: 'To get through whisky's mythology, spreading its culture among new potential single malt lovers, such as young guys and women, with cocktail, food pairing and fun.'
Of course they're not the first to present this proposal. WRF is the third festival in Italy dedicated to whisky. Milan Whisky Festival pioneered the category and after 13 editions it's now the biggest and most attractive. Spirit of Scotland (now Roma Whisky Festival) followed the lead seven years ago. Organisers, collectors and bartenders are all aware that whisky's fortune in Italy will necessarily evolve into a fresher approach, as a younger 'hipster generation' dictate a new whisky 'revolution'.
What's so revolutionary about WRF? Primarily, whisky travels to the countryside for the first time. Not to Milan or Rome, but to the small town of Castelfranco (population 33,500) in the rich and hilly region of Veneto. A countryside riddled with wonderful medieval villages and little factories that used to be the Italian economic locomotive during the '90s. 'Here we have a strong and radicated drinking culture,' Davide explains. 'This is the heartland of Prosecco production – the Spritz was invented in Venice; we have dozens of grappa distilleries. We love quality in wine and gastronomy; we can recognise good things, and Scotch is simply the best thing a person can drink.'

New faces: More young Italians are discovering the joys of whisky at shows like Whisky Revolution

Driven by their passion, Davide and Dario opened a whisky bar in Castelfranco in September 2017. They called it Blend, offering 400 malts, excellent mixology and one dream: to be able to one day serve at least a drop from every working distillery in the world. Waiting for that moment, they decided to organise WRF to give Veneto's newborn whisky movement a new gravitational centre.
Of course they needed to start from scratch. Milan and Rome have large and competent audiences. Here the bet was to attract curious people who have never attended a festival. That's why the Cerantola brothers decided to 'take off the tweed jacket', choosing a new formula to transform the whisky drinker stereotype. In fact, WRF was organised outdoors, in a beautiful garden with a swimming pool, DJ set and live music at an on-site cocktail bar in the evening. There was a very chilled out atmosphere that highly impressed Jenna McIntosh, brand ambassador for independent bottler William Cadenhead. 'Everything's so relaxed, and this helps us to explain our products,' she says. 'It's not so common to have enough time for it during a festival.'
Also quite uncommon were some other novelty ideas by Davide and Dario. In no particular order, an exhibit of erotic drawings by the artist Federico Pietrobon entitled 'Alice in Whiskyland'; a 'social lounge' where whisky bloggers could drink a dram and write tasting notes live with visitors; a guided tour through the 'whisky museum', exposing some bottles from Max Righi's priceless collection; a secret tasting with the mysterious Monkey Whisky Club and their experimental approach to reviewing malts; and an interesting whisky talk presented by Jacopo and Giacomo of whiskyfacile.com, and involving journalists, brand ambassadors and bar owners. There were so many things in the fire, enough to strike David Allen, sales manager for Springbank: 'For many aspects our distillery is one of the most traditional in Scotland, but all these revolutionary ideas – from mixology to music – are very welcome.'

Evening entertainment: Live music accompanied drammers long after the sun had set on Veneto

With 130 brands, the offer was interesting even if some bottlers, companies and distilleries declined due to the concomitant Whisky Live Paris. Besides, the quality of the masterclasses was more than acceptable, with some exclusive previews for the Italian market, including a wine-finished Caol Ila bottled by Gordon & MacPhail, the last release of Kilchoman 100% Islay, Bladnoch 10 Year Old, and some tidbits like the rare Bladnoch Bicentennial 29 Year Old, presented by brand ambassador Will Pitchforth. Also poured were the gorgeous Tomatin 36 Year Old, the delicate Glen Garioch 27 Year Old bottled by Càrn Mòr and the private casks bottled by Maurizio Cagnolati's Beija Flor, italian importer of Glendronach, Cadenhead's, Springbank, Kilchoman, Arran, Bladnoch and others. The Glen Moray 25 Year Old matured in ex-Port pipes was very appreciated, whereas the show was not a great success for American whiskey classes.
In terms of visitors – around 1,000 attended across the three days – numbers say that there wasn't a big boom. Operating outside of the main towns means fewer visitors, while first editions are always challenging, so even if hopes were optimistic for a popular first event, lower attendance numbers were expected. However, it was a good starting point, and attendance at the 14 masterclasses was enthusiastic, as Scott Fraser, regional sales manager for Tomatin points out: 'They were the kind of events that really bring people closer and arouse their curiosity.'
That's why WRF deserves time and more years of tastings and events to bypass grappa's cultural walls to succeed. Perhaps a different location in the near but larger town of Treviso, and spread across two days instead of three would help, as would a more diverse selection of brands. But according to the passion demonstrated by visitors, Veneto could soon turn into a gold mine for the whisky industry. As Marco Maltagliati from Whisky Alchemy says: 'Here they treat whisky as an emotion and not just as a product.' Claudio Riva, president of Whisky Club Italia, showed the way, opening 'clans' in Sicily, Puglia and last week even in Treviso. Italy is not so small; it has plenty of opportunity. The industry needs to be patient to find the correct way to enter the market and the heart of consumers: it's a long and hard road for the king of spirits to become pop.