The wholesale revamp of Jura's single malt range is just the latest chapter in the fragmented history of this island distillery. Has Jura found its place on the whisky map at last? Richard Woodard reports.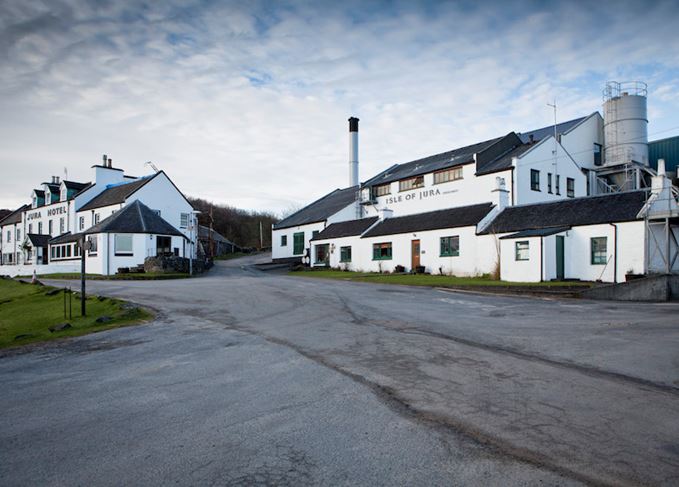 The history of Scotch whisky on the Hebridean island of Jura is littered with landmark dates: the opening of the original (legal) distillery at Craighouse in 1810; its closure almost a century later, followed by dereliction and ruin; reconstruction in the early 1960s, with spirit running from Jura's stills again in 1963.
But, according to Daryl Haldane, head of whisky experience at Jura's current owner, Whyte and Mackay, March 2018 is as important as any of the dates that have gone before.
Last month saw the unveiling of a wholly new Jura: a five-strong core range of single malts, comprising three age-stated whiskies and two NAS malts, unified by a taste profile that aims to combine Highland and Island styles – soft, fruity, with a hint of peat.
It seems a brave move when you consider that Jura was the fourth fastest-growing single malt in sales terms last year. After all, if it ain't broke…
'What we realised was that we needed to do something else,' says Haldane. 'There was a bit of confusion about what Jura was. It became quite difficult to define our house style at Jura.'
A fragmented history all too easily creates a fractured identity. The 'old' Jura was known variously as Small Isles, Craighouse and Caol nan Eilean before settling on the name it has today.
It produced a heavily peated spirit more in line with its Islay neighbours, from its illicit beginnings in the late 18th century through the visit of Alfred Barnard 100 years later, until its closure in the wake of the late Victorian whisky slump.

In ruins: Jura's maltings pictured shortly before the distillery's reconstruction in the 1960s (Photo: Neil Wilson)

Post-1910, Jura wasn't merely mothballed; the roofs of the buildings were removed in 1920, reputedly to avoid having to pay tax. By the time that local landowners Robin Fletcher and Tony Riley-Smith set about resurrecting the distillery 40 years later, there wasn't much to work with.
This was not some misty-eyed, romantic single malt revival, but a practical scheme to tackle the depopulation of the island. When Barnard visited Jura in the mid-1880s, the population was almost 1,000 (and had been even higher); by the end of the 1950s, it was 150. 'The community is something that's essential – it's a crucial part of the Jura story,' says Haldane. 'Over the years, depopulation had been felt quite drastically.'
The whisky world had changed during Jura's half-century of stagnation. The plans of Fletcher and Riley-Smith depended on the support of the blenders – in this case, Leith-based Charles Mackinlay & Co, absorbed shortly afterwards by Scottish & Newcastle Breweries.
That meant no return to the peated spirit and relatively small stills of Barnard's day, but instead some of the tallest and largest pots in the business, designed to create the light spirit demanded by the consumer tastes of the day.
Jura made its debut as a distillery-bottled single malt in 1974, but it would be more than another 20 years before it began making peated spirit again – initially for the lightly smoky Superstition, and then the more overtly peaty Prophecy.
Fragmented history, fractured identity: which was the real Jura? The heavily peated malt that can trace its history back to the Small Isles era, or the nutty, sometimes mineralic, light spirit of the distillery's revival? The answer in 2018, it seems, is a bit of both.

New line-up: Jura's core range includes three age-stated and two NAS single malts

For distillery manager Graham Logan, the essence of Jura is the combination of tall stills and American oak, ex-Bourbon casks. 'The main thing [about the stills] is that they're 25ft tall,' he says. 'There's lots and lots of copper, lots of reflux. It's a light, floral, fruity new make spirit. We've got a very pure water supply [Market Loch], and a balanced system creates consistency in the final spirit.
'What helps us is a nice, even maturation in our warehouses. While you were all having the snow and ice the other week, we had rain. In the winter, the average temperature is 6C; in the summer, it's 10C. That's some of the things that define Jura for me.'
'There's a lovely vibrancy about the spirit style,' adds Gregg Glass, blender and whisky maker at Whyte and Mackay. 'It's quite hard to define, but as a whisky maker, it's great when you pair it with a suitable cask.
'You should be picking up some lovely, zesty fruitiness. Our [new] signature, subtle smoky element at the end is more of a clean smoky character, rather than a dirty peat that you might get from an Islay whisky.'
This is peatiness, as Haldane puts it, used as 'the salt and pepper at the end of cooking', an analogy echoed by Glass. 'There's this misconception that all of a sudden we're all about peat,' he says. 'Not at all. Like you say, it's a seasoning. It's like this craze of chocolate with chilli – but if you're able to taste the chilli, someone's done a bad job.

Fresh start: Jura's stills are transported to the distillery in 1962-3 (Photo: Neil Wilson)

'It's all about accentuating the distillery character. This is not a peated whisky. It's peated whisky, but it's not a peated whisky. It should be a gentle whisper in the background.'
Glass has worked on the Jura revamp alongside Whyte and Mackay master blender Richard Paterson for the past 18 months, since he joined the company from Compass Box, but the rethink has been ongoing for much longer than that.
This is epitomised by Jura Seven Wood, one of two NAS single malts in the new range alongside Jura Journey.
'My first question when I joined the company was: why Seven Wood?' says Glass. 'Whisky making and distillation, I would say, is an iterative process. It can develop and morph over time, particularly for the Seven Wood. That particular project has been almost a decade in the making.'
It all sounds very Richard Paterson: seven different wood types, including American white oak – Jura's 'perfect natural partner,' says Glass – and six types of French oak used for finishing. Six?
'French oak is more about areas, rather than the type of oak,' explains Glass. 'The eastern forests – Vosges, for example – have a tighter grain, whereas Limousin has a wider grain and provides a different character.'
Seven Wood uses oak from the Vosges, Jupilles, Les Bertranges, Allier, Tronçais and Limousin forests, of which Glass picks out Vosges ('almost milk chocolate characteristics') and Bertranges ('tropical fruit') as key.
'What I'm getting at is that seven woods might sound really strange – why that number? – but there is actually a lot of thought and liquid development that's gone into making the product,' says Glass.

Seven Wood: The new NAS malt uses six types of French oak from different forests

This sums up the Jura rethink as a whole: the creation of a coherent house style, still recognisably Jura in the mineral-edged, cereal-accented nutty dryness of Jura Journey, and the overlaying of different cask influences to create diversity and to loosen the spirit's tightly-bound nature when young.
Thus ex-oloroso Sherry casks bring out an almost bitter, darkly fruity, chocolatey character in the 12-year-old, and red wine casks ('top-notch Pauillac, although I can't say where they're from exactly,' says Glass) create a triptych of smoke, sweetness and spice in the 18-year-old. All the time, first-fill ex-Bourbon casks underpin everything.
'We're focused on first-fill ex-Bourbon very heavily,' says Glass. 'There is some refill, but we're very careful about that balance.'
Logan interjects. 'We're an island, we have two ferries and it can be quite hard to get new casks in the winter – so sometimes we have to use refill!'
Jura has sometimes been accused of being a single malt out of sync with its surroundings, as if its blender-influenced 1960s revival created a spirit looking outwards at the demands of the wider world, rather than remaining true to its own Hebridean roots.
If the revamp of Jura is partly an attempt to overturn that perception, it also recognises that it cannot ignore the past 55 years of its history, or the realities of what the distillery is equipped to produce.
After more than 200 years, has Jura finally found its true identity within the wider whisky world? Only time and the reaction of single malt drinkers will be able to answer that question.