Alex Nicol, founder and managing director of Spencerfield Spirits – best known for its Sheep Dip whisky and Edinburgh Gin – discusses a unique partnership with Heriot Watt University, why gin is more complicated than whisky, and an inherent love for horses.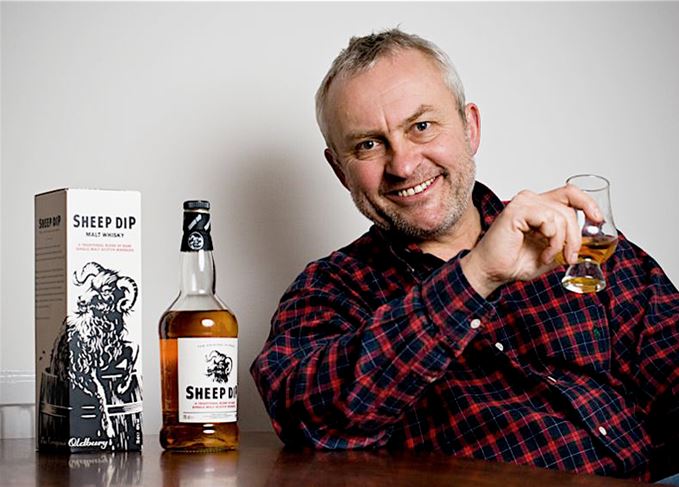 'I was born in Aberdeen, though you wouldn't know it by my [English] accent. My father's family were all from Aberdeen and my mother's from Paisley, near Glasgow. But my father died when I was six, and I was sent away to boarding school in Yorkshire. If you had an accent it was kicked out of you pretty sharpish!
'My first job in the drinks industry was as marketing manager for Long John whisky, based in London. The brand was owned by Whitbread, who then bought Beefeater Gin and I worked with that. I left London in 1990 to be based in Edinburgh as marketing director for Glenmorangie. I moved to Scottish & Newcastle Breweries in 1999 and ran Europe for them, before becoming chief operating officer for Whyte & Mackay in Glasgow. I left in 2005 when Vijay Mallya of United Spirits took over, and set up The Spencerfield Spirit Company, based at a 16th century farmhouse in Fife, which overlooks the Forth Bridge.
'I had taken the Sheep Dip blended malt and Pig's Nose blended whisky brands with me from Whyte & Mackay, and we now sell around 40,000 cases of those in the USA each year. We've developed a number of variants of Sheep Dip. We currently have the original, plus Sheep Dip Islay Whisky, and previously we've released a 1999 amoroso oloroso expression and a 1990 Old Hebridean variant. We also introduced The Feathery, a small batch blended malt which uses whiskies from the Highland region, matured in first-fill oloroso Sherry casks.
'When we set up Spencerfield we didn't want to carry debt, so we bought an old horsebox and filled it with whisky and went everywhere from the Great Yorkshire Show to Cartmel Races in Cumbria. At the end of the day we put the money we'd taken in the horsebox and drove home. We still attend around 140 events each year, but we no longer have the horsebox. It was a very good £5,000 investment, however.
'It had always been an ambition of mine to produce a really top quality gin, and we launched Edinburgh Gin in 2010, originally with a small distillery in Edinburgh's Rutland Place, which also has visitor facilities. We now have a second, larger distillery in Edinburgh as well, and are really getting lots of traction with the brand.
'We are involved in what is known as a Knowledge Transfer Partnership with Edinburgh's Heriot Watt University, which offers brewing and distilling degree courses, and all our distillers are graduates of the university. With Heriot Watt we've developed a strong understanding of botanicals, and are developing a botanical dictionary, if you like, of which botanicals give exactly what effects. It's a science. We did a lot of work on wood finishes when I was with Glenmorangie, and that was all much less specific than the use of botanicals. You had all the variables of oak.
'Although I enjoy gin, whisky is still my favourite drink. There's so much variety and it's in my blood. I love Glenmorangie, Springbank, The Macallan and Highland Park – a great whisky. I'm also partial to Glengoyne, and I always get an interesting bottle of it from my mate Leonard [Russell, managing director of Glengoyne owner Ian Macleod Distillers] every Christmas.
'I've always liked horses and everything to do with them since I was a child and I had a pony. My wife Jane and I bred a couple of racehorses – The Sheepdipper and Edinburgh Gin Time – and I go racing a lot. We sponsor races at the Musselburgh course, near Edinburgh, and we're hoping to get back into ownership soon.
'There are lots of connections between whisky and racing. Leonard Russell's sister, Lucinda, is one of Scotland's top jumps trainers, and the Grants of Glenfarclas sponsor cross-country races at Cheltenham. Back in the 1980s, the Canadian distilling giant Seagram helped to save the Grand National from extinction with a sponsorship deal, arranged by Major Ivan Straker, UK chief executive of the company. He was twice offered the chance to buy the horse called Seagram, but turned down the offer and of course it went and won the Grand National in 1991.
'The best job I ever had was when I was with Long John and we sponsored the European Apprentices' Championship. Apprentice jockeys from all over Europe came on what was a great jolly around Europe, taking part in races in Ireland, the UK, Milan, Madrid and all sorts of places. It was the best two months of the year for me. Mind you, as tipsters, jockeys are as bad as anyone else.
'When it comes to Spencerfield, Jane really runs it and I'm her sidekick. Our daughter Hattie handles events, and our other daughter, Hannah, who is training as a lawyer, also helps our with events at weekends. Our son Finlay was a chef in Paris for two years but is now working as one of our distillers, and is currently studying part-time at Heriot Watt. So it's a good old family business.
'In terms of ambitions, I'd like to do something really innovative with whisky. The whisky market is far too conservative. I'm not talking about putting in sweetener or flavour, I wouldn't want to do anything to bastardise the product, but I do want to see more innovation. I'd also like to win a race with one of my own horses – that would be really special.'