The events taking place during the 2017 Spirit of Speyside festival have been announced, including tours of distilleries not usually open to the public and a series of exclusive whisky tastings hosted by Scotchwhisky.com.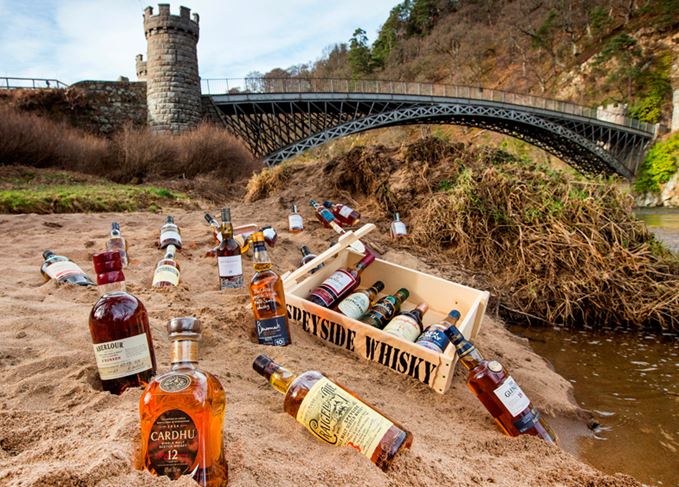 The festival returns to Speyside on 27 April – 1 May 2017 with a packed itinerary of over 500 whisky tastings, tours, dinners and experiences to choose from, all of which are available to peruse on the festival website ahead of tickets going on sale on 7 February.
Among this year's events are opportunities to explore some of Speyside's distilleries usually closed to visitors, including Strathmill, Tamnavulin, Inchgower, Balmenach and Speyburn.
Pery Zakeri, festival manager, said: 'If you are a real whisky enthusiast then you will understand and appreciate just how special it is to be able to access these distilleries, and it is why tickets for these events sell out so quickly.
'It is almost like belonging to a small and exclusive club because so few people can say that they have stepped across the threshold. For those who are truly passionate about Speyside whisky, being able to say they have visited somewhere only a handful of other people have been is like wearing a badge of honour.'
There's also the chance to nab a guided tour of Boormalt Maltings and Speyside Cooperage for those seeking a thorough whisky production education.
Each day from Thursday to Sunday Dave Broom, chief engineer of Scotchwhisky.com, will be hosting a series of explorative whisky tasting sessions at the Craigellachie Hotel's Quaich bar, with bar manager Lyndsey Gray.
The duo will examine the regional argument that all whiskies produced in Speyside are the same, in Does Speyside Exist? on Thursday at 3pm.
The life and times of Alexander Edward – Speyside's Forgotten Genius – will be uncovered on Friday at 3pm in a tasting designed to toast the founder of Aultmore, distiller at Benrinnes and builder of the Craigellachie distillery, village and hotel.
Friday evening will also see Broom and Gray host an Ages of the Spey whisky dinner, with a four-course meal inspired by the 19th century, with drams and tales to match.
Dufftown, the heart of Speyside, will take on Rothes on Saturday at 3pm in a fight to decide which town produces the best whisky. While Broom and Gray battle it out on stage with 10 different whiskies, the audience will be left to decide who's the winner.
Lastly, Sunday will see singer-songwriter Ziggy 'Lomond' Campbell join Broom at the Quaich Bar for a sing-song and walk through whisky and music. Expect robots, synaesthesia, pheasant-faced women, vinyl, electrified whisky and more.
The Spirit of Speyside's events are spread out across the region and, while the festival itself is free to attend, each event is individually priced.
Visitors can take in a free Scottish aperitivo with Dewar's malts ambassador Georgie Bell on the beach next to Craigellachie bridge, tour one of the many Speyside distilleries opening their doors for free, or splash out £275 on a golf and whisky day with Moray Firth Tours, or improve their whisky knowledge at the Whisky School (£600, spaces limited).
Visitors will also have the opportunity to decide the winner of the Spirit of Speyside Whisky of the Year, with the eight finalists available to judge on Thursday, Friday and Saturday at numerous venues across the region.
The festival also presents an opportunity to discover more than just whisky – the Gintastic Club is hosting a gin masterclass at The Richmond Memorial Hall; Balvenie St. Ice Cream has produced flavours made specially for the festival; there are beers from Windswept Brewery; and gin cocktails and tapas at The Seven Stills.
Those interested in attending Spirit of Speyside 2017 can look through the events on offer at www.spiritofspeyside.com/events ahead of ticket sales opening at 12pm (GMT) on 7 February.