Not all whisky collectors spend their lives lusting after mythical bottles and desperately trying to fill the gaps in their cabinets. Mark Davidson's love of the dram was born in the pre-internet era, fuelling his interest in the rich world of whisky literature. He spoke to Angus MacRaild.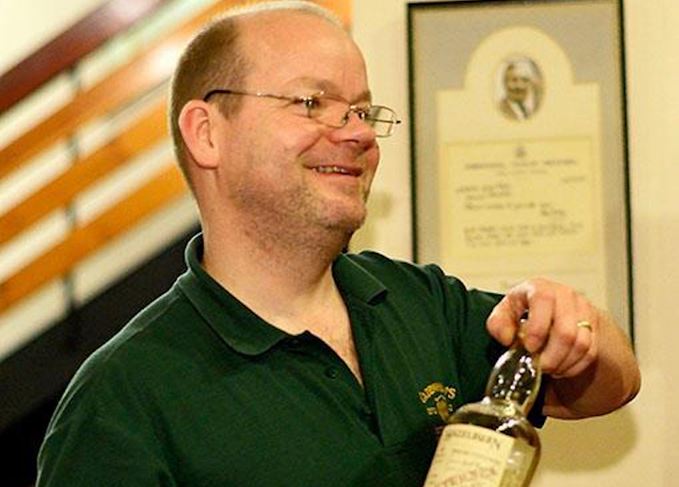 When framing the term 'collector' in a whisky context, it's easy to become fixated on a singular image: that of the fanatic and their bottles, shelves brimming with rarities and 'dusties'.
It's an understandable perception; after all, some stereotypes exist on the back of a kernel of truth. However, collecting and whisky is not always such a precise endeavour. All manner of memorabilia surrounding whisky is coveted and collected, especially in what is perhaps one of the most overlooked and interesting sub-categories: books.
If you've been on any kind of bottle-buying excursion to Edinburgh over the past two decades, then chances are you've encountered Mark Davidson. In his own words, he is 'by day, mild-mannered shop-keep at Royal Mile Whiskies; in the evening, Jolly Toper – whisky tasting host and general dram geek'.
It's a brief and modest description, one flavoured with a subtle, yet somewhat typical, sprinkling of self-deprecation from a man who has become a well-known and widely respected fixture of the Edinburgh whisky scene. Although, as he points out, whisky was always in the mix...
'Coming from the north-east of Scotland, whisky is a part of life, like farming and fishing, so it's always been in the background; my folks liked a dram, so the aroma was familiar and eventually the taste appealed.
'Then, in 1998, while at teacher training college, I bought my then girlfriend (now wife) membership of the SMWS [Scotch Malt Whisky Society] and ended up behind the bar. After that, my mind was made up – whisky fascinated me.'

Good read: Davidson started collecting books when internet research 'wasn't an option'

Having worked at the Scotch Malt Whisky Society, Cadenhead and now Royal Mile Whiskies, Davidson has served time at all three of Edinburgh's key whisky institutions – and, perhaps crucially, over the course of one of the greatest times of cultural upheaval whisky has ever known: the shift from the 'age of innocence' in the 1990s, via the internet-fuelled popularity explosion, to the complex and vast cultural behemoth is it today.
He says: 'It's great to see our national drink become so popular that so many speciality bars and shops can enjoy the attention, but I hope the essence of the idea doesn't get over-diluted, as might be the case with other cultural contributions from Scotland's apparent "brand".'
It was this pre-internet era that kickstarted Davidson's interest in collecting whisky books. 'I was curious about the history of the industry, brands and distilleries; the internet wasn't really an option for research then, but there were a number of books out there.
'After a while a collecting bug bit me – part practical in the search for information, but also part good old daft obsessing about pursuing a goal of gathering a complete collection of something.'
In an era when the internet can be as much a force for obfuscation as illumination, the lack of fact-checked, peer-reviewed information, combined with a tyranny of choice, can add a retrospective lustre to whisky publications – not only for the historical window they provide on a drastically changed industry, but also for the pleasures, and reliability, of properly-researched and clearly-articulated information.
On the subject of whether there is such a thing as a 'definitive' book on whisky, Davidson is characteristically thoughtful: 'Debatable; as the subject covers many aspects, I'm not sure one title nails the complete picture.
'There are many comprehensive works and other simply great reads. I'd prefer to think of the books out there as expressions of single malts – some very particular and not for everyone, but others great all-rounders. However, there isn't one for absolutely everyone... yet.'

SMWS days: Davidson has also worked at Cadenhead and Royal Mile Whiskies in Edinburgh

Like older bottles, there are rarities in the whisky library which Davidson has struggled to find although, unlike whisky itself, he is grateful that written artefacts can be re-created.
As he explains while talking about the most treasured titles in his collection: 'I was grateful to Ian Buxton for reprinting some really elusive, and hence expensive, publications... As funds for an original Barnard were short, I haven't yet landed the "big one", so I'll settle for a Philip Morrice 1987 [Schweppes Guide to Scotch] rewrite as a personal favourite, alongside the recent Emmanuel Dron epic.'
Alfred Barnard's tome is an inevitability when discussing historical whisky books. However, a certain amount of revisionism has arisen around his work in recent years – not least from Richard Woodard.
Davidson's own thoughts are similarly nuanced on the subject: 'It's pretty much a dull read, and the absence of tasting notes is a lost opportunity... It would have been a wonderful catalogue if Barnard had recorded some key notes on the drams produced at the distilleries he painstakingly measured.
'I believe he met his commission admirably, but such a huge undertaking must have been difficult to manage satisfactorily for both his bosses and audience then – never mind today's readers.'
It is not without irony that, while Davidson has seen, tasted and sold a large quantity of legendary whiskies that enthusiasts now willingly plunge to the depths of their pockets to possess, working in retail does not pay well enough these days for him to keep up with collecting bottles in a traditional fashion.
As with so many present-day collectors, the spectre of the secondary market prices looms large... 'I found the exponential value too tempting and have "shared" some dear friends. Gone are Killyloch, Kinclaith, Glen Flagler and Brora '72, but there's still Ben Wyvis, "Ayrshire Malt", Oban 1966, Craigduff and Glenisla.

Not yet: Davidson believes that a whisky book 'for absolutely everyone' is yet to be written

'Some bottles are meaningful on a personal level and are free of commercial interference, which is satisfying – casks bottled with friends, or gifts – they'll be shared or passed on to my bairns, who will hopefully appreciate their value in some manner.'
Davidson is not the sort of character who gets much credit for the number of drams he's shared over the years, or the number of people he's educated and helped on their way in the whisky journey. His 'Jolly Toper' tastings are a mini-institution in their own right but, in the broader hustle and bustle of today's 'look at me' whisky world, they are easily missed or overlooked.
Those who know Davidson and attend his tastings would likely argue that this is no bad thing. He is that rare character: a fountain of knowledge who can speak at length on the flavour and history of 1972 Broras and 1950s Campbell, Hope & King Macallans, or sit and blether over a pint and the warm glow of geeky conversation.
All with a good-natured, quiet humility that's a rarer thing than it should be in today's commercial-heavy whisky world. As he himself puts it: 'It's a great shame that so many keen whisky drinkers these days find it such a challenge to taste great drams due to the commoditisation of what is such an enjoyable experience.'
As for his holy grail books: 'I'm always delighted with the unexpected find – a collection of saved whisky adverts from 100 years ago "free to an enthusiast" from my favourite bookshop makes me hopeful there are unknown pleasures out there – but, if anyone has Brian Spiller's collection of distillery descriptions, I'd like to talk...'