Emmanuel Dron's Singapore bar has gathered a loyal and thirsty fan base thanks to its 1,500-strong back bar – mostly comprising old and rare whiskies. But, like many, the collector is dumbfounded by the rising prices of collectible whiskies. Angus MacRaild delves into his collection.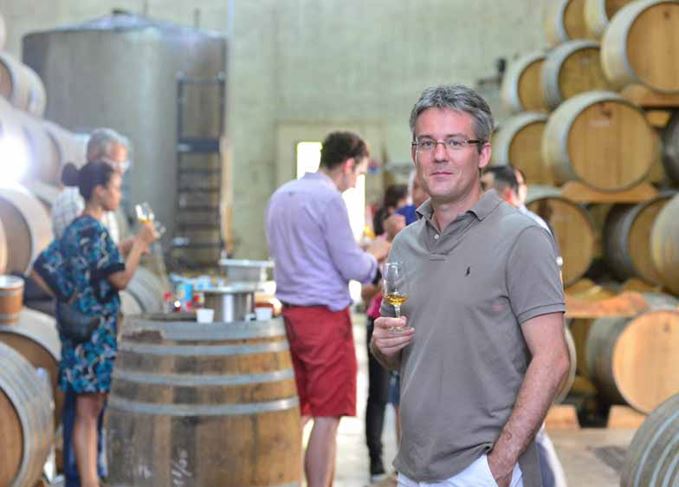 Who are you and what do you do?
'I am Emmanuel Dron, born in 1972 in France. I have lived in Singapore since 2008. I am the co-owner, with my business partner Wayne, of the Auld Alliance – a bar in Singapore that focuses mainly on whisky with around 1,500 bottles. We specialise in rare bottles and have become famous for offering very rare whiskies by the glass. We also bottle and distribute our own single cask bottlings (over 25 casks since our opening in 2011. One of our latest casks was a 32-year-old Port Ellen 1983).'
When did you first get into whisky?
'Around 1994-95. There was a jazz bar in Lille that was offering 150 single malts by the glass. Over four months, my friend Sylvain and I went there – sometimes a few times a week – and tried them all. Soon after, we decided to go to London. We went to Milroy's and The Vintage House in Soho. I tasted my first Port Ellen during that trip.
'In 1996, I created a 10-page newsletter, La Part des Anges, about whisky, which I sent to La Maison du Whisky (LMDW) in Paris. Thierry Bénitah, owner of LMDW, contacted me and offered me a job. I worked for 13 years at LMDW before starting my own company in Singapore. This is my 20th year working professionally with whisky.'
What whisky do you collect?
'Whiskies that speak to me. I like to get my hands on legendary bottles such as Samaroli bottlings from the 1980s; Laphroaig distilled before the 1980s; dumpy Signatory Ardbeg and Laphroaig; rare Japanese bottlings of Scottish whisky (Kingsbury, Mizuhashi etc); dumpy Cadenhead bottlings; whisky from 1972 (my birth year); Brora; Longmorn; Caperdonich.
'I don't have any Karuizawa in my collection but I like to collect very old Japanese whisky. I have many rare Nikka bottles from the early 1950s. Some bottles that you can find empty at the Nikka Museum in the Yoichi distillery, I have in full. The same goes for Suntory; I have some that date back to around the Second World War and some rare Suntory "private stock" from the 1950s. I also like to find very old Irish whiskeys.'
People often talk about how the quality of Scotch whisky has changed over recent decades. What about Irish whiskey?
'No one can contest that whisky has changed over the last 50 years. I won't judge the quality side as it is personal opinion and not fact. But on the production side, many things have changed over decades that have changed style and quality – for good or bad. I mostly have old bottles in my collection; I guess it says something about my view of that change in quality. We can note a clear Irish whiskey revival with excellent feedback from whisky connoisseurs.'
Do any of the new distillery projects in Ireland excite you?
'Frankly speaking, not at all. There is a craziness at the moment. Everybody wants to start a distillery in Scotland, Ireland or the USA. There are too many new distilleries or projects already – I am lost. I have a feeling that we will see an over-production and big crisis in the industry again, like what has happened many times before in whisky history. I will be happy to try these new whiskies in eight or 10 years, but I don't buy all those limited edition spirits or the two-years-and-360-day-old "almost whisky" editions.'

Long live Laphroaig: A sample of Dron's vintage bottlings from the '60s and '70s

How did the Auld Alliance begin?
'I opened the company in mid-2010. When I left LMDW, I wanted to focus on old and rare bottles and give the opportunity to more people to try them. I chose the name because I am French and I had always been asked: "Why are you selling whisky? You are French, you should sell wines." I heard this hundreds of times...
'The Auld Alliance, which is the historic alliance between France and Scotland in 1295, was a good name for me to link my country of origin with whisky. Ninety-nine percent of what we serve in the bar is whisky (from around the world) and products from France: Champagne, wine, absinthe, rhum, Cognac, Armagnac etc.'
How have people's attitudes towards old-style whiskies changed?
'People are learning fast. In just a few years, many of our customers have become real whisky geeks. They taste all our rare bottles. Some start to collect and to buy at auction. We really have a big group of nice and very knowledgeable people from Singapore, of course, but also Myanmar, Vietnam, Hong Kong, Taiwan and China. We also have many Japanese guests, but they come from a long-established and deeply educated whisky culture already.
'One of the biggest changes is that today many people buy whisky just for investment, like people were doing for wine. That is very new in whisky at this level. The result is crazy prices that don't make sense at all.'
Given this fact, do you see your own whiskies more as investments now than future drinking bottles?
'It would be dishonest to tell you that I don't think twice now. In my bar, I stick to my philosophy to make more people try these legendary bottles.I recently opened a Laphroaig 1967 Samaroli and a Bowmore 1966 Bouquet. I could have sold them so easily by the bottle, but that's not fun. I had so many people flying from all over Asia just to try them at the bar. That's crazy, but such a good feeling to see happy faces when people can try those beauties.
'Regarding my private collection, I have many rare bottles that are suddenly worth a lot of money. For some, the value is three, or even five, times higher than one year ago. The market for those legendary bottles really has become absolutely nuts. I still open good bottles at home. At the moment, I have open a Bowmore 1966 Prestonfield, a Port Ellen 1974 Sestante, a Laphroaig 1968 Celtic Label, a Springbank 1964, a Talisker 1955 Gordon & MacPhail Cask Strength and few other good ones.'
What are some of your favourite Scotch whiskies and why?
'Laphroaig pre-1980s distillation. They are just the best whiskies for my palate. I have many in my collection, distilled in the 1950s and 1960s. They are so complex and so good. All those Filippi [Fausto] imported bottles from the 1960s, Bonfanti from the 1970s, the Carlton imports for the US market from the late 1960s – they're all stunning whiskies.
'I love Ardbeg from the 1960s and 1970s, Brora from the early 1970s, Caol Ila from the 1960s, Bowmore from the 1950s and 1960s, some great Longmorn from the 1960s and 1970s, and some single malts from specific vintages, such as Jura from 1966, Glen Ord from 1962, Benriach 1976. They were unique in profile with a strong character. You can't find anything like those whiskies today.'

Hidden treasure: A few of Dron's Samaroli bottlings, including a 1967 Laphroaig and 1966 Bowmore

What are the most prized bottles in your collection?
'Port Ellen 12 Year Old bottled for the Queen's visit [to the distillery] on 9 August 1980. The only Port Ellen officially bottled in 1967, the year of the reopening of the distillery. The only 1967 ever bottled, probably. A very rare Bruichladdich 1960 single cask, very dark Sherry, bottled in 1973, produced before the distillery changed its style to a non-peaty malt during that year. I also have a rare 1958 dumpy Cadenhead Bruichladdich. A vertical of Laphroaig 1963, 1964, 1968, 1971 and 1973 bottled by Berry Brothers. A vertical of 10 different Ardbeg 1967 dumpy Signatory Vintage bottlings, with three US versions included.'
What would be your 'holy grail' bottle to find?
'A real Laphroaig bottled in the 19th century, probably.'
What are some of the greatest whiskies you've ever tasted?
'Laphroaig 1967 and 1970 Samaroli; Ardbeg 1965 and Glen Ord 1962 Cadenhead White Label Mizuhashi for Japan; Glen Moray 1959 Duthies; Bowmore 8 Year Old Pear Shape; Glenfarclas 1955 Square Decanter; Port Ellen 1969 Celtic Label 64.7% abv; Highland Park 10 Year Old "St Magnus" Dumpy from the 1950s; Longmorn 1972 Gordon & MacPhail; Isle of Jura 1966 Samaroli.'
What about your favourite everyday drinking drams?
'All those 1988, 1989, 1991 Irish whiskeys that you can find on the market. Regarding Scotch whisky, I would say young Caol Ila, 1992 Ardmore, some 1990s Clynelish, early 2000 Bowmore and some recent Littlemills.'
What has been the greatest whisky experience of your life so far?
'I have two in mind: The Islay Odyssey in 2015. It was an amazing moment of friendship and we shared so many outstanding drams.
'A whisky bar tour last December in Japan (where I go very often) with my fiancée Hitomi, who is Japanese. She helped me organise an amazing tour around Japan. We visited many cities, many bars and met great bartenders. My goal was to try mostly whiskies I hadn't tasted before. I was lucky to find a lot of old and very rare beauties. I also had my birthday during that trip at the bar Cask Strength in Tokyo, and was surprised to see many Japanese whisky friends and bar owners. Some flew from Fukuoka to surprise me. That was a very touching moment.'

The Auld Alliance: The bar boasts more than 1,500 whiskies