One of the famed 'Whisky Barons' of the late 19th century, James Buchanan overcame ill-health to make his blends some of the most popular in the world, amassing a huge fortune matched only by his legacy to the world of Scotch whisky. Gavin D Smith tells his story.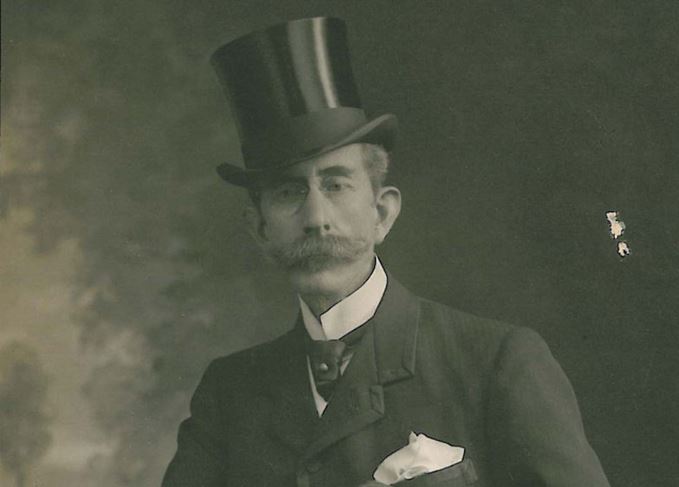 The term 'Whisky Barons' is often loosely applied to the individuals who made their fortunes during the blended Scotch whisky boom of the second half of the 19th century, and who were ultimately recipients of honours from a grateful nation.
One such Baron was James Buchanan, whose name is inextricably linked with the Black & White blend which he created. Although elusive in the domestic market, more mature consumers have fond memories of its label, depicting a black 'Scotty' dog and a White 'Westie'. Indeed, the story goes that Buchanan was inspired to use this image while returning home from a dog show.
James Buchanan was born in 1849 in Rockville, Ontario, Canada, where his parents Alexander and Catherine had emigrated, though much of his childhood was spent at Larne, on the Antrim coast of Northern Ireland, where his father was employed as a quarry manager,
Despite ill-health as a child, Buchanan began to work for Glasgow shipping agent William Sloan & Co at the age of 14, serving as office boy and then clerk. He then joined his brother William's Glasgow-based grain business, before taking his first steps in the world of whisky as London-based agent for Charles Mackinlay & Co from 1879.
In their book The Making of Scotch Whisky, Michael S Moss and John R Hume describe Buchanan's career with Mackinlay as '…short and unsuccessful', but he fared rather better after forming James Buchanan & Co in 1884, aided by Glasgow blender William Lowrie, who initially provided Buchanan with his bespoke blend. Just a year after establishing his own company, The Buchanan Blend was being supplied to the Houses of Parliament.
Photographs of James Buchanan from this period show an elegant and immaculately dressed figure, and he shared a flair for publicity with fellow would-be whisky barons such as Tommy Dewar, being driven in a red-wheeled carriage, complete with liveried footman. Like Dewar, he was also quick to see the potential in advertising his whisky, first taking out newspaper adverts in 1887.

Dapper gent: Buchanan was well-dressed, as this cartoon from Vanity Fair shows

Sales grew dramatically on a global basis, with Buchanan establishing what ultimately became known as the Black & White blend as a smooth, refined, well-matured whisky with a relatively high malt content.
The blend required supplies of quality malt whisky to fuel its expansion, and in 1897 James Buchanan & Co Ltd combined with old associates WP Lowrie & Co Ltd to form the Glentauchers-Glenlivet Distillery Company. A distillery was constructed at Mulben, near the Speyside distilling town of Keith, with production commencing in June 1898.
That same year, Buchanan received Royal Warrants to supply whisky to Queen Victoria, the Prince of Wales and the Duke of York and, when Buchanan & Co became a limited company five years later, James Buchanan was worth £750,000. By 1909, his whisky was the best-selling blend in England.
The early years of the 20th century saw Buchanan open offices in Paris, New York, Hamburg and Buenos Aires as the blend continued to flourish. In 1906, he bought WP Lowrie & Co and proceeded to make their Glasgow blending operation much more efficient. The following year, he invested in the North British Bottle Manufacturing Company and purchased the Acme Tea Chest Company.
Such was the ongoing success of Buchanan's business that, in 1915, James Buchanan & Co Ltd merged with John Dewar & Sons Ltd, creating a company ultimately known as Buchanan-Dewar Ltd.
In 1922, the company acquired the Benrinnes-Glenlivet distillery near Aberlour, and by that time it already owned 11 Scottish distilleries, including Port Ellen, Royal Lochnagar, Aultmore, Dalwhinnie and Convalmore. Buchanan-Dewar Ltd became part of the Distillers Company Ltd (DCL) empire in 1925.
James Buchanan soon ceased to play an active part in the company's affairs, having been plagued by ill-health all his life. He swapped the commercial world for the life of an English country gentleman, purchasing the Lavington Park estate near Petworth in Sussex, where he bred cattle and sheep, and established a successful thoroughbred stud.
Buchanan's horses twice won the Epsom Derby and St Leger 'classics', with Hurry On landing the 1916 St Leger, while Captain Cuttle took the 1922 Derby and Coronach scored in both the Derby and St Leger of 1926.

Canine charm: Buchanan is said to have created Black & White after attending a dog show

In addition to Lavington Park, Buchanan owned land in Kenya and Argentina and, in partnership with Lord Aberdeen, operated a 20,000-acre fruit farm in British Columbia. Back home, he was appointed High Sheriff of Sussex in 1910, and was elected as a member of the Jockey Club in 1927.
James Buchanan became Sir James Buchanan in 1920, then was elevated to the peerage as Baron Woolavington two years later in the New Year's Honours List.
Officially, the baronetcy was a reward for Buchanan's undoubtedly extensive charitable activities – in the best traditions of his time, he was a generous philanthropist – but he also allegedly paid £50,000 to Lloyd George's government in return for his honour. Lloyd George was known to view the honours system as a useful means of raising revenue, so the story may well be true.
Buchanan was nothing if not shrewd, however, and reputedly signed his cheque with the name 'Woolavington', dating it 2 January – the day after the title was officially to be announced – so that no payment would be made unless the promised baronetcy was forthcoming.
Buchanan had married Annie Eliza Pounder, a widow 13 years his junior, in 1891, and their only son died in infancy. This meant that, when Buchanan died in August 1935 at the age of 85, the baronetcy became extinct, although the couple also had a daughter, Catherine. Buchanan's estate was worth in excess of £7m, or more than £450m in today's terms.
His legacy to the world of Scotch whisky was equally significant. By insisting that his whiskies should be well-aged and have a significant malt content, James Buchanan did much to make blended Scotch both popular and respectable, and played a leading role in helping it to become a drink for the world.