James Buchanan & Company Profile
James Buchanan & Co. was one of the 'Big Five' producers controlled by one of the great 'whisky Barons'. Under Buchanan's shrewd guidance, the company grew in 20 short years from a one-man business into an international distributor of Scotch whisky through its Buchanan's and Black & White brand, which are still two of the most recognisable brands available today. Buchanan's is now owned by British multinational, Diageo.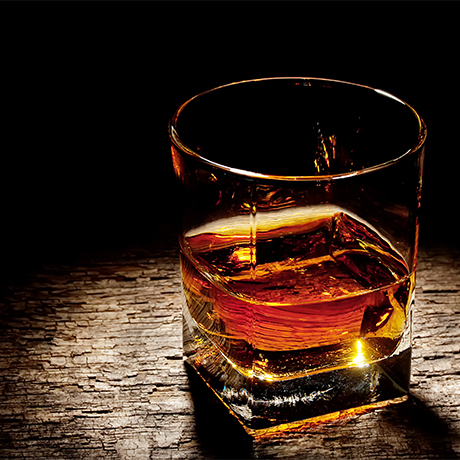 James Buchanan & Company History
Canada-born James Buchanan's working life began as a 14-year-old office boy at Glasgow shipping agent William Sloan & Co., although it wasn't until he was 30 that his legendary whisky career began.
In 1879 Buchanan took his first steps in the whisky industry as the London-based agent for blending company Charles Mackinlay & Co. After a short five years he left Mackinlay's and returned to Scotland to ask J. & J. Ainslie, a Leith-based whisky company, for a partnership. Undeterred by Ainslie's refusal to accept his offer, Buchanan returned to London and, with some financial assistance from his friend W. P. Lowrie, formed James Buchanan & Co. in 1884.
His aim was to develop a blended whisky more suited to the 'English palate' that was smoother, lighter and less peated than the Highland malts available on the London market at that time. To this end he worked with Lowrie, and with access to older malt and grain whiskies, created The Buchanan Blend. Using contacts from his Mackinlay days, his business grew and he was soon selling his whisky to the London music halls and the Members Bar at the House of Commons. In homage to his prestigious client, he changed the name of his blend to Buchanan's House of Commons Finest Old Highland whisky. Since the whisky was presented in a black bottle with a white label, it soon became better known by its nickname, 'Black and White', although the moniker was not registered until 1904, when it began to officially appear on the label.
In 1895 Buchanan's secured another high society coup with a Royal Warrant from Queen Victoria, the Prince of Wales and the Duke of York. Indeed, so successful was his business that soon (on the back of the whisky boom) James Buchanan looked to secure a source for his malt whisky. In 1898 he built Glentauchers distillery in partnership with W. P. Lowrie & Co., and also purchased the Black Swan Distillery in Holborn, London which, after much conversion, became the company headquarters for many years.
The Pattison crash of that year impacted the entire Scotch whisky industry, reducing the values of stocks in bond and distilleries themselves. Taking advantage of the situation, Buchanan soon purchased the Bankier Lowland malt distillery, as well as W.P. Lowrie's business, which included Convalmore.
Eventually, the threat of competition from the rise of DCL forced James Buchanan & Co to explore the possibilities of a merger with another of the large companies, so in 1915 it formed an alliance with John Dewar & Sons, creating a holding company called Scotch Whisky Brands (soon thankfully changed to Buchanan-Dewar Ltd).
Almost immediately Buchanan-Dewar hit the acquisition trail, purchasing Port Ellen, Islay and Lochruan distilleries in 1919, and Benrinnes distillery from the voluntarily liquidated Robertson & Baxter in 1922.
However, the cloud of mergers needed to withstand the might of DCL still hung over the Scotch whisky industry and in 1925, one year after James Buchanan was elevated to the House of Lords with a peerage, becoming Lord Woolavington, Buchanan-Dewar and John Walker & Sons finally joined the conglomerate.
James Buchanan died in 1935 at the age of 85, though his name continued to live on through his whisky legacy. Through subsequent mergers his company became part of Diageo, with both Buchanan's and Black and White still going strong today.
Distilleries & Brands
House of Commons

Blended Scotch Whisky

Royal Household

Blended Scotch Whisky
Contact
Address

James Buchanan & Company Limited




Metrohouse, 57 Pepper Road




Leeds




West Yorkshire




LS10 2RU




United Kingdom