Both aim to combine raw materials in a way that creates appealing aromas and 'flavours', so it's perhaps surprising that there isn't more synergy between the worlds of whisky and perfume. Richard Woodard reports.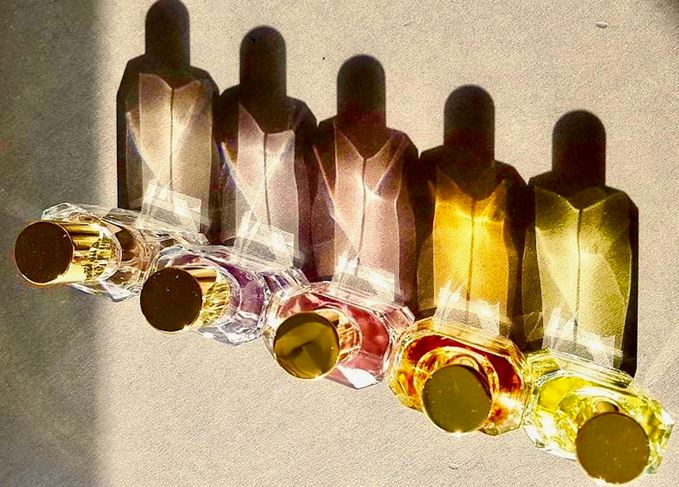 'People can feel very inhibited about their abilities. They'll say: "I'm rubbish at nosing things." We're either no good or a connoisseur. Maybe because we're not paying enough attention to how we smell, we're not really paying attention to the different bits that might be going on. It can be an incredibly colourful and vibrant experience – but we might not be able to verbalise that.'
To anyone who's been to a tasting or masterclass, these words will sound familiar. But Lizzie Ostrom, aka Odette Toilette, is not talking about whisky, or even wine, but perfume. This 'fragrance polymath' – events, writing, product development – spends her time exploring the multi-faceted potential of what she considers a much-neglected sense: smell.
Given the surface connections, it's perhaps surprising that the worlds of whisky and perfume haven't touched on a more frequent basis. Both involve the part-art, part-science sculpting of raw materials into aromas or 'flavours' to appeal to potential purchasers; and, as we shall see, there are other, deeper and more subtle links, alongside a few notable contrasts.
Perhaps the most obvious contact between the two worlds came with the creation in 2017 of Macallan Edition No 3, when British perfumer Roja Dove was brought in to create a new single malt, alongside then Macallan master whisky maker Bob Dalgarno.
Dove recalls that he was initially reluctant. 'I hated whisky,' he admits, citing a painful teenage experience. 'I had a clichéd idea in my mind of what whisky was about. I thought of an older man, drinking a heavy, dark, unpleasant liquid.
'I was wrong. Bob introduced me to a broad spectrum of flavour which I had no idea existed within the world of whisky. He gave me whiskies which smelt fresh and citrus… and whiskies that smelt of flowers – rose in particular. I had no idea you could find a flower lurking in a bottle of whisky.'

Reluctant creator: Roja Dove overcame a hatred of whisky to work with Macallan

Whisky influenced by perfume, but how about perfume influenced by whisky? Two out of the three fragrances released by new perfume house Kingdom Scotland claim just that: Metamorphic, says company founder Imogen Russon-Taylor, contains a nod to Islay single malts, reflecting the metamorphic rock woven throughout the west coast of Scotland. A peated aspect, alongside spices, black pepper, incense and a mineralic note, is 'a way of referring to my love of Ardbeg and Islay malts in general', she says.
Meanwhile, Portal aims to evoke Caledonian woodlands with an oaky aspect, but combines this with a top note of new make spirit, Russon-Taylor says. 'I've woven whisky mentions and nods to them into the fragrances,' she explains.
And yet there's no hint of that connection in Kingdom's marketing. When a customer asked if the perfume would take them over the drink-drive limit, Russon-Taylor realised that they weren't quite ready to embrace the idea: '...they thought it might make them smell like an alcoholic'.
'I think that, when I have people in front of me, I'll talk about it,' she adds. 'Journalists are interested in that aspect.' A more overtly whisky-focused fragrance collection is likely to follow in 2019.
Given her previous career, it should be no surprise that Russon-Taylor is bringing whisky into her perfume-making. She was working with LVMH when the company acquired The Glenmorangie Company in 2005, playing a part in the transformation and repackaging of the Glenmorangie range.
Part of that process involved research with Guerlain and Dior (also owned by LVMH), and the enlistment of perfume and beauty writers, including Anna-Marie Solowij, formerly at Vogue, to help write new tasting notes alongside Glenmorangie master distiller Dr Bill Lumsden.

Perfume polymath: Lizzie Ostrom, aka Odette Toilette, is fascinated by our sense of smell

'I think that gave more of a sense of place or of a memory or an emotion,' recalls Russon-Taylor. 'It took things beyond the physical scent. Fragrance does that very well, because fragrance is all about emotion and memory.'
Here's a clear contrast between whisky and perfume, as Ostrom explains. 'Food and drink is still fairly interested in process and communicating how slight variations produce differences in aromatic profile,' she says.
'Perfume is more about concept – you can use almost anything in the world, so there's more scope to go off-piste. It's conceptual, rather than ingredient-led.'
It's an approach that Ostrom has employed in developing a range of Olfactor-y Gins for That Boutique-y Gin Company. Available exclusively at Harvey Nichols, they feature names such as Beware of the Woods, Dead King, Big Dipper and Fresh Rain.
BLIND NOSING
Here's another contrast: imagine that you walk into a whisky shop and are confronted with 32 label-free samples. You nose your way up and down the line, narrowing them down to two preferences, which you nose and taste before arriving at your final choice. You leave with a blank bottle; only at the end of the month does the shop tell you what it contains.
That paraphrases the approach of Mindy Yang at New York's Perfumarie: 32 blank perfume taps, narrowing down to two scents to try on your skin for a final decision. Your choice might be anything from a high-profile new launch to something rather more artisanal, and the taps are changed each month to encourage repeat visits and the construction of a personal fragrance collection, freed from the distractions of packaging and advertising.

Aromatic connection: Portal is said to have a top note reminiscent of new make spirit (Photo: Phoebe Grigor)

'In perfume at the moment there is a bit of a tug-of-war between communicating the intention of the creator and the verbalised story, versus the opportunity to fill in your own meaning,' says Ostrom. 'But, if you go too far, you're giving so little that there's no story to buy into.'
Paris-based perfume house Bon Parfumeur adopts a minimalist approach: numbered fragrances with bare, simple descriptors of top notes, heart and base notes, but no other information to guide you.
The idea is that you, the consumer, add your own sentiments, emotions and memories – rather than having them imposed on you by the creator. It's a concept reminiscent of Compass Box's No Name and Phenomenology releases, or The Glenlivet's Code and Cipher single malts.
Others in fragrance are moving in the opposite direction, talking more about ingredients and process, not less. Fragrance houses spend huge amounts of R&D time and money on developing new aroma chemicals, and some, called captive molecules, are effectively copyrighted for their exclusive use within a limited timeframe.
Ostrom cites the example of Akigalawood, a captive molecule from fragrance company Givaudan which goes through an enzyme process to create a clearer, less earthy patchouli aroma.
'Captive molecules used to be used in the trade, but never talked about,' she explains. 'A lot of perfume brands are mentioning these names now. But, as a member of the public, we don't smell this material on its own. How are we meant to know what it smells like or what it means to us?'

Whisky to perfume: Imogen Russon-Taylor worked at Glenmorangie before founding Kingdom

So why do it? 'I think it's about transparency. I think the industry's better than it was in talking about aroma chemicals or isolates, or the process the ingredient goes through. They used to pretend that it was all rose, jasmine and there's nothing made in a factory – but of course there's plenty that's synthetic. It's as if they're saying: "We've told the story of rose so many times, we need new stories."'
Transparency? The quest for new stories? To anyone involved in the modern whisky industry, these will be familiar issues, even if the terminology is different. There's also the ceaseless churn of new products, the need to feed a fickle consumer who's more interested in exploring the entire category than staying loyal to one brand, as their parents or grandparents might have done. 'Flights' or collections of fragrances, whether brand-specific or third-party and arranged thematically, are now hugely popular – and arguably represent an area yet to be fully exploited by the whisky industry.
Disruption is another common theme. 'Who is a perfumer?' asks Ostrom. 'People today going places in the industry haven't necessarily been to one of the very few training schools, and they tend to be crazy, wacky and rule-breaking.'
It's hard not to see an echo of this in the emerging generation of so-called 'craft' distillers around the world, who are not afraid to question convention and try things just to see if they might work.
The reaction of the establishment to this movement might also be instructive. 'People will say about some of the fragrances that they've got holes in them,' says Ostrom. 'They're not smooth; they've got big gaps. But does it matter? If you ask someone to smell it, will they on some unconscious level recognise that? Or will they even care?'
Substitute the word 'whiskies' for 'fragrances' in that quotation and then read it again. The worlds of perfume and whisky might sometimes appear to spin in different galaxies, but their respective orbits place them in closer proximity than many of us might think.