Whisky and racing at first appear an unlikely pairing, but the two have been inextricably linked since Prohibition. With the Australian Grand Prix approaching on 17 March, Gavin D. Smith brings us up to speed on whisky's influential role in motorsports.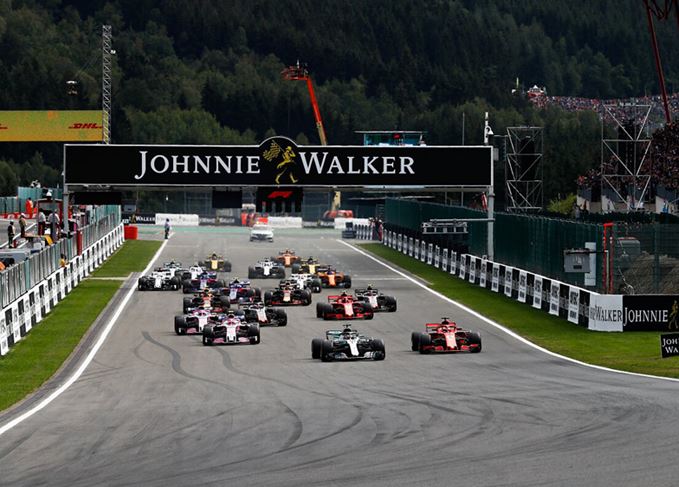 The announcement that Scots-born former F1 racing driver David Coulthard has partnered with Highland Park to create two limited edition single malts to be sold for charitable causes, is just the latest example of the strong bond between whisky and motorsport.
The relationship between alcohol and fast driving may seem one fraught with potential PR pitfalls, but Johnnie Walker's 'Striding Man' first donned a fireproof suit and crash helmet back in 2005 to sponsor the McLaren F1 team. McLaren had just ended its sponsorship deal with the cigarette brand West, owned by London-based Imperial Tobacco, due to a European Union tobacco sponsorship ban that came into force at the end of July that year.
Following on from its association with McLaren, Johnnie Walker has been the 'official whisky' of F1 since 2014. As Benjamin Marien, Johnnie Walker's global head of sponsorship and customer marketing, explains: 'From the beginning, the purpose of our partnership with F1 was twofold. Firstly, and most obviously, we wanted to increase awareness of Johnnie Walker whiskies globally and F1 has a lot of fans in almost every corner of the world – both with people watching the action on television and physically attending the races. The combination of a global audience and the festival-style atmosphere on race day really appealed to us and still does.

Strong partnership: Johnnie Walker claims F1's global audience helps promote its whisky

'Secondly, it was important for us to find a partner who could help us to promote our responsible drinking message – particularly around anti-drunk driving. With a highly engaged audience of motorsport enthusiasts, F1 was ideal. In more than 10 years we have secured more than 14 million pledges never to drink and drive through our global #JoinThePact programme.
'That is 14 million adults in more than 40 countries across five continents. From the heights of Nepal to the streets of São Paulo, the campaign has travelled the world educating consumers and encouraging millions to make a commitment never to never drink and drive. That is something we are very proud of.'
Noting that Johnnie Walker has also partnered with F1 drivers, including former world champion Mika Häkkinen (the brand's global responsible drinking ambassador) as role models for the campaign, Marien adds: 'More than anyone else – F1 drivers know how important it is always to stay in control. One small mistake can have a massive impact.'
#JoinThePact: Johnnie Walker's campaign uses F1 racers to promote responsible drinking

The relationship between Johnnie Walker and F1 actually goes back much further than 2005, as Rob Walker, great-great-grandson of company founder John Walker, established his own racing team in the late 1950s.
He had persuaded his mother to buy him a car when he was aged just 10, and as a student at Magdalene College at Oxford, he bought a French-built Delahaye Type-35 sports car and proceeded to race it at Brooklands. He went on to take part in the 1939 Le Mans 24 Hours race in France, insisting on wearing a pinstripe suit rather than overalls, as it was the only proper attire for a gentleman at 8pm.
In 1958 Walker established his own 'privateer' team, and drivers of the calibre of Tony Brooks, Jo Bonnier, Jo Siffert and Jack Brabham all drove for him, though he enjoyed most success in partnership with the legendary Stirling Moss.

Stirling job: Renowned driver Moss training for the Netherlands Grand Prix for Mercedes in 1955 (Photo: Joop van Bilsen)

Taking on the might of major factory teams such as Ferrari, Moss recorded Walker's first F1 victory in Argentina in 1958, before recording two more wins the following season in Walker's Cooper-Climax T51. He then drove a Lotus 18 to victory for the team in the Monaco Grand Prix races of 1960 and 1961.
In recent years whisky and F1 came together under the ownership of Indian entrepreneur Vijay Mallya, who owned the Force India racing team and Glasgow blender Whyte & Mackay through his Indian drinks group, United Spirits. Between 2008-13, the Whyte & Mackay logo was prominent on Mallya's cars, but when United Spirits was sold to Diageo, the Glasgow distiller's adverts were replaced by ones for Royal Challenge Indian whisky.
Across the Atlantic, Nascar (National Association for Stock Car Auto Racing), the US equivalent of F1 in terms of popularity, enjoyed the sponsorship of Jack Daniel's and Jim Beam from 2005, when the series lifted its ban on sponsorship by distillers. Both whiskey brands supported the events until the end of the 2009 season when their owners decided to refocus their patronage on non-motorsport activities.

Speedy spirit: Stock racer cars helped bootleggers evade police during Prohibition

However Nascar's relationship with whiskey goes back to the early 20th century. The event has its origins in the bootlegging era of US Prohibition (1920-33), when cars which appeared to be 'stock' were equipped with heavy-duty springs, shock absorbers and high-powered engines, and were used to transport moonshine and illegally-imported spirits. The drivers were highly skilled at evading or outrunning the forces of law and order on primitive mountain roads, and in their spare time they raced each other for 'bragging rights'.
When Prohibition ended, the drivers found themselves out of work and in possession of high-performance vehicles. They continued to compete against each other in informal races. On 14 December 1947, former moonshine runner 'Big Bill' France held a meeting with other drivers, car owners and mechanics, with the intention of formalising and standardising rules of competition. The first official Nascar race took place two months later.
It would be reckless to cover motorsports and whisky's relationship without a responsible drinking message, so let's give the last word to golf-obsessed, J&B Scotch-drinking Rat Pack member Dean Martin: 'If you drink, don't drive. Don't even putt.'
The 2019 F1 racing season starts on 17 March when Melbourne hosts the Australian Grand Prix.