The whisky industry is making huge strides toward a gender-balanced workplace, but it's not enough to challenge the prevalent perception among consumers that whisky is a 'man's drink'. Becky Paskin reports.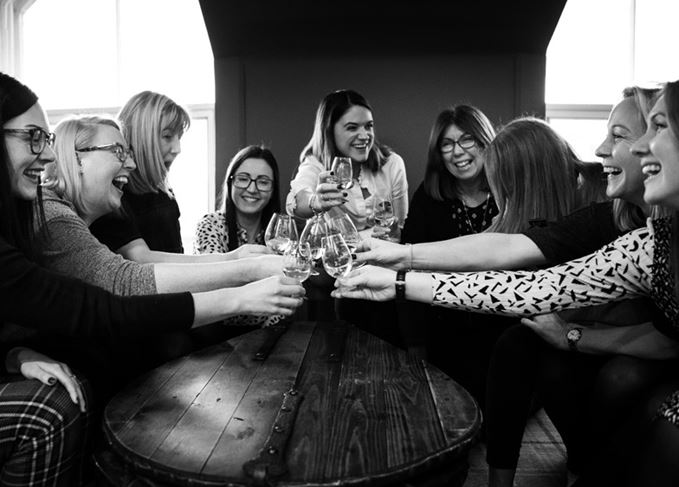 'Every whisky event I work, there is at least one bloviating male who explains whisky to me,' writes brand ambassador Kathryn Aagsen in a recent opinion piece for The Whiskey Wash.
'He assumes he knows more about whisky than I do. What bothers me is when it's assumed what I am saying about whisky is not important, because I'm wearing a skirt.'
Tales like this are not uncommon among women working in certain markets in the whisky industry. Like Aagsen, they too are tired of politely smiling and nodding along to patronising and incredulous comments, while their supportive male counterparts are treated with reverence.
The frequency of remarks like these at whisky shows, tastings and masterclasses appears to be slowing, particularly as whisky enthusiasts become increasingly well informed. However, the root cause continues to linger among the general public, as Aagsen notes: 'Whisky is apprehended as cartoonishly masculine.'
The whisky industry made a rod for its own back when, in the mid-20th century its advertising and marketing began overtly targeting male consumers, pitching a dram as a bold, masculine drink enjoyed in the cigar lounge, or served on a platter by subservient wives. With very few steps taken to rectify the damage since, it's no wonder that the perception remains, and archaic comments abound from well-meaning consumers suffering from unconscious bias.

Sexual object: Traditional whisky advertising has objectifed women, rather than marketed to them (Photo: Dewar's Drinking Man campaign, 2012)

Courageously speaking out publically about this kind of behaviour brings the issue to the forefront of the industry's, and whisky drinkers', attention, but how effective is the sharing of these tales in actually rectifying the out-dated perception that whisky is a 'man's drink'? Producers created this issue; surely it's now their collective responsibility to instigate change through positively championing diversity, of both its workforce and those who enjoy whisky.
With the theme for this year's International Women's Day today (8 March) #balanceforbetter, it's time whisky producers were asked: what are you doing to help forge a gender-balanced world?
Looking back through its history, the whisky industry has made huge strides toward achieving an equal opportunities workplace, as Carol Quinn, archivist at Irish Distillers notes: 'Traditionally women didn't feature in [19th century distilleries' employee records] as many roles in the distillery would have been quite manual, such as lifting bags of barley, but why, I asked myself, did they not feature as management or as decision makers, roles for which physical strength was not a requirement?
'The answer lies outside the distillery walls in societal restrictions placed on women's aspirations, education and financial independence.
'Today this is changing. Such restrictions are being broken down, and greater numbers of women are entering our industry, so we need to share our knowledge and experience to support this welcome diversification.'
Women are now occupying positions in all areas of whisky production – in senior leadership teams as well as taking on more physical roles in mashing, distilling, warehousing and even coopering.
Earlier this month Diageo announced the appointment of the UK's first two female coopering apprentices, while in 2017 the company took on 18-year-old Rebecca Weir as its first female coppersmith apprentice. 'I've never been put off by gender stereotypes,' coopering apprentice Angela Cochrane says. 'I don't think that should stop anyone from doing what they want to do. And knowing you're contributing to the growing whisky industry is an amazing feeling.'

Vocational training: Angela Cochrane and Kirsty Olychick have joined Diageo as apprentice coopers

On an academic level, the next generation of female master blenders and distillers are also coming into whisky having completed science degrees or PhDs, some with Edinburgh's Heriot Watt University which actively encourages both men and women to apply for roles in the industry.
The big four whisky corporations have set active goals to work toward gender parity within their companies. Diageo already has a 50:50 representation on its board, while it intends to increase the number of women in its leadership teams to 40% by 2025.
In 2017 the company was named third in the FTSE100 for women on boards and in leadership. At the time, Mairead Nayager, human resources director at Diageo, said: 'Our career development programmes have an equal intake of women and men to attract, retain and grow the best talent; women are already 50% of our global graduate hires; in Scotland this year, nearly 30% of our new apprentices were women.
'We are proud of the progress we have already made towards gender equality in our business and have a clear ambition to deliver more.'
At Chivas Brothers, Scotland's second-largest Scotch producer, an initiative to increase gender equality in 2018 has doubled the number of women on its executive team.
Jenny Dixon, Chivas Brothers' head of talent and PR, London, says: 'It is our belief that in order to achieve a better balance in the workplace, we need to be at the forefront of challenging some of the institutional and societal barriers that often stifle women's abilities to rise to positions of leadership in business.
'This is why we have also recently revamped our maternity and paternity policies and introduced programmes such as increased flexibility around working hours and locations.'
Meanwhile Edrington, which produces Macallan and Highland Park whiskies, adopts a recruitment strategy designed to 'attract greater numbers of female candidates without sacrificing its belief in appointing the best candidate for the role'.
For some whisky companies, recruitment decisions are based solely on the quality of candidate rather than targeting a specific gender. Still, the result is a relatively even split.
Cara Laing, director of whisky at Douglas Laing & Co., explains: 'At Douglas Laing & Co. we don't recruit based on gender balance or imbalance; we recruit based on aptitude, knowledge and experience.
'That policy has resulted in an equal mix of male and female employees at Douglas Laing today, which was never our deliberate intention, but is something we're very proud of.'

Female force: Bruichladdich's #WeAreIslay campaign highlighted the diversity of its distillery team

The story is similar on Islay at Rémy Cointreau's Bruichladdich distillery, where 40% of the workforce is female. 'What's particularly interesting is that this has happened naturally,' says Christy Macfarlane, communications manager at Bruichladdich. 'We've always hired the right person for the job, regardless of sex. To get to an almost equal split of male and female without consciously doing so is an achievement in itself, especially where we're operating with a relatively closed population.
'And while it is clear that production based jobs tend to be more heavily weighted to males, we're proud to have women leading in roles right across the business, from bottling to brand directing.'
Whether it's a core part of the business plan or not, addressing gender balance within the industry is a huge step toward challenging the already prevalent perception among consumers that whisky is a 'man's drink', but it's not enough.
The whisky industry is already lagging far behind its contemporaries in other consumer goods sectors when it comes to portraying stereotypical characters in its advertising and marketing.
Although the portrayal of subservient women, often as eye candy, is (mostly) consigned to the past, female characters in advertising continue to generally play a supporting role to male protagonists, with whiskies squarely marketed at the male consumer.
Meanwhile, companies such as Unilever and P&G have made global commitments to no longer stereotype men and women in marketing for products such as household cleaners, nappies or toiletries, through campaigns such as Pampers Stinky Booty Duty which focuses on the father's role in childcare.
Madeline Di Nonno, CEO of the Geena Davis Institute on Gender in Media, said in 2017: 'By changing the narrative, the images we use, the stories we tell about women, we can dramatically change the way the world values women and how women and girls see themselves.'
Booty duty: P&G is challenging stereotypes in its advertising for brands like Pampers nappies

Recent steps to include women in the whisky conversation may have backfired for some producers in recent years, however the answer may lie not in targeting women specifically, but in not targeting any specific gender at all.
Jean-Christophe Coutures, CEO of Chivas Brothers, recently reported that while women account for around 35% of whisky drinkers, half the purchasers of Glenlivet Founder's Reserve in the US are women. Coutures claims the statistic is not driven by directly marketing at women, changing the flavour profile to 'suit women's palates', making the packaging pink or giving it a feminine name. Instead, the result comes from non-gender specific marketing at millennial consumers – it's easy to drink, looks attractive and the marketing is gender inclusive. In essence – it's a whisky for newcomers that doesn't alienate half the population.
He says: 'With Glenlivet Founders Reserve we have launched a brand with a much more approachable taste. The packaging is a lot easier to navigate and understand, the price as well is an entry-level price, so if you combine all those elements, it's a brand that is worth exploring for new drinkers.
'We want to be a more gender-neutral brand, which is different to our competitors.'
Ultimately, if the whisky industry is to eradicate its clichéd masculine image and stamp out condescending comments toward women, it needs to form a cohesive approach, by building and nurturing a diverse workforce that demonstrates whisky's appeal to everyone from the inside out, and by showcasing that diversity in its marketing.
As Glenda Slingsby, partnerships director for International Women's Day, says: 'Stereotypes are being challenged and more diverse representation of women is evident. Clearly, however, there is still a continuing need worldwide for more progressive mindsets and inclusive behaviours to be forged.
'Gender balance is not a women's issue, it's an economic issue – so advocacy, inclusive mindsets and tangible action are needed from all.'