Specialist spirits retailer La Maison du Whisky has just celebrated its 60th anniversary, but CEO Thierry Bénitah is not pausing long to celebrate. Constantly striving to source the next wave of innovative products, he spoke to Dave Broom about taking over the reins from his founding father, why he prefers to look to the future, rather than dwell on the past, and the whiskies that inspire him today.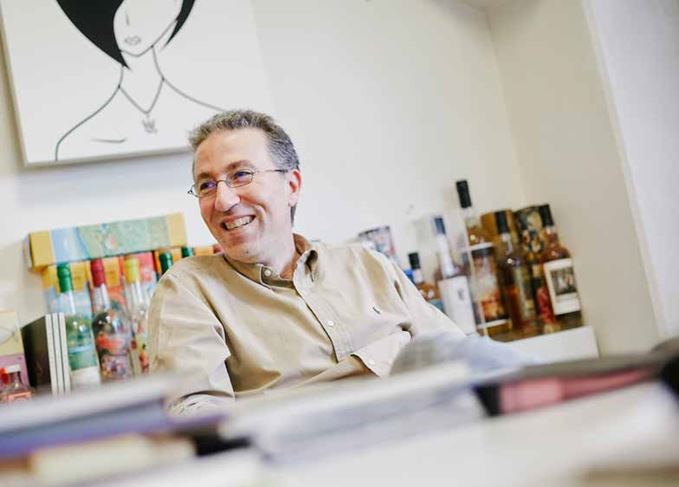 While any new business venture starts with wild optimism, it is optimism often tinted with realistic expectations. So, when Georges Bénitah founded La Maison du Whisky on 14 September 1956, it's unlikely he envisaged it becoming a retailer, importer, agent and wholesaler with international reach, and one with a deserved reputation as one of the great spirits specialists in the world. After all, post-Second World War France hadn't yet caught the whisky bug; most of it was being drunk by American soldiers – and they became La Maison's first customers.
In 1961, things began to change when the founder made his first trip to Scotland, which led to the opening of the first shop. 'Interest was beginning to grow by the end of the '50s,' says Georges' son, Thierry Bénitah, who started working for the firm in 1995 and is now the CEO, 'but the market was tiny, tiny, tiny – 1.5m bottles against 200m today.'
I've known Thierry Bénitah for many years. Our paths have crossed on various continents, at distilleries, in tastings, hotel lobbies, bars, but most of all in Paris. The business may be infinitely more complex than it was in 1956, but it remains a family operation.
To most of the spirits world Thierry Bénitah is La Maison. Where can I find this bottle? 'Try Thierry.' What's hot? 'Ask Thierry.' Is whisky sufficiently innovative? 'Haven't you seen what Thierry is doing now?'
It's quite a shift from his days in finance. 'I went to the US to finish my studies in banking, but I was struggling to find my way,' he admits. 'My big problem was I couldn't work for other people, it was just impossible. This was when I started to think about La Maison.'
The timing was good. In 1994, as Thierry was entering his final year of study, his father was considering selling the business. 'We bought out his brothers (who were silent partners) in Feb '95 for FF10m.'
It also represented a turnaround for Bénitah, who wasn't that enamoured with whisky when he was younger. 'At around age 10, I worked for my father every Christmas to make a little money. The most successful product was the "mini-bar", a box with a selection of miniatures. That's what I had to assemble. The whisky smell when you are 10 is really disgusting. I told my father I'd never work in the business,' he laughs.
He'd become a little more discerning by the time he arrived in Philadelphia. 'Rather than go out with friends to have beer or Tequila slammers, I was finding the few whisky bars there were and trying to educate my friends about Macallan or Laphroaig. I knew some things from books and had been with my father to Scotland, but I was no expert.'
Looking back, the late '90s can be seen as the last flare of a golden age for whisky. 'You could find anything you wanted in those days,' he says, a note of amazement in his voice. 'But of course we didn't realise this. We'd be buying casks of Ardbeg 1974 and it would be hard to sell. Today it sells in one minute. It really was a different world.'
And one you miss?
'No. Sometimes I am a little nostalgic, but I'm more into the present and the future. I've always been like this. It's the customers who get nostalgic. New things are coming in all the time, new distilleries, I meet new people. This is more exciting than looking back all of the time.'

The never-ending search: Bénitah is constantly looking for the next big whisky innovation

This relentless search for the new is a regular theme in any of our discussions and mirrors La Maison's growth. Up until the mid-'60s, gin, wine and Sherry were all more significant sellers than Scotch. The firm only sold six single malts – Glenfiddich, The Glenlivet, Glen Grant, Strathisla, Miltonduff and Cardhu – to connoisseurs and the odd specialist bar, like Harry's.
It all began to change at the start of the 1970s, when links were built with Gordon & MacPhail, plus the agency for Springbank, but it wasn't all plain sailing. 'My father began importing Lagavulin at this point. It was FF30 (€4) and he couldn't sell it. He had to send it back to Scotland.'
Although most French drinkers saw whisky as a cheap blend to consumed as an aperitif, La Maison persevered with its vision of whisky as a premium spirit. By the 1980s, Signatory Vintage had joined the portfolio and, when Bénitah arrived in 1995, the net began to be cast further. The range soared from 300 to 1,500 products in five years, with expansion into American and Irish whiskies and, perhaps most notably, Japanese.
'There wasn't so much a plan. Everything happened through meeting people. I would go regularly to London to visit Milroy's. It was crazy. London was dangerous! I was totally drunk any time I went to visit them, but it was thanks to Wallace and Jack [Milroy], and Doug McIvor, that I got into the whisky world. They helped me a lot.'
Success is built on relationships?
'Definitely. All these people – Andrew Symington, John Glaser, Ewan Mitchell, Billy Walker, you can call them at any time. Remaining accessible is one of the keys to success.'
Product quality, however, remains important. More than that, I've sat in on tastings where single casks – Karuizawa, Glen Garioch, GlenDronach – are being chosen. Many are rejected because they don't fit 'the La Maison palate'.
'When it comes to distribution, I can't work with a product I don't like. There's a few major brands I haven't taken because of this. I like the people,' he laughs, 'just not the product. It's impossible for me.'
He pauses. 'Maybe this explains why this is more than a business. You start thinking about whisky all day, you go to bed thinking about it; when you go out, it's whisky or cocktails. It's a way of living.'

Signs of potential: Aside from Scotch, Bénitah is excited about Taiwanese whisky Kavalan

And an exciting one, judging by his enthusiasm as he rattles through his most recent passions: Kavalan's growing potential, Westland from Seattle, 'but I'm also fascinated by what's happening in Kentucky in the traditional distilleries; then there's Chichibu [in Japan]'.
Where does that leave Scotch? 'I see many new bottlings, but I can feel it's more about packaging than the liquid. Maybe the liquid is good, but for me there is too much marketing in the big brands. I'm sure they are successful, but it's not whisky any more.
'I'm always looking for new products [later he says 300 new lines need to be added to the list every six months], but there are too many unimportant Scotches for me. They look the same, they taste the same. This is the main problem at the moment. They're not bad whiskies, but they're not exciting.
'For me, smaller players and independent bottlers are saving the category. I am always looking for the one that steps out from the crowd.'
Such as Whisky de Table? (He recently persuaded Compass Box to bottle a three-year-old vatting of their own single malt casks, then bottled it in a wine bottle with the instruction 'servir frais').
'Yes, it's a good example' (there's a smile in the voice). 'It's not easy to find simple, good whisky with quality that's at entry price.'
He starts rattling through his enthusiasm for rum, and for home-based spirits Calvados, Cognac, and Armagnac (underrated in France). Then there's mezcal. 'I didn't think I could drink it like single malt, but not only can I do it, but I like to do it.
'When you see good movies or go to a good restaurant, you want to share it with your friends; so when we find something new, we really want to share. I'm still discovering things.'
So you're still an enthusiast?
'I'm still a little kid. But everything starts with the product and if the product is amazing, it creates such happiness. We want to engage with these brands.'
I know better than to ask him if he thinks he's now got everything covered, but I am interested to see what his response will be.
'Novelty is key for any market – new brands, new bottlings. We don't take everything, but we want to be involved in everything that is interesting – and good. For us, the big thing is to be involved in selection.'
Are you a perfectionist?
'I'm never satisfied, but it's what happens with everything I do. I just can't do it any other way.' Another pause... 'But I'm happy.'
And with that he's off – checking the new brochure, tasting new products lined up, plotting the future. Sixty years on and La Maison keeps evolving.
And Thierry Bénitah would have it no other way.