Chivas Brothers' senior bulk operations manager, and master distiller at Scapa, Brian MacAulay has worked with the remote Orkney distillery for 21 years. Now, at the start of a relaunch for the single malt, he tells Becky Paskin why, despite its isolation, Scapa has his heart.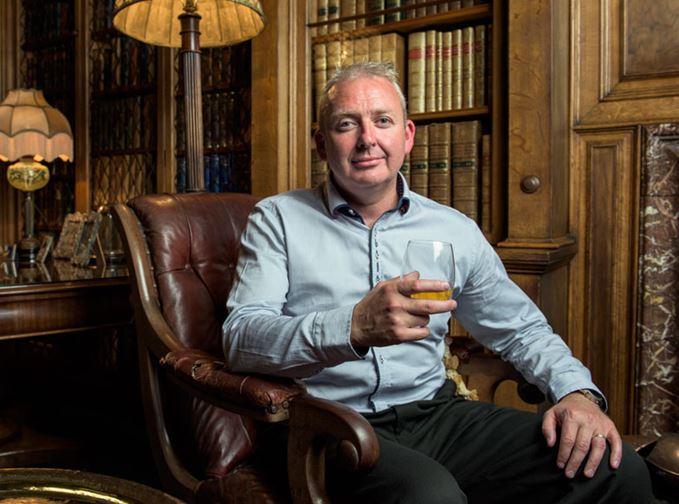 'No two days are the same for me; I wish two days were the same. The scope of my role is working across all aspects of the business, covering Glasgow to Scapa across 20 sites. Part of that is looking to the future of the business in terms of strategy, what we're doing for bulk stocks, movements, supporting blends and the Scapa product and also in terms of the new fill part of the business as well.
'Being master distiller and having other responsibilities at the same time is not challenging as such; I think it complements the role.
'I'm based in Elgin at Miltonduff distillery but I'm also based in Glasgow as well and I commute up to Scapa 2-3 days a week. It's not that unusual; everybody commutes. If I leave my house at 7.30am I'm here for 10.30am. It's not that bad, you come for a day or two but you tend to work all night.
'The old manager's house at the distillery is being refurbished so I stay there. It's kind of like a second home, although it's work. I have the responsibility of making sure it's maintained, so in a way I've redecorated it.
'All five of Scapa's distillery workers live on Orkney, so when I'm away communication with them is important and I have to trust them.
'When I'm interviewing people I have to be aware of whether I can trust them; it has to be someone who fits into the family. They have to have the skill sets but they need the personality as well. You kind of click quickly, and you do that as part of the interview process. It's quite a strange way of doing things; normally you just interview somebody based on skills but here it's very important they fit in with the team.
'I'm hugely passionate about Scapa distillery; it hooked me the first time I was here. There is a lifestyle pull about Orkney and it just fits with me. It's a real privilege because it's lovely to be really passionate about something you really truly believe in.
'The people of Orkney are very supportive of the distillery and the distillery is part of the community. Now we have opened the new visitors' centre and are relaunching the brand, we are integrating even more closely with the community.
'If the relaunch of Scapa attracts more tourists to Orkney it just bolts on perfectly to the attraction of the islands. Orkney already has about 150,000 tourists a year, and Scapa will now add a very unique feature, particularly with the draw of its Lomond still. We will start to get a different clientele like the whisky boffins and people who have been interested to get to Scapa for years.
'Before Scapa I was involved in the demolition and rebuild of Glen Keith, and the expansion at Longmorn. I also worked at the Dumbarton grain distillery in Glasgow and I've worked on Islay and at Glencadam on the east coast. I've worked in a lot of malt and grain distilleries in Speyside and maturation, and have been lucky enough to work around the whole business.
'Inverleven was closed at the Dumbarton complex when I was there, although it was still standing. It had a Lomond still, so I've almost come full circle.
'When we had just three men working at the distillery doing the filling and warehousing too, Scapa's fermentation period was the longest in the industry at 120 hours, but we moved to seven-day production with five staff in October 2014 and so it's shortened to 52-70 hours.
'The fortunate thing is the Lomond still has only been running 400,000 litres a year, so there's not that much wear and tear on it. We've not had to make any repairs to it or replacements to it, to my knowledge.
'One of the challenges of running a remote distillery is that it's always nice to see things, because if you see it you can believe it, and that's where the trust comes in.
'Communication is one of the biggest issues and it's how you do that. The interesting dynamic was when we went from three to five people, because the three guys would have to change their method of communication on shift hand over – it used to be that they'd always see each other face-to-face, but now they don't so they've had to develop their communication skills more.
'Another challenge is that basically sometimes the ferry doesn't sail. You can be running a distillery and you run out of space within your vessels and the tanker is sitting on the mainland.
'Production hasn't stopped because the ferry can't bring us the barley just yet, but it has been close. We were a day away from stopping a couple of months ago, which was very close.
'From the spirit side we've been eight hours delayed but we were able to make that back up. Now we are on seven days production everything is that much tighter – we don't have that opportunity any more which adds another layer of complexity to it. It's an interesting way to run a distillery but I think it's been very successful.'