Elixir Distillers has lodged plans to build a new 'contemporary' whisky distillery on Islay, capable of producing 'a whole family of spirits' with 'underground' warehousing.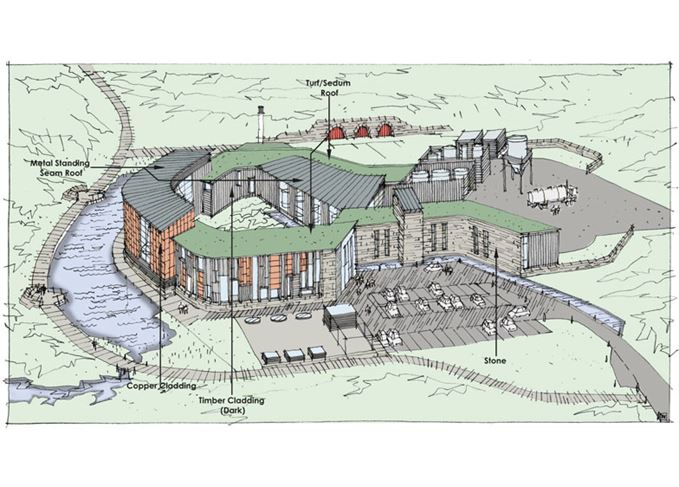 The plans, submitted by the independent bottler to Argyll and Bute Council this month, include details for a single malt whisky distillery with the ability to produce up to 1.2 million litres of alcohol, as well as an 'experimental pilot plant' for creating 'other types of whisky'.
In addition to barley, the distillery will be set up to handle different grain types, as well as produce a range of spirits including gin and rum, with its own facilities for growing botanicals.
The distillery – which is yet to be named – will be situated on Islay's south coast at Farkin, half a mile from the village of Port Ellen.
It will sit at the western end of the Three Distilleries Pathway, a walking and cycle path linking Ardbeg, Lagavulin and Laphroaig distilleries.
Plans for the distillery, which has been designed to compliment the surrounding natural environment, include a 'path network' that builds upon the existing Three Distilleries Pathway, allowing passers-by the opportunity to more easily explore the coastal environment.
The pathway also incorporates an educational installation, providing information for users about Islay's whisky history, geography, geology and wildlife, utilising public art.

Function room: The whisky lodge is designed as a modern take on a traditional blackhouse

As well as including a visitor centre and shop, the distillery will also feature a small tasting lodge located near the shoreline for private parties.
Designs for the distillery itself have been based on a floor plan shaped into the letters CHO – the chemical formula for alcohol.
In its plans, Elixir Distillers, which owns the Port Askaig and Elements of Islay brands, said: 'The vision is to establish a completely new, contemporary distillery which will incorporate the best of both traditional and new distilling methods to create a whole family of spirits.
'The contemporary nature of the distillery and the cutting edge distilling processes being piloted has guided the contemporary design.'
The distillery will feature its own floor maltings, becoming the fourth on the island to malt its own barley on-site, alongside Bowmore, Kilchoman and Laphroaig.
A tun room will hold 16 washbacks, while the still room will see four copper pot stills with shell and tube condensers arranged in a semi-circle, facing a window with views out across the Sound of Jura.
The pilot plant, comprised of a gin still and separate column and pot still set up to process vodka, rum, various cereals and 'Irish-style pot still whisky', will produce up to 300,000 litres of alcohol per year.
Warehousing will take the form of a series of 'underground maturation vaults' to the front of the distillery, which will mimic the surrounding hillocks.

Scenic route: If plans are approved, the Three Distilleries Pathway could welcome a fourth distillery (Photo: Sustrans Scotland)

With accommodation on the island in short supply, Elixir Distillers also hopes to build on-site family housing for staff and distillery visitors, which will be lodged as a separate planning application.
Sukhinder Singh, co-founder of Elixir Distillers, said: 'We submitted plans for our distillery to Argyll & Bute Council in December. Once the plans are hopefully approved we would like to start building as soon as possible with a view to begin distilling in 2021.'
Once fully operational, the distillery is expected to employ 25 process and visitor centre staff, with a further 67 employed across the UK.
Elixir Distillers outlined its initial plans in a public consultation at Ramsay Hall in Port Ellen in April.
At the time, Singh said 'there was never any question that we wouldn't choose Islay to build our distillery'.
Islay is currently home to eight operational distilleries and the Port Ellen maltings, with a ninth distillery, Ardnahoe, due to fill its first cask in early 2019.
Diageo, which operates Lagavulin and Caol Ila distilleries on the island, is also working on plans to revive the 'lost' distillery of Port Ellen adjacent to the maltings.