Peter Dawson Profile
As a distillery owner on Speyside, Peter Dawson was able to access whiskies from a number of local distilleries and used these contacts to create his blended whiskies, Peter Dawson Special, Extra Special and Old Curio. The company had an interest in Towiemore, Balmenach and Convalmore distilleries and, for a year, owned the Auchnaghie distillery outside Pitlochry. Under DCL the company also owned the licence to the Ord distillery (now Glen Ord) for over 50 years until it reverted back to John Dewar & Sons in 1982.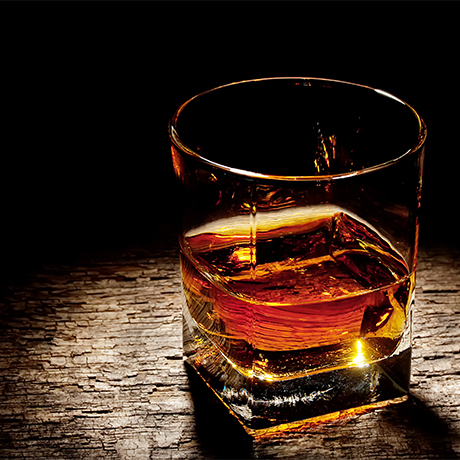 Peter Dawson History
Peter Dawson began trading as a grain merchant in 1882, though he quickly realised the money to be made by maturing and blending whiskies. In 1887, at the time of a visit by Alfred Barnard, he owned Auchnaghie distillery near Pitlochry, in the heart of the Scottish Highlands, though Barnard recalls the distillery had ceased operations as 'the weather was too hot for malting'. It was sold onto John Dewar & Sons in 1890.
In 1893, in partnership with a group of Glasgow based blenders, he built the Convalmore distillery in Dufftown and three years later built the Towiemore distillery nearby. In 1910 Capt. Robert Falcon Scott chose Towiemore malt whisky as his 'whisky of choice' on his ill-fated attempt to be the first to reach the South Pole.
The boom period for Scotch whisky and Peter Dawson sadly did not continue. Victims of the fallout from the Pattison crash of 1898 included Convalmore distillery, which went bankrupt in 1905. By 1924, during a period of major consolidation of the Scotch whisky industry, P. Dawson Ltd and 2.9 million gallons of maturing stock was purchased by the Buchanan-Dewar, John Walker and DCL companies. When DCL absorbed the other two companies in the following year the distilleries were passed over to a DCL subsidiary, Scottish Malt Distillers and Peter Dawson joined the board. The company itself continued as the licensee of Ord distillery until that passed to John Dewar & Sons in 1982.
As a footnote and reflection of Dawson's showmanship as well as the export potential of his whiskies, cases of Peter Dawson Special and Old Curio blended whiskies were on board the S.S. Politician when she ran aground off the Hebridean island of Eriskay in 1941. That event and those of the following days inspired sir Compton Mackenzie's tale, Whisky Galore!.
Distilleries & Brands