Whisky runs in the family for Douglas Laing & Co. chairman Fred Laing, who built his father's blending business into a leading Scotch whisky bottler and – soon – Glasgow-based distiller. He spoke to Becky Paskin.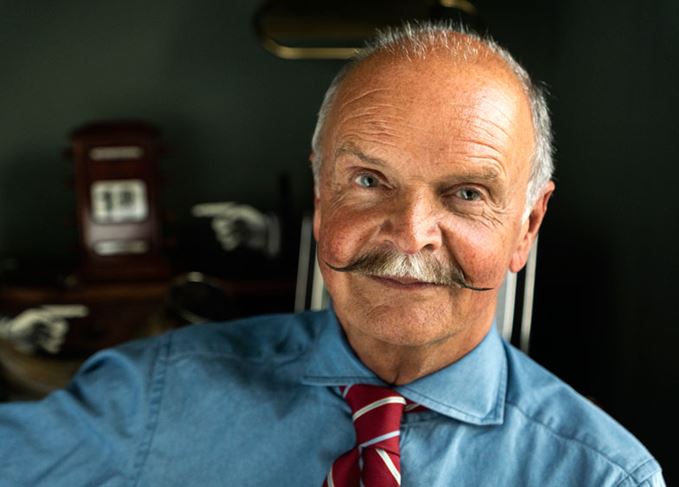 There was never any doubt that Fred Laing would work with whisky. Even as a toddler he claims his future was mapped out. 'There was an instance when we were on holiday in St Helier, and a lovely old lady stopped to ask, "what are you going to be when you grow up wee Freddie?" expecting me to say train driver or a cowboy, or a fighter pilot. Apparently I said: "Och, I'm going into the Scotch whisky industry". I think the lady was quite taken aback.'
At that point Douglas Laing & Co. was in its infancy, having been founded by Fred Laing Snr a few years prior in 1948. Laing Jnr was born in 1950, and by the time he was 16 he was accompanying his father on business trips to Central and South America where his natural affinity for languages was put to the test.
Back then, the core business was structured around obtaining fillings from distilleries to create young, but well-made blends for sale in duty free and Asia Pacific, brands that included King of Scots and McGibbons.
Today the business is almost unrecognisable, with 25 head office staff and a renewed focus on single cask whiskies and a range of regional blended malts.
'My dad wouldn't recognise much of the business now,' Fred Laing Jnr tells me over a pot of tea at the company's current headquarters in Glasgow's west end.
Laing and his trademark handlebar moustache have taken a rare Friday off from playing squash with his pal – 'I'm good at squash, I am light on my feet' – to talk me through the company's past and future plans. We walk up the three-storey sandstone building's steep staircase past family photos and offices crammed with desks. 'It's not ideal being split over so many floors,' Fred says. 'The new offices are very necessary as there are now 25 of us here. It's not big enough.'

New home: Douglas Laing will move its headquarters to Clutha distillery when construction completes

There's something homely about the building, whose original features and comfy Scottish décor emanate warmth and character. If the walls could speak they'd tell of 70 years of business deals and children running up and down the halls.
But Douglas Laing has outgrown its original home, and plans are afoot for a new headquarters, distillery and bottling hall in Govan on the banks of the Clyde.
'Funnily enough, if you put a zipwire across from Clydeside to our new distillery it will land right on our property,' Laing grins. 'Tim [Morrison, owner of Clydeside distillery] and I said we'll build a bridge with a pulley rope and have afternoon tea in the middle of the Clyde.' He's joking, but there's a cheeky glint in his eye that makes you wonder. Feasible or not, it would certainly take whisky tourism to a new level.
It would also be a direction Laing Snr would never have imagined when, fresh from serving in the RAF during World War II, he acquired the King of Scots brand from an American operation out of New York. The blended Scotch had existed since 1886 and had established a firm following, but in those post-war years there wasn't a lot of spare whisky around for fillings.
'Dad jumped in his car and visited as many different distilleries as he could to set up small filling programmes,' Laing explains. 'Whenever he had money spare he would put it into an extended filling programme across three or four different distilleries.
'The nice thing is that even when the distilleries were taken over by the bigger companies, there were no written contracts at all – the handshakes were taken on as a deal by the new owners, which is nicely indicative of the way the whisky industry is. It's still the case these days. They know we treat their whisky respectfully.'

'Close bond': Fred Laing Jnr (left) had a strong relationship with his father, Fred Laing Snr

Despite maintaining a 'cheap and cheerful image' through the 1950s and '60s, Douglas Laing & Co. was approached by a new travel retailer, Duty Free Shoppers (DFS) to create a series of blended Scotch whiskies that would appeal to wealthy Far East travellers. The company's first expression was King of Scots Rare Extra Old, a high malt blend averaging around six years of age, filled into a 'glitzy' French decanter complete with gold stopper and brass neck chain. 'It really helped to establish us in duty free,' Laing says. As DFS expanded through the Pacific Basin, so too did the King of Scots blend. 'That then allowed us to step into the domestic markets.'
By this time Laing Jnr had taken on a 'proper job' with Whyte & Mackay, working under company owner Major Hartley Whyte as an apprentice. 'Lovely wee man. He was shorter than me,' Laing recalls. He soon moved on to work with White Horse Distillers where he'd find a way to spend time in the blending room with the sadly under-recognised Gardiner Ferrier. 'I tried to spend as much time with him as possible because I hadn't spent much time on the blending side yet.' But Douglas Laing & Co. beckoned, and in 1972 he joined the family business alongside his father and brother, Stewart.
During the following years, as the rest of the Scotch industry experienced the devastating effects of oversupply, Douglas Laing prospered. 'The industry at that stage was closing Port Ellen, Brora, Rosebank [all three are now set for revival], but our view of it, probably thanks to DFS, was coloured. These were quite exciting days for us.' Asia, it seemed, could not get enough of aged blended Scotch filled into 'fancy' ceramic decanters. It was the success of McGibbons, by which time had exploded into bizarrely popular golf club-shaped ceramic decanters, which won Douglas Laing the Queen's Award for Export in 1990.
Sadly it was an achievement Laing Snr did not get to celebrate with his sons. 'My father passed away in 1984,' Laing Jnr says, a lump in his throat. 'I was very close to my dad. We've the same sense of humour; we'd laugh until tears ran down our faces. The day my father died was a really bad one because he was the boss of the company, my dad and probably my best friend next to my wife at that stage. It was a juggling act to keep it together.'

Regional variations: Big Peat leads the charge for Douglas Laing's blended malts range

Things weren't helped by a copyright lawsuit from Macdonald Greenlees, on behalf of the mighty Distillers Company Ltd (DCL), arriving just weeks after Laing Snr's death. Douglas Laing's King of Scots was at the time presented in an amber dumpy bottle, very similar to the Old Parr brand owned by DCL. 'I had done some homework on it and our bottle was registered – its design went back to around 1888. Their bottle was first registered in 1904.' Yet the DCL persisted. 'We didn't have enough money to fight them on that patch. That was where I learnt for the first time that might is right, and that we couldn't win.'
The Laing brothers continued regardless, diversifying away from a focus on blends into single cask bottlings with the launch of Old Malt Cask in 1999, followed later by the Old Particular range.
In 2009, and somewhat ahead of the curve, Douglas Laing branched into blended malts with the launch of Big Peat, featuring a caricature Islay fisherman on the label and containing all-Islay whiskies with a proportion from the closed Port Ellen distillery. 'Big Peat started a trend for us,' he says. 'There are now quite a few off-the-wall packs out there for different whiskies, but, modestly, we were probably the first to take that slightly disparaging tone to the way the brand was portrayed. It struck a chord with a younger, slightly more rebellious age group who didn't have the armchair and fireside view of whisky.'
Big Peat celebrates its 10th anniversary this year as Douglas Laing's biggest-selling brand. It's a landmark moment for the whisky that led the concept for the Remarkable Regional Malts, a now six-strong series of blended malts from Scotland's main whisky-producing regions that also includes Scallywag from Speyside, Timorous Beastie from the Highlands, The Epicurean from the Lowlands, The Gauldrons from Campbeltown and Rock Island (formerly known as Rock Oyster) from the Islands.
Probably the most defining moment in Douglas Laing's history however was the emotional split of 2013, when the brothers divided the company stock and went their separate ways. Stewart took Old Malt Cask and set up Hunter Laing & Co., which now operates Ardnahoe distillery on Islay. Fred meanwhile kept the Douglas Laing name, along with Big Peat, and was joined in the business by his daughter Cara as director of whisky, and her husband Chris Leggat, now CEO, both of whom had been working at Morrison Bowmore.

Family ties: (Left to right): Cara Laing, Chris Leggat, Cooper the family fox terrier, and Fred Laing Jnr

'Cara and Chris are the general thrust of the company,' Laing smiles. 'We've got a great team. The expertise that Cara brings, the savvy that Chris is bringing more and more to the equation is very heartening. They've got a couple of kids, and certainly I can see the eventuality of one of them coming into the company.'
Having just celebrated its 70th anniversary, Douglas Laing is now looking to the future with the establishment of its new HQ and Clutha distillery, construction of which is expected to begin later this year. Despite having its own supply of whisky Laing is adamant the company's focus will remain on single cask bottlings and the blended malts. Though as the Remarkable Malts portfolio grows, he doesn't rule out the possibility of building further distilleries around Scotland.
'We do plan to have another couple of original distilleries, though not on an immediate basis. The whisky industry is a long-term thing; we believe with the brands we've got we can justify going into different regions to build small, bespoke distilleries.
'For now we've got some fun ideas for the first distillery [in Glasgow]. Because the volume of this distillery is quite small, we'll focus on Cara's description of "urban gritty". We will not be going the herbal, grassy, triple-distilled Lowland route. We'll be looking for something more robust.'
With Laing now approaching 70 himself and taking less of a hands-on role at the company – apparently allowing more time to play squash with his buddies – the future of Douglas Laing & Co. now falls into the hands of the third generation. And quite possibly their children.
'My father died two years after my daughter was born, so he only knew a little bit of my Cara,' Laing says. 'I remember he had a big Airedale named Rowdy that she used to ride around on, much to his delight. He would be thrilled that his wee granddaughter will be looking after his company.'