By his own admission, Christophe 'Billy' Van Gysel came to the whisky world a little late – when prices were rising and 'holy grail' drams became the realm of the super-rich. But that hasn't stopped him from enjoying his passion to the full, as Angus MacRaild discovers.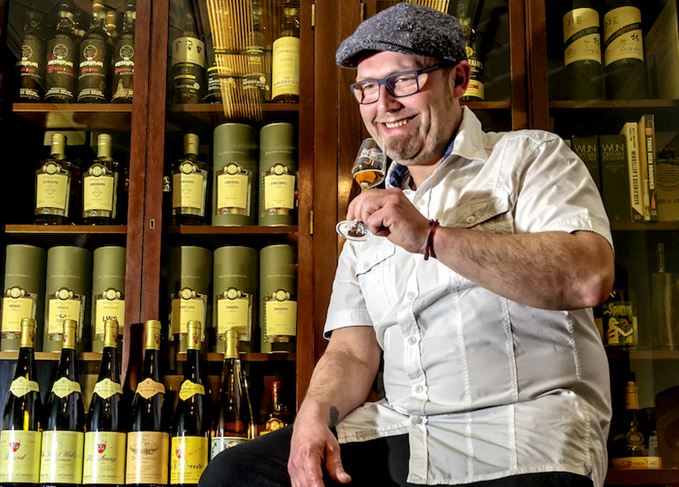 To describe Christophe 'Billy' Van Gysel, it is probably appropriate to begin with the smile and work outwards – a big, broad and hearty grin around which seem to be arranged beard, bald head and spectacles, and which almost always precedes a welcoming hug.
Known to his friends – and almost everyone – as 'Billy', he is one of the most active members of the Belgian whisky scene. An electrician by trade but, for the past four years, also the man behind 'Billy's Whisky Barrel', the company under which he conducts all his tastings, imports wine, beers and spirits, advises bars, and attends and organises festivals.
It was at a fellow 1973 vintage friend's 30th birthday party in 2003 that Van Gysel first caught the whisky hook. His friend's father, a respected wine collector, had open a selection of about 80 quite amazing bottles of whisky.
Billy recalls: 'We must have tried 30 or 40 whiskies that afternoon! I was so overwhelmed by the diversity of flavours... '70s Ardbegs; '70s Laphroaigs; Longrow 1973; various '50s and '60s Macallans...' Needless to say, it was a flashbulb moment for him and the beginning of a steady journey into serious whisky fanaticism.
By 2005, Van Gysel was starting buy bottles more seriously, although he never considered himself a 'collector' in the true sense. Through an old friend he was introduced to the Lindores Whisky Society, a somewhat motley crew of Belgian friends with a notorious appetite for, and dedication to, cracking open old and rare bottles.

Silent love: In time, Van Gysel grew to love the whiskies of Banff in particular

Some 'crazy trips to Scotland' ensued and, eventually, Van Gysel became a member. As his connections and friendships in the whisky world grew, so too did his stash of bottles: 'I bought much more than I could drink, so that's really how it started.'
By his own admission, he arrived in whisky a little too late. By 2005, prices were already getting notably higher and completist approaches, or putting together a collection that numbered in the hundreds or thousands, was already a rich man's game.
'It was already difficult to concentrate on one distillery, so I decided to buy bottles that displayed outstanding quality, that totally fit my palate. Or just ones which were interesting and out of the ordinary.'
As time progressed, however, there was one distillery which began to accrue Van Gysel's appreciations: Banff. While he doesn't possess all of them, he has a sizeable stash of bottles from this much-admired closed distillery.
While prices might have seemed high in 2005, they are nothing compared to today's eye-watering heights. 'Sometimes I do sit down and find myself musing about that,' Van Gysel says. 'But it was never my intention to collect as an investment... If I live long enough, I hope to open and drink every bottle in my collection – preferably with friends.'

Choice bottles: Some of the favourite bottles in Van Gysel's varied whisky collection

It's a common sentiment among collectors but, from someone as motivated by his friendships as Van Gysel evidently is, it rings truer than most.
However, it seems that Van Gysel has found a way to at least monetise those open bottles, with Billy's Whisky Barrel, which he founded in 2014: 'I started it up because too many people asked me to host tastings, or help them at events or shows.'
Now, four years later, it has become the start of a neat wee empire he is slowly constructing for himself, mixing bottling, dram sales and festivals, tastings and the import of fine alcohols from all over Europe.
Van Gysel is one of a slowly burgeoning new breed of whisky entrepreneurs, who cobble together a profession for themselves juggling various aspects of whisky- and drinks-related work, from writing to festival appearances to bottling.
It's an approach which allows people to buy and open bottles they couldn't otherwise afford; essentially a way to monetise their hobby. It's an unsurprising and arguably inevitable phenomenon, given just how much interest and money there is in whisky these days – not to mention how expensive it is just to buy bottles.
Indeed, prices have become a sad fact of life for old-school whisky enthusiasts like Van Gysel. Some of his 'holy grail' bottlings would be the likes of a 1966 Bowmore Bouquet or a Cadenhead Laphroaig 1967 dumpy. However, he's keenly aware that, given the five-figure prices of these bottles nowadays, this will almost certainly forever remain a daydream.

Main event: Van Gysel is a regular attendee at Europe's many whisky fairs and tastings

Van Gysel remains philosophical about this, though. Being part of a network of passionate friends and whisky enthusiasts, he's been fortunate enough to try some of the most lauded and mythical drams in existence. Among his all-time favourites he lists Port Ellen 12 Year Old for the Queen's Visit in 1980; the Bowmore 1955 ceramic bottling for the visitor centre opening in 1974; and a Highland Park 10 Year Old bottled in the 1940s – drams that would make most serious whisky lovers weep in quiet envy.
Van Gysel also retains his passion and enthusiasm for newer whiskies. He is a keen follower – and drinker – of contemporary releases from distilleries such as Balblair, Springbank and Lagavulin, with drams including Balblair 1990 and Aberlour A'bunadh consistent everyday-drinking favourites. Then there are the selections he makes for his own occasional bottlings and imports.
However, he does hold trepidations about what is to come: 'I do fear for the future, because special bottlings will become unaffordable to the general public; not everyone is capable or crazy enough to pay hundreds or thousands of euros for a bottle – not to mention open them... the risk with prices nowadays is that a lot of bottles will never be opened.'

Broader appreciation: Beyond single malts, Van Gysen enjoys older blends and blended malts

It's an understandable and common concern, not only among enthusiasts but also among those, like Van Gysel, who rely on the mix of the mainstream industry, secondary market and cultural scene of festivals and tastings to make a living.
However, a serious whisky passion like his is hard to kill. He still has fond memories of numerous whisky events and adventures – chief among them the legendary 'Pre-war Whisky Tour' of 2012. His love for whisky has also made him look more seriously at other drinks. He now enjoys learning about and tasting all sorts of fine drinks from all over the world, including a real love of wine.
'Whisky has had a huge impact on my life. You cannot imagine the wonderful trips I made and many friends I "collected" over the years! Friends from all over the world, with the binding factor the love for whisky. With many of them the bond has become so strong the whisky isn't the main reason any more. Although we do open a lot of bottles together...'
Van Gysel remains perhaps the epitome of what it is possible to achieve in whisky if you balance it along the lines of your profession and your passion. He also stands as proof that, despite the rising prices of a less 'innocent' era, there is still much to be celebrated, enjoyed and learned in today's whisky world.
Most of all, he is a timely reminder that it should be about friendship first and foremost.