After a speedy conversion to whisky late in life, Gunnar Nilsson today finds himself collecting whisky more for the shared social experience. He explains to Angus MacRaild the importance of diversity in his collection, and why modern whiskies fail to measure up.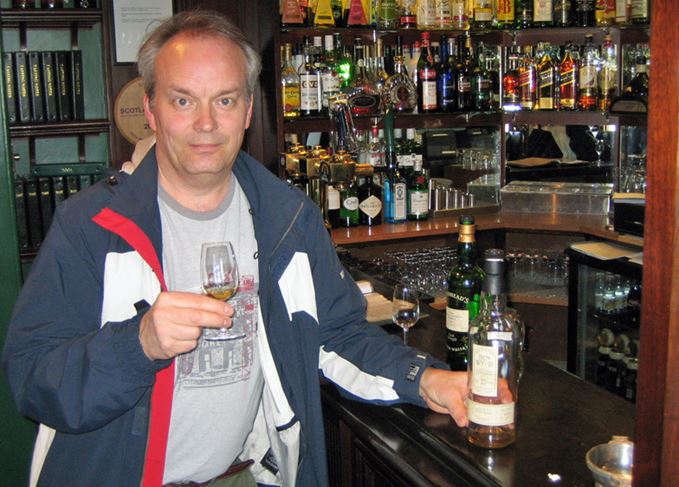 One might describe Gunnar Nilsson as one of the whisky world's quiet majority. He is a polite, affable and smiling Swedish gent, happy to drift through festivals in pursuit of his hobby. He describes himself as a collector, not 'of whisky bottles; more a collector of whisky moments and experiences'. By day he's in the business of computer software development and a native to Hudiksvall, around 300km north of Stockholm, where 'when not enjoying whisky I like to spend time in the archipelago'.
Enjoyment of whisky came later in life for Nilsson. 'It wasn't until I was in my mid-forties that I began to appreciate whisky,' he says. 'A friend of mine was into whisky for many years and introduced me to the world of single malts in the early 2000s. After our first whisky trip to Scotland in spring 2004 I was hooked. We started on Arran and then went down to Campbeltown. When we got into one of the warehouses I was overwhelmed by the atmosphere and the scent of the angel's share there. I still have the first whisky bottle I bought there, a Springbank 10-year-old 100° proof.'
It was a quick and profound conversion that led to Nilsson exploring deeper into the world of single malts. He explains: 'In 2010 I attended Limburg Whisky Fair for the first time, and it was there I discovered the world of beautiful old bottlings. I had tried a few old ones before, but this was something else. Lately I've become a regular at the Old & Rare show in Glasgow. It's a very nice show, more focused on older bottlings than Limburg, and less crowded.'
Nilsson is a modest whisky lover who is cautious about describing himself as a true collector. He enjoys the diversity of drams and the accumulation of experiences more. Yet when pushed, he does admit that he buys more than he drinks: 'Since I do buy more than I drink I am a kind of collector, I suppose. I don't have a single distillery; I buy a bottle from almost any distillery if I know it is good whisky. My collection isn't that huge compared to many others, but it's widely spread across many distilleries.'
This approach of quality over dedication to any particular name is further evidenced when Nilsson begins to describe his tastes in more detail. 'I do have a soft spot for Brora, old Bunnahabhain and Bowmore, and old Springbank and Highland Park, Talisker, Glenfarclas, Longmorn, Clynelish – I could count many if I get started... '

Social spirit: Nilsson (centre) shares his love of whisky with friends during a trip to Brora in 2018

It's a particular type of whisky passion that eschews brands, names and distilleries in favour of specific bottlings that are known to be of singularly exceptional quality. It's an approach far more widespread amongst the world of collectors than most people might imagine, and Nilsson embodies this approach perfectly. The flip side of the coin with this approach, is the social element.
'It has had a huge impact on my life,' he admits. 'I've met so many nice people from all over the world that share my passion for whisky... Nowadays, when I go to a whisky show, it's of course for the whiskies, but more and more it's to meet people I got to know over the years. I've also done quite a few bottle shares over time and I've got to know a lot of people through that. When I shared the Brora 40-year-old 1972 I got to know a lot of new friends, both from Europe and as far as Taiwan.'
Like so many people whose passion is deeply founded in the flavour and quality of the drink itself, Nilsson is philosophical about the soaring rise of auction prices. 'Almost all of the bottles I've bought with the intention of eventually drinking them,' he says. 'I've traded a few bottles over the years as my taste has changed, and I can get a few different ones for the ones I traded. Maybe I can say my bottles are an investment to be able to enjoy good whisky when I retire in the not-too-distant future. And if prices go down it's no problem for me, I still have some bottles of very good whisky to enjoy.'
Much of Nilsson's passion has been formed and driven by older bottlings and old styles of whisky. 'Sadly enough I haven't been able to find any modern bottlings that stand up against the best older ones,' he laments. 'As many people have observed before me, there was a wider spread of whiskies from the past. More ups, but also downs. Nowadays the quality is more consistent, but you rarely find a gem.'

Diverse taste: Nilsson is an avid collector of United Distillers' Manager's Dram series

It's a common perspective, and one underpinned by a palate that appreciates a broad spectrum of flavours and styles. As Nilsson admits: 'I drink quite a lot of different whiskies, but don't have a special favourite dram. But my favourite style nowadays is more towards Bourbon-matured ones, with a hint of fruitiness. I've moved away from the heavily Sherried ones that are all about old wood and so on. If I drink Sherried ones now it's more the lighter, fruity Sherry types.'
When asked about his favourite bottles and drams tasted, Nilsson's answer is indicative of just how deeply involved he is in great whisky. Legendary drams such as Springbank 12-year-old for Samaroli and the Rare Malts' Brora 1972 are quickly lauded. Favourite bottles in his possession include the likes of Highland Park Dragons, Talisker 1957, various early 1970s Clynelish, Local Barley Springbanks and the Bunnahabhain 1968 Auld Acquaintance.
What of a 'holy grail' bottle to find? 'A few years ago when I visited Speyside with a friend of mine we were strolling around Dufftown,' he explains. 'We went to have a look at Parkmore distillery, and it was a beautiful site, and the building is still in good shape. A bottle from Parkmore would be a nice find. Maybe I should go around Dufftown and knock on everyone's door to ask what hidden gems they have. Or has someone already done that?'
As with so many whisky lovers, being asked what his favourite whisky experience has been neatly illustrates Nilsson's broad and passionate devotion to the subject. 'It's hard to rate any experience over the others, but my first visit to Ardbeg's warehouse and being served Ardbeg 1974 straight from the cask by Stuart Thomson [former distillery manager] is a moment I cherish. Any moment sharing a good bottle of whisky with friends is actually a great whisky experience.'