As Scots everywhere celebrate the day of their patron saint, no better way to mark the occasion than to hold your own St Andrew's Day supper – complete with appropriate recipes, and whiskies chosen by Martine Nouet. But who was St Andrew – and how did he come to be associated with Scotland in the first place? Introduction by Richard Woodard.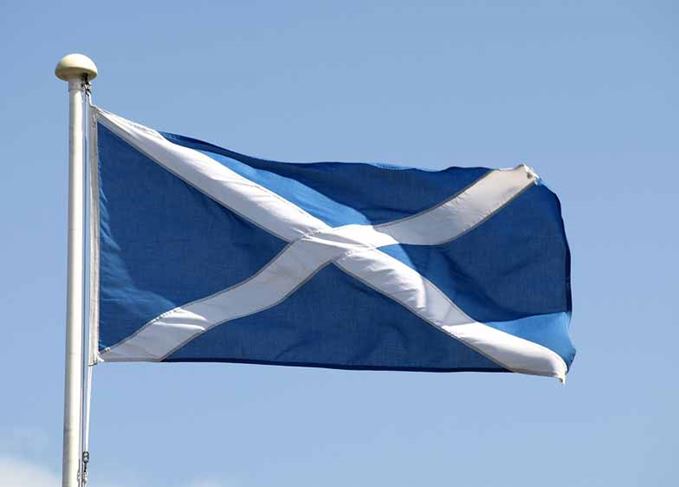 Galilean fisherman and disciple of Jesus, St Andrew is believed to have preached around the Black Sea before his crucifixion by the Romans. Not, at first glance, the most obvious patron saint of Scotland.
The legendary connection is provided by the journey of St Rule (Regulus in Latin), a monk inspired by a vision to take some relics of St Andrew to the 'ends of the Earth'.
His voyage took him to Fife and the town that bears St Andrew's name to this day, complete with a grotesque collection of body parts: a kneecap, an upper arm bone, three fingers and a tooth.
As for the St Andrew's Cross – the Saltire on the Scottish flag – this is a reference to the diagonal cross on which St Andrew was crucified by the Romans in Patras, Greece. It also appeared in a vision to the Pictish king Óengus prior to a crucial battle (which he won) with the Angles in 832 AD.
But it isn't just the Scots who will be celebrating today: St Andrew is the patron saint of countries as diverse as Greece, Russia, Ukraine, Romania and Barbados. He is also the patron saint of fishermen, ropemakers, gout sufferers and – of course – golfers.
Recipes and images reproduced with the permission of Scotland.org, where you can find more details on all Scotland's winter festivals, including St Andrew's Day, Hogmanay and Burns Night.

Traditional Scottish cullen skink (by Andrew Fairlie)

Ingredients:
1 tbsp olive or vegetable oil
1 leek, well-rinsed, chopped and cut into rough 2cm cubes
1 litre fish stock
200g waxy potatoes, peeled and cut into roughly 2cm cubes
300g Undyed smoked Scottish haddock fillet
1 bay leaf
Freshly ground pepper
2 tbsp whipping cream
Chives, roughly chopped
Method: Warm the oil in a pan. Add the chopped leek, cover and gently cook for a few minutes until soft. Add the stock, bay leaf, potato and haddock. Season with black pepper. Bring to the boil and simmer for 15 minutes. Remove the haddock from the pan with a slotted spoon. When the fish is cool enough to handle, remove any skin and bones, then flake the haddock back into the pan.
Blend a ladleful of the soup in a liquidiser and return to the pan. Stir in the double cream and simmer for another 2-3 minutes. Add more black pepper if necessary, then sprinkle with the chopped chives and serve. Serve with chunks of fresh wholemeal or granary bread.
Martine Nouet says: 'Cullen skink is not the easiest dish to pair with whisky as, depending upon the choice of haddock (more or less smoky), it may have strong flavours. The traditional recipe includes milk, but the one presented here has replaced it with cream, which will give a thicker texture. The chef has also added a leek which is generally absent from the recipe.
'To start with, avoid a peated smoky whisky as the two smokes will clash. What is needed here is a good, malty core in a full- or medium-bodied whisky. Lowland single malts like Auchentoshan would be overpowered; I'd rather choose a Highland single malt.
'My first choice would be Old Pulteney 12 Year Old: a solid, grassy character with a sweet, malty and toffee heart, and a hint of spice. You could also try a young Balblair vintage for its citrus fruit and vanilla profile, which would temper the strong flavour of the haddock.'

Roast Scottish lemon sole on the bone (by Craig Wood)

Ingredients:
1 Scottish lemon sole, skinned and trimmed – ask your fishmonger to do this for you or, if doing yourself, remove the head, skin and guts and trim the outside frills with some scissors
Plain flour for dusting
Olive oil
Salt and white pepper
Knob of salted butter
1 clove of garlic, chopped
Juice of half a lemon
2 tsp capers
Small handful samphire
Fine herbs or sakura cress to garnish
Method: In a large frying pan heat a couple of tablespoons of olive oil. Season the sole with salt and a little fresh ground white pepper. Dust in flour and shake off the excess. Carefully place the fish into the medium-hot pan and cook for a minute, top-side down. Once you get this side a light golden colour, turn over and place the whole pan into a medium-hot oven or under a medium-hot grill. Cook for 3-4 minutes and turn back over so the presentation side is upward.
Add the butter, garlic and lemon juice to the pan and spoon over the fish to baste. Add in the capers and samphire (if you can get it), and spoon over the fish to get as much flavour into it as possible. Carefully remove the fish from the pan with a large fish slice and place on a plate. Top with the capers and samphire and sprinkle a few fine herbs or sakura cress on top of that. Serve immediately with some simple new potatoes.
Martine Nouet says: 'Sorry, but here the garlic is absolutely not necessary. In my opinion, it disturbs the buttery and citrussy delicacy of the sauce. Cooking the sole on the bone enhances the flavours. A single malt matured in Bourbon casks will allow the sole's delicate flesh to stand out, and the lemon and butter sauce will echo the whisky's aromatic profile.
'The Glenrothes Bourbon Cask and Auchentoshan American Wood would be perfect companions to this dish. I would also recommend a medium-peated malt such as Bowmore Small Batch or Caol Ila Moch. All these whiskies will benefit from being served chilled.'

Loin of venison with greens and barley (by Neil Forbes)

Ingredients:
450g piece of loin of Scottish venison, red deer or roe deer
200g pearl barley, washed in a sieve
1 savoy cabbage, or equivalent of spring greens
3 knobs of butter
A few hard herbs, like thyme
Good salt and pepper
A trickle of cold-pressed rapeseed oil
Method: Drain the barley and place in a pot. Cover with water, season with salt and bring to the boil. Simmer for 30 minutes, or until just soft. Drain and add a knob of butter on top. Keep in a warm place.
Meanwhile, heat a frying pan and season the venison with salt and pepper. Fry in a trickle of rapeseed oil with a wee knob of butter and some thyme. Baste as you go, cooking for five to 10 minutes until golden brown all over. Allow the venison to rest before carving – at least five minutes, then give it a flash under a grill to heat up again.
Cut the cabbage into strips and wilt down in a pot with a knob of butter and salt and pepper. I like it quite crunchy. To serve, carve the venison and arrange on a plate. Sprinkle the barley and drape the cabbage over and around the meat. Delicious and simple.
Martine Nouet says: 'This recipe focuses on the "bare" venison. It does not include any rich wine sauce or mushrooms, which would call for a heavily Sherried whisky. This does not mean a Sherried whisky should be excluded, but a second fill Sherry cask will give better balance. I am more tempted by a spicy profile with an oaky touch, such as The Glenlivet French Oak – or play on a smoother note with a rich, fruity and nutty single malt as Glen Garioch 12 Year Old.'

Spiced winter fruit served with creamed vanilla rice pudding (by Andrew Fairlie)

Ingredients for spiced fruit:
1 apple, cored and cut into eight
1 pear, cored and cut into eight
2 plums, stoned and cut into four
12 ripe brambles
100g sugar
1 vanilla pod
2 star anise
1 cinnamon stick
Ingredients for rice pudding:
100g Arborio rice
50g caster sugar
1 vanilla pod
500ml semi-skimmed milk
100ml whipping cream
Method: For the rice pudding, preheat the oven to 150°C/300°F/Gas mark 2. Mix milk and sugar in pan over a gentle heat. Split the vanilla pod and scrape out the seeds. Add them to the milk and sugar and bring to a simmer. Stir in the rice. Cover with greased baking paper and place in the oven for 50 minutes. Remove and leave to rest for 10 minutes. Remove the pod, then fold in the whipping cream.
For the spiced fruit, place a saucepan on a medium-high heat. Add the sugar to the pan and heat until the sugar liquidises and turns a pale caramel colour. Add the apples, pears and plums and cook until the fruit is lightly coloured. Remove from heat, then add brambles. Split the vanilla pod and scrape out the seeds.
Add to the fruit with the cinnamon and star anise. Bake in the oven for 10 minutes or until the fruit is just soft. Remove from the oven and add the brambles. Pour the rice pudding into warmed bowls and serve with the winter fruits in the syrup on the side.
Martine Nouet says: 'To finish your St Andrew's dinner, there's nothing better than this satisfying pudding. Creamy rice pudding spiced up by poached fruit. Wintry, delicious and not too sweet. The matching will focus on fruit and spices; cinnamon and star anise are soft spices, which can converse with a single malt with a Port/ Sherry finish or sweet wine finish, or a spicy whisky.
'Longmorn Distiller's Choice, Strathisla 12 Year Old, Glenmorangie Nectar d'Or, Edradour 15 Year Old (or the 10-year-old standard version) will bring fruity notes out, ranging from dried apricots to Christmas cake.'
'Let's celebrate St Andrew with a unique toast: the wee poem of Robin Laing, the whisky bard:
St Andrew, patron o' this nation
Save us fi' intoxication
We'll be content wi' moderation
Nae hardcore
There's nae harm in a wee sensation
O' guid Bowmore!
'Bonne fête à tous les Andrew.'