Tom Jago, co-founder of Last Drop Distillers and the man behind the conception of Johnnie Walker Blue Label and the Diageo Classic Malts, has passed away aged 93.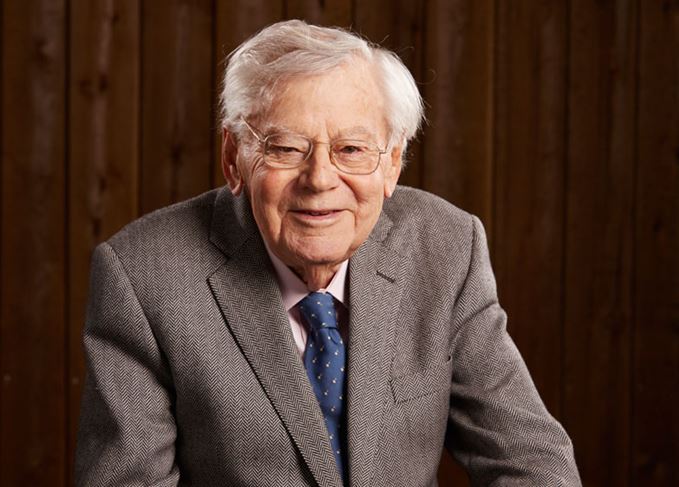 Known for his creativity, 'incisive humour' and flair for marketing, Jago can be credited for introducing some of the world's best-loved spirits.
Jago was born on 21 July 1925 as the son of a bank manager. From his childhood in North Cornwall he went on to read history at Oxford and served as an officer in the Royal Navy during WWII.
A twist of fate saw Jago attend the wrong job interview – he had intended to become a photographer, but landed a role as a copywriter at Mather & Crowther. Quickly taking to a career in advertising, and finding a niche in the world of spirits, Jago began working with Gilbey's Gin, then owned by International Distillers & Vintners (IDV).
He was encouraged to let his creativity flourish, and while at IDV he gave birth to one of his greatest creations ­– Bailey's Irish Cream. The initial recipe was a blend of Irish whiskey, cream and Nesquik, but was rejected by consumers during testing. That wasn't to stop Jago, who – according to his long-term business partner, James Espey ­– hid the research, and launched the brand in 1974. Today Bailey's is the world's best-selling liqueur, moving around seven million cases a year.
During his time at IDV, Jago also developed the concept for Malibu rum, taking a coconut-style rum called Coco Rico, developed by Gilbey's South Africa, and transforming it into a Caribbean-style rum under the Malibu brand.
After leaving IDV in 1982, Jago joined Hennessy working on Cognac brands including Hine and Davidoff.

Decorated veteran: Jago was 'humbly proud' to be named Master of the Quaich in 2017

A few years later he rejoined Espey at United Distillers (which eventually became Diageo) as head of innovation, where the pair realised the potential of the company's vast single malt distillery portfolio.
'United Distillers were not very pro single malts at that stage and their entire focus was purely blends,' Espey recalled. 'Accordingly, we looked at our 32 distilleries, and chose six. The Six Classic Malts were launched in 1987 and did a great deal to create interest in single malts and tourism in Scotland.'
The pair also created a super-premium blend under the Johnnie Walker label – Johnnie Walker Oldest. Originally a 15-year-old whisky teaspooned with a drop of 60-year-old and carrying the now illegal age statement of 'Aged 15-60 Years' on the label, it morphed eventually into the no-age-statement Johnnie Walker Blue Label.
Jago and Espey moved on to work at Chivas Brothers, where they created Chivas 18, and consulted for Whyte & Mackay before together founding Last Drop Distillers in 2011 with the goal to create the 'world's most exclusive spirits collection'.
Bottling rare and old spirits under The Last Drop brand, including a 1967 Glen Garioch, 1972 Lochside and a 50-year-old blended Scotch. In 2016 the company was sold to US drinks group Sazerac, with the day-to-day control of the business passing on to Jago and Espey's daughters, Rebecca and Beanie.
In 2017, at the age of 91, Jago was made a Master of the Quaich. His citation, read during the Keepers of the Quaich ceremony, read: 'Revered by many as a proper 'renaissance' man, Tom's profound vision, incisive style and ability to think differently always set him apart from the crowd, especially when armed with an irrepressible glint in the eye and infectious mischief in his smile. Indeed, it is fair to say that Tom's influence has truly moved the industry in a way that few could ever dream to match.'

Family ties: Business ran in the family at Last Drop Distillers. Left to right: Rebecca and Tom Jago, with Beanie and James Espey

Jago passed away on Friday 12 October, just months after the death of his wife Penelope. He is survived by his four children – his son, Dan Jago, is chief executive of London wine and spirits merchant Berry Bros. & Rudd – six grand-children and his brother.
'It is with much sadness that I write on the passing of my dear friend and partner of over 40 years, Tom Jago,' Espey said. 'He is often described as the man who changed the face of British drinking.
'Tom was one of the real gentlemen of the liquor industry. He had a natural creative flair and was quite happy to try things that were completely different and go against the stream. It is this trait, which informed his career from the early days right up until he died. He was a man who was much loved and will be much missed by the industry.'
In a statement, The Last Drop Distillers said: 'It is with profound and heartfelt sadness that we announce the death of our co-founder and inspirational president, Tom Jago, aged 93. Beloved by us all, we give thanks for his brilliance, his incisive humour and, above all, his deep affection for the team and the industry he so loved. Rest in peace, Tom.'