This fast-growing and hugely dynamic event is a barometer of what's hot on the bar and spirits scene in Europe and beyond. But is Scotch riding the wave – or trailing in everyone else's wake? Richard Woodard reports.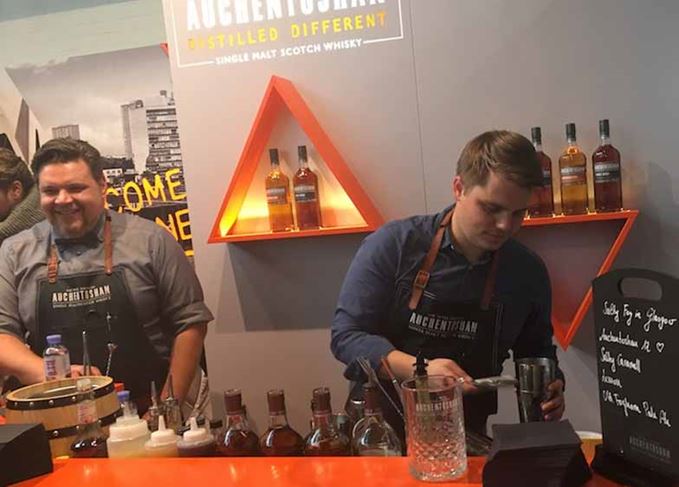 Station Berlin, when empty, is a vast, echoing industrial space – the place where the trains from Dresden stopped before the German capital became a city divided. Not this week. At some point on Tuesday afternoon, the reinvented exhibition centre and home to Bar Convent Berlin (BCB) was officially full, and disappointed bartenders were being turned away from its doors.
The organisers of what has become the must-attend European bar show had targeted 10,000 visitors for this year's two-day event; roughly 8,000 turned up on the first day alone, according to conservative estimates – well over half of them from beyond Germany's borders.
Somebody said – perhaps slightly unfairly, perhaps with more than a grain of truth – that Tales of the Cocktail has more parties than BCB; but BCB sees more deals done and business transacted. What both have in common is the sense of trends developing and being shared among the huge international bartender community. The drinks and ideas exchanged here will be appearing in a bar near you in the not too distant future.
In this sense, BCB is a barometer both of what is happening in bars and with spirits and cocktails, and what will happen down the line. And Scotch whisky? It's come to the party a little late – later than its American and Irish cousins, for sure – but at least it's here, and it's beginning – just beginning, mind you – to catch the mood.
You wouldn't necessarily guess that from the list of exhibitors. Beyond the larger companies and local distributors, Douglas Laing ploughed a lonely furrow as the sole independent bottler present, showcasing its less buttoned-up, more bar-friendly products: Scallywag, Big Peat, The Epicurean, Rock Oyster, Timorous Beastie.

Popular pours: Douglas Laing was the only indie bottler at BCB 2016

Among the industry heavyweights, strategies differed. Pernod Ricard/Chivas Brothers with a very traditional focus on its higher-end whiskies; Beam Suntory with a similarly tried-and-tested single malt tastings format.
But Moët Hennessy let Ardbeg off its leash with a separate cocktail booth, where German bartender Alex Albrecht mixed Mojitos and Cobblers with a smoky twist. Good fun and good business: he sells 'about 50' Ardbeg Mojitos a month at Bar Fritzn in Potsdam – not bad for a €13 cocktail in a small-town venue.
Next-door, Auchentoshan was continuing to offer its single malt-and-beer concoctions, including Salty Fog in Glasgow, combining Auchie 12 with salted caramel, lemon and Old Foghorn Pale Ale.
Both, however, were dwarfed by the vast Diageo World Class stand across the way, marking the giant company's recently concluded global cocktail extravaganza. Ten cocktails on offer, four involving Scotch (Talisker, Johnnie Walker, Dalwhinnie); all things considered, not a bad average.
A huge part of BCB's success is down to the quality and quantity of its masterclasses, seminars and tastings. Here, too, there were signs of Scotch finding a new path, and a new way of engaging with the bar audience which is the bridgehead to the people who buy its whiskies.
So we had Tristan Stephenson deconstructing the raison d'être and rationale behind London whisky bar Black Rock, doling out Smokey Cokeys (Caol Ila and Coke over ice) and outlining his plans for a new Islay Mizuwari combining Bowmore, Islay spring water and ice.
Then Struan Grant Ralph, Glenfiddich global brand ambassador, unveiling the distillery's experimental IPA cask finish and Project XX products, via an 'Unlearning Experiment' sensory experience with the aid of food and drink events specialists The Robin Collective.
Then Scotchwhisky.com's chief engineer Dave Broom with an evangelical appeal to banish prejudice and open hearts and minds to the prospect that maybe, just maybe, not every NAS Scotch whisky out there is the work of the devil; but instead, when done properly, a shackles-freeing opportunity for innovation and flavour-led creativity.

Roll up, roll up: More than 8,000 guests flocked to the show on the first day alone

Read all of that, take it in isolation and you might think that Scotch was the cool kid at this year's BCB party, but to claim so would be disingenuous. The queues were deeper at the Bombay Sapphire stand, the atmosphere more frenetic at Jack Daniel's.
Helmut Adam, one of three BCB founders (when the show started 10 years ago, there were only eight exhibitors), perhaps sums it up best. 'Scotch whisky is the king of spirits,' he serves. 'It's so successful, but that success has a downside.'
The downside is a relatively older core consumer of its blends and malts, which in turn tends to foster a conservative attitude on the part of the companies that make those products.
For that to change, a more relaxed, innovative approach needs to come not just from the whiskies for whom creativity is part of their DNA, such as Monkey Shoulder, Diageo's Whiskey Union and even – relatively speaking, in the rarefied universe of single malts – Ardbeg and Auchentoshan; but also from the Scotch whisky mainstream.
In other words, more companies, more Scotch whiskies, engaged in more iconoclastic activities at shows such as BCB in future years (if there's room for them).
There was a sense of Scotch beginning to shake off its aversion to risk at this year's BCB; will this nascent movement gather speed and momentum in the year ahead? We can only wait, and hope.