Maturity in whisky takes many forms and can come at many ages, with the number on the label not necessarily any indication of its existence. We all think we know it when we taste it, but how should we define and express it? Martine Nouet asks some of the leading figures in Scotch whisky for their views.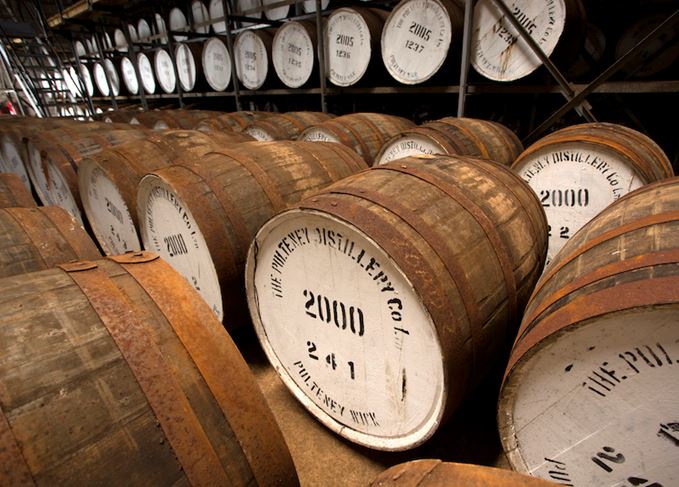 It's funny how sometimes the idea for an article starts from a personal concern. After being so many times referred to as a 'mature woman' by family and friends (this is the label you get when you are over 60 years old), I started thinking about this notion of maturity.
What makes me (or should make me ) a 'mature' person? It is not my intention to give an answer here, but this navel-gazing led me to wonder what maturity means for a whisky.
And who better than the stars of whisky blending and maturation to answer the question?
It is interesting to note than most of my interviewees felt more at ease in defining maturity by its negative image – i.e. describing immaturity.
For Ronnie Cox: 'Maturity in people, as in whisky, is probably most easily described as the absence of immaturity. Maturity can go on for many years and in different guises.

Dr Bill Lumsden: 'Many whiskies have, in my opinion, become much less mature.'

'So what is immaturity? Immaturity covers the period of development and, at the rawest of taste interpretations, is the undesirable spirituous flavours or where the wood has not introduced its magic and leaves raw tannins on the palate.'
Meanwhile, John Glaser sees maturity as 'a spectrum' with three key variables: a combination of spirit character (the DNA from the distillery); casks (the flavours imparted by ageing in oak); and time. So age is then only one variable, and 'the quality of the cask is crucial in achieving a good maturation and enabling the whisky to reach the perfect maturity'.
And, for Richard Paterson: 'Maturity is acquired through age, but it is the quality of the cask which has the biggest impact. Maturity starts after three years, but it takes years. It depends upon the cask – you can't get maturity from a tired cask.'
David Stewart expands on this: 'When you put your whisky in good-quality casks, you can expect good maturity. Maturity is not about age: you can have an old whisky which will be immature. It also depends upon the profile of the whisky. Glenfiddich matures more quickly than Balvenie, for example.'

Richard Paterson: 'It is the quality of the cask which has the biggest impact.'

One thing is certain: the number on the label only tells part of the story. Glaser recalls samples of a young Laphroaig he loved. 'Laphroaig is a malt I like at a younger age (five to seven years of age). That sample had got perfection in maturation for a youthful Islay malt.'
But Paterson expresses a diametrically opposed opinion: 'When I think of Laphroaig 30 Year Old matured in Sherry, this is an example of tremendous balance between the phenols and the wood.'
It shows that the way the specialists of maturation define maturity has something to do with their own taste and personality – and the profile of the whisky they want to achieve when they create a blend or a vatting for single malts. Maturity goes through different stages.
For Glaser: 'There is not one single answer; maturity is a spectrum, as I said. Some whiskies are good used in blending at a very young age: three- to five-year-old if your purpose is to stress the estery character; at 12 and over, you get integrated oak. At 25 and over, you get complexity and depth.'
Meanwhile, Jim Beveridge divides maturity into three main stages: 'The loss of immaturity, the development of flavours in the cask and the integration. Beyond a certain age, the whisky starts to deteriorate.'

Ronnie Cox: 'Too much time trying to accelerate maturation when we still have so much to learn.'

When asked if the concept of maturity has changed over the years, they seem to share a consensual opinion.
Lumsden says: 'The establishment of so many new distilleries has inevitably led to the bottling of three-year-old stocks, so from this perspective, many whiskies have, in my opinion, become much less mature.
'While some of these have been interesting, most do not have this overall sense of "roundness" that I believe perfect whisky should have, and it is only with a reasonable ageing (at least six to seven years, in my view) that malt whisky will truly become mature.
'There should be a nice balance between the raw spirit character, the sweetness from the wood extractives, and fragrance from cask-driven oxidation. Very young whisky cannot achieve this.'
Cox takes an even more critical stance. 'I believe far too much time has been devoted to the marketing of Scotch whisky with finishes and aggressive shelf space-grabbing, rather than the improvement of maturity,' he says.
'Too much time trying to accelerate maturation when we still have so much to learn using indigenous temperatures, production techniques and wood. We still have a huge amount to learn.'

John Glaser: 'The issue [with NAS whisky] is not the maturity, but more the price.'

Which leads me to question the example of a no age statement (NAS) whisky. Can it achieve true maturity?
Cox subtly avoids the question. 'Whisky is organic and, as such, like people – somewhat unpredictable. Can one categorically say that, on the eve of their 18th birthday, a child goes to bed and wakes up an adult?
'Do all whiskies mature on their 12th birthday? Of course not. We have learned more about whisky maturation in the last 40 years than we knew in the previous 500. Whisky has never before been so carefully analysed.
'For single malts, maturation is just one element. The distillery looks for blueprint character "expressions" made up of elements which include maturation, but which should be led by the character and personality.'
Lumsden is more specific. 'Of course the risk is that some NAS whiskies are barely three years old, but as long as good wood has been used, and the product has had, say, a minimum of six to seven years' ageing, then there is the possibility to create some great whiskies.'
And Paterson too feels comfortable with NAS whiskies. 'NAS allows us to use a mix of young and older whiskies,' he says. 'Twelve-year-old has been the "marketing age" for long years, but it all depends on the single malt.

David Stewart: 'Maturity is not about age: you can have an old whisky which will be immature.'

'Sixty-five percent of the travel retail [whisky offer] is now NAS and most blends are NAS. People start accepting it.'
Meanwhile, for Glaser, maturity in NAS is a non-issue. 'The issue is not the maturity, but more the price,' he says. 'The drinker is knowledgeable enough to realise that the whisky is younger, and yet it is offered at the same price as an older whisky. Why are you being charged more?'
In all of this debate, one word is often repeated, along with complexity: balance. 'Balance is an important aspect of maturity,' insists Beveridge. Glaser agrees: 'Balance is essential. Maturation is not a straight ascending line.'
As does Cox: 'I think generally we need to talk about a roundness, balance of wood to distillery character, and for most what they like to call a "smoothness" without aggressive bite or evidence of the rawness of the distillery spirit.'
Let's give the last word to Richard Paterson… 'Maturity brings complexity with charm. But to enjoy the maturity of your whisky, you also have to drink it properly, hold it in your mouth long enough.'
...and to David Stewart: 'A mature whisky does not need water.'